Cucumbers are one of the oldest cultivated vegetables and are believed to have originated in Northern India. They are the fourth most-widely grown vegetable crop in the world behind tomatoes, onions and cabbage. Great in salads, fresh juices and by themselves, one of the most important health benefits of cucumbers is they do an excellent job in refreshing and hydrating the body especially since they contain 95% water.
There are many reasons to eat cucumbers all year long. Containing vitamin K, B vitamins, copper, potassium, vitamin C, and manganese, cucumbers can help you to avoid the nutrient deficiencies which are widespread among people eating the Standard American diet.
Many people are finding out that cucumber water is a wonderful and healthy replacement for sugary drinks, coffee and tea. Making cucumber water is fairly simple and there are many ways to do it. Below are two methods of making cucumber water that most people prefer. As a side note, be sure to use organic or homegrown cucumbers and to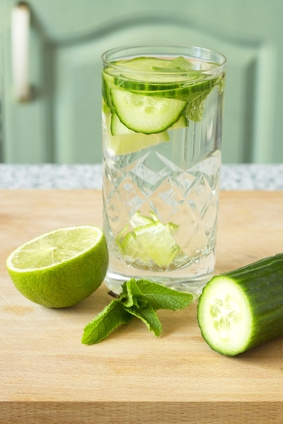 wash the skin thoroughly. Also, always use purified water.
First Method:  This method will give a very flavorful water: Using a blender or VitaMix, blend an organic cucumber and pour it through a very fine strainer (line a sieve with cheesecloth). Let the blended cucumber drip through the cheesecloth in the fridge overnight. Mix the resulting cucumber juice with a pitcher of purified water (you can stretch the cucumber juice out depending on how flavorful you like it).
Second Method:  Cut up an organic cucumber into small slices, cover in the amount of purified water you want to drink and let it soak in the fridge overnight. In the morning, you can strain the mixture and discard the cucumbers or you can replace the cucumbers with fresh ones in order to make the drink look more appealing.
Adding a few springs of mint makes the drink even more cooling and refreshing. If you add mint, it's a good idea to blend it in with the cucumber in the first method. If you are using the second method, chop the mint and let it soak with the cucumber chunks in the water overnight. Some people also like to add a few squirts of lime or lemon juice.
Organic Cucumbers Best
I highly recommend choosing organic cucumbers over conventionally grown varieties or grown your own. Cucumbers have been ranked in contaminated food lists due to their pesticide content, according to the Environmental Working Group.
20 Health Benefits of Cucumbers
antioxidant properties
anti-inflammatory benefits

Contain lignans which may help to lower your risk of breast, uterine, ovarian, and prostate cancers

rich source of vitamin C, beta-carotene & manganese
free radical scavenger
anti-estrogenic effects
helps with hydration
helps with blood pressure
beneficial for pyorrhea
aids in digestion
helpful with constipation
natural remedy for treating tapeworms
high silica content helps brittle nails
may relieve gout & arthritis pain
beneficial for diabetes
may reduce cholesterol levels
high in fiber
may help with kidney stones
cardiovascular benefits
aids in weight loss
good source of B vitamins
effective hangover cure
Cucumber-Pineapple-Kale Green Smoothie

Makes approx 6 one-cup servings.
Ingredients
4 Cups purified water
1 cucumber – peeled
1 Cup romaine lettuce
1/2 Cup chopped pineapple
1/2 Cup kiwi – peeled
6 -8 kale leaves
1/2 avocado
1 tablespoon fresh ginger (about 1-inch of the root)
Choose your fav low-carb sweetener and sweeten to taste. (optional)
Directions
Wash all ingredients thoroughly. Place everything in high speed blender and blend until creamy. Enjoy!
(Always use organic ingredients when available.)
Approx nutrition info for one cup serving (without sweetener): 37 calories, 2g fat, 3g net carbs, 1g protein
†Results may vary. Information and statements made are for education purposes and are not intended to replace the advice of your doctor. Oasis Advanced Wellness/OAWHealth does not dispense medical advice, prescribe, or diagnose illness. The views and nutritional advice expressed by Oasis Advanced Wellness/OAWHealth are not intended to be a substitute for conventional medical service. If you have a severe medical condition or health concern, see your physician of choice.
Save
Save
Save
Save
Save
Save
Save
Save
Save
Save
Save
Save
Save
Save
Save
Save
Save
Save
Save