Chances are most reading this article have fond memories of the children's rhyme – "Here we go 'round the mulberry bush…the mulberry bush…the mulberry bush." Unfortunately most children have no idea what a mulberry bush/tree looks like let alone have they ever tasted a fresh mulberry which, by the way, taste wonderful!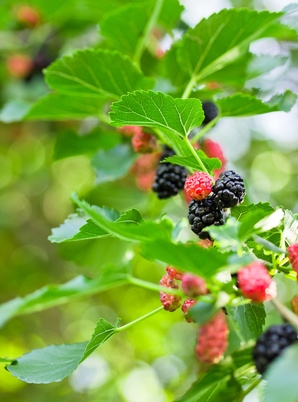 Mulberry is also known as Morus fruit and comes from the same tree that is used to raise silkworms, where the worms feed off the plant's leaves. The fruit is an aggregate fruit composed of many smaller fruits called drupes. Botanically-speaking, it's not really a berry. The skin is smooth and fragile but as the fruit ripens, the color changes from green to red to dark purple. White mulberry trees also exist and are the ones used for silkworms. Mulberries have a stem attached once picked from the tree which distinguishes them from blackberries and raspberries.
The best time for fresh mulberries is May thru August. Unfortunately, some people consider mulberries a nuisance because of the stains left by the purple fruit when mulberries become ripe and drop to the ground, or birds eat them and leave purple dropping. Mulberries, however, are a great source of nutrients. If you are fortunate enough to have a mulberry tree growing nearby, as my grandmother had in her backyard, harvesting and eating the mulberries can provide great health benefits. Just be sure to wear shoes, if you don't want purple feet!
Health Benefits of Mulberries
powerful antioxidant
anti-inflammatory
lowers blood pressure
strengthens immune system
anti-aging properties
improves blood circulation
prevents heart disease
high levels of potassium
low in calories
may help with neurological diseases
excellent source of vitamin C
free radical scavenger
excellent source of iron
good source of manganese & magnesium
enhances appetite
rich in B complex
rich iv vitamin K
protects against cancer
cleanses the blood
cleanses and supports the liver
strengthens eyesight
helps with memory
helps with constipation
calms nerves

Pineapple-Banana-Mulberry Smoothie Recipe
½ cup pineapple juice – or fresh pineapple
1 banana (use frozen for a colder smoothie)
1 tablespoon raw honey
1 tablespoon Mulberries
Directions
Always use organic ingredients when available.
Place all ingredients in blender and blend until smooth. May add ice. Enjoy!
†Results may vary. Information and statements made are for education purposes and are not intended to replace the advice of your doctor. Oasis Advanced Wellness/OAWHealth does not dispense medical advice, prescribe, or diagnose illness. The views and nutritional advice expressed by Oasis Advanced Wellness/OAWHealth are not intended to be a substitute for conventional medical service. If you have a severe medical condition or health concern, see your physician of choice.
Save
Save
Save
Save