One of the most abundant minerals in the human body is magnesium and at least 50% of magnesium is located in your bones. Magnesium is also a crucial cofactor for over 300 biochemical reactions in your body making adequate magnesium levels very important to your health. These biochemical reactions include everyday actions such as the building of muscles, nerve function maintenance, protecting a healthy heartbeat and preserving optimal immune system function. In fact, researchers have currently found 3,751 magnesium-binding sites on human proteins, indicating that the role of magnesium in human health and disease may have been tremendously underestimated. Let's look at some of the symptoms of magnesium deficiency.


Symptoms of Magnesium Deficiency
The current RDA (Recommended Daily Allowance) for magnesium is 310-320 milligrams (mg) for adult women, and 400-420 mg for adult men. However, the average intake of magnesium among Americans is about 100 mg below these recommended levels making most Americans deficient in adequate magnesium levels.
Dr. Carolyn Dean, a medical and naturopathic doctor says that consuming even the RDA amount is only "just enough to ward off outright deficiency." If you're deficient, you are likely at a higher risk of type 2 diabetes than normal. It's also important to remember that for your body to use calcium effectively, you must have adequate magnesium as a cofactor. Unfortunately there are literally millions of people downing calcium supplements without added magnesium and thus experiencing, at best, minimal improvement. A good formula to remember is that the body must have absorbable calcium to make muscles contract and it must have absorbable magnesium to make muscles relax. Calcium and magnesium are indeed a pigeon-pair.
While we are talking about magnesium deficiency, it's important to know that the blood test commonly offered in doctors' offices measures serum magnesium levels. This particular test does not efficiently measure the magnesium level within the cell where 99% of the magnesium in the body is found. Many labs currently offer an "erythrocyte magnesium level" or "red blood cell magnesium level" test. These tests provide much more information about your magnesium levels and are available from labs across the country. Be sure to ask specifically for these tests if you want to know your intra-cellular magnesium levels.
Those most likely to suffer from low blood levels of magnesium include senior adults as well as those who consume diuretic medications, which can increase the excretion of magnesium. Other symptoms of magnesium deficiency include:
Irritability
Anxiety
Lethargy
Fatigue
Memory issues
Anorexia
Loss of Appetite
Nausea
Vomiting
Seizures
Muscle weakness
Muscle cramps
Tremors
Vertigo
Difficulty swallowing
Irregular or rapid heartbeat
Depression
Dementia
Chronic fatigue syndrome
ADHD
Asthma
Colon Cancer
Epilepsy
Parkinson's disease
Sleep disorders
Fibromyalgia
Migraine headaches
Osteoporosis
Premenstrual syndrome (PMS)
Chest pain (angina)
Cardiac arrhythmia
Coronary artery disease
Atherosclerosis
Metabolic Syndrome
Hypertension
Type II diabetes
Studies Indicate Adequate Magnesium Levels Could Reduce Risk of Diabetes
Higher magnesium intake reduces risk of impaired glucose and insulin metabolism and slows progression from pre-diabetes to diabetes in middle-aged Americans. The researchers commented, "Magnesium intake may be particularly beneficial in offsetting your risk of developing diabetes, if you are high risk."
In addition, a meta-analysis of seven studies showed that for each 100 milligrams (mg) of magnesium consumed in a day, the risk of diabetes is decreased by 15 percent. Those researchers concluded, "Magnesium intake was inversely associated with incidence of type 2 diabetes."
A meta-analysis of 13 studies conducted in 2011 similarly found "further evidence supporting that magnesium intake is significantly inversely associated with risk of type 2 diabetes in a dose-response manner."
In a review of three studies of over 85,000 women and 42,000 men, individuals who consumed adequate magnesium levels lowered their risk of developing diabetes more than 30 percent during the next 12 to 18 years compared to those who consumed the least amount. The studies suggest that adequate magnesium levels influence the action of insulin in the body. And a lack of magnesium may worsen insulin resistance, triggering the onset of diabetes.
One 2013 study involving pre-diabetics found that most had inadequate magnesium intake. Those with the highest magnesium intake reduced their risk for blood sugar and metabolic problems by 71 percent!
In a large Japanese study (the Hisayama Study) published in Diabetic Medicine in 2013, researchers found magnesium intake was a significant protective factor against type 2 diabetes in the general Japanese population, especially among those "with insulin resistance, low-grade inflammation, and a drinking habit.
In the Framingham Offspring Cohort (2006), higher magnesium intake improved insulin sensitivity and reduced type 2 diabetes risk.
Magnesium and Inflammation
A new meta-analysis released in May, 2017 pooled data from 11 studies with results indicating that dietary supplementation with magnesium may reduce levels of inflammatory markers. Researchers from Iran, Australia and Mexico focused on the CRP (C-Reactive Protein) which is an inflammatory marker. Results of this meta-analysis indicated that magnesium supplementation reduces CRP levels among individuals with inflammation. This finding suggests that magnesium supplements may have a beneficial role as an adjuvant for the management of low-grade chronic systemic inflammation.
Magnesium supplementation was not found to significantly affect plasma concentrations of CRP. However, when the analysis was focused on those with already elevated CRP levels, a significant reduction of CRP values was observed. The difference between subgroups was statistically significant.
Foods Highest in Magnesium
Some of the best food sources of magnesium that can provide adequate magnesium levels are green leafy vegetables, banana, avocado, figs, nuts and seeds, dark chocolate, organic yogurt, goat cheese, salmon, and dried beans.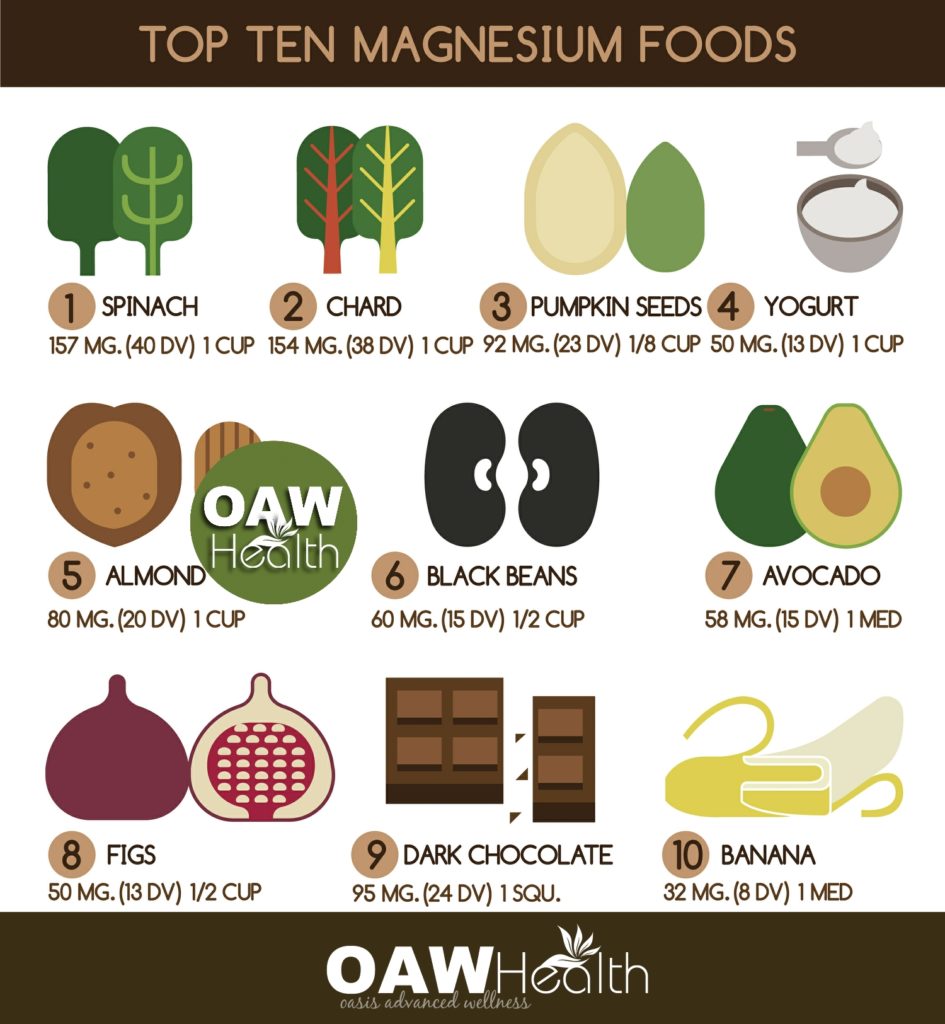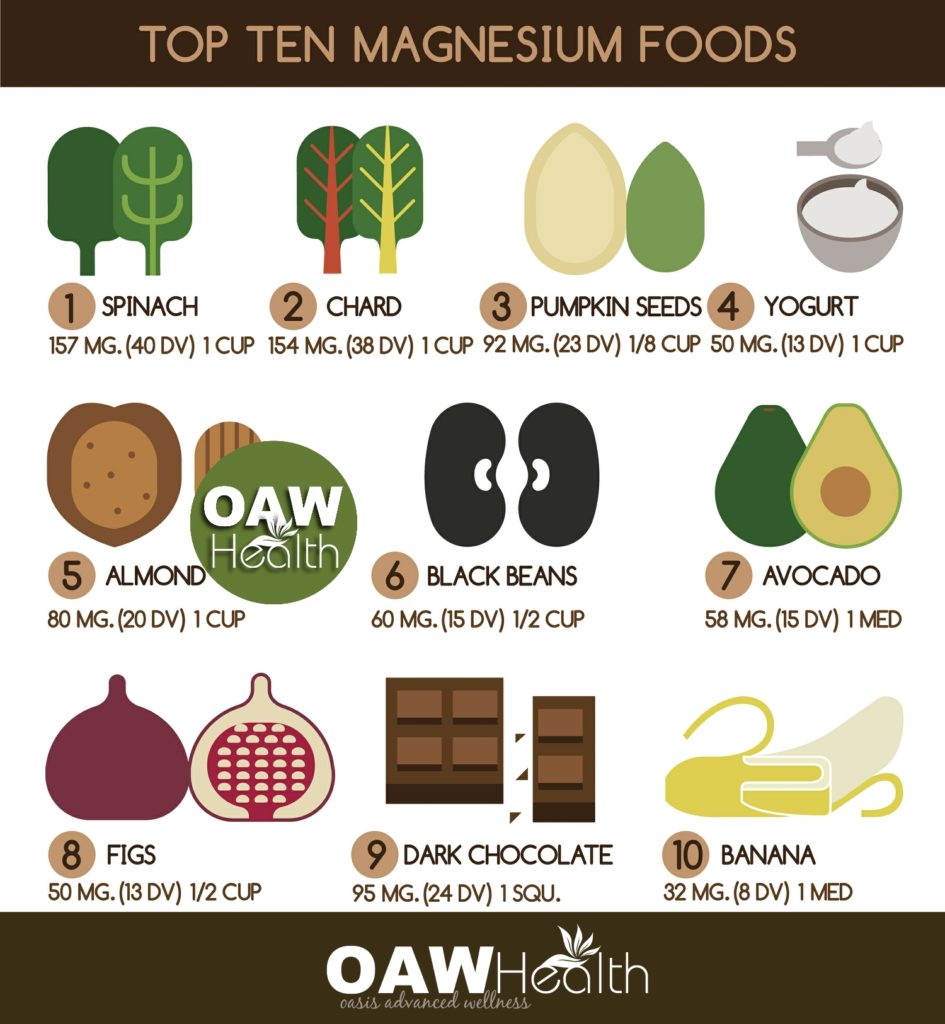 References
Magnesium's Importance Far Greater than Previously Imagined. Greenmedinfo.com December 5, 2012.
http://www.ncbi.nlm.nih.gov/pubmed/17645588 J Intern Med. 2007 Aug;262(2):208-14.
Wang JL, Shaw NS, Yeh HY, Kao MD. Magnesium status and association with diabetes in the Taiwanese elderly. Asia Pac J Clin Nutr. 2005;14(3):263-9.
http://care.diabetesjournals.org/content/early/2013/09/23/dc13-1397.short ADA Diabetes Care October 2, 2013.
Longstreet DA, Heath DL, Vink R. A potential link between magnesium intake and diabetes in Indigenous Australians. Med J Aust. 2005 Aug 15;183(4):219-220.
http://www.ncbi.nlm.nih.gov/pubmed/21868780 Diabetes Care. 2011 Sep;34(9):2116-22.
Simsek E, Karabay M, Kocabay K. Assessment of magnesium status in newly diagnosed diabetic children: measurement of erythrocyte magnesium level and magnesium tolerance testing. Turk J Pediatr. 2005 Apr-Jun;47(2):132-7.
http://www.mdpi.com/2072-6643/5/10/3910 Nutrients September 27, 2013.
http://onlinelibrary.wiley.com/doi/10.1111/dme.12250/abstract Diabetic Medicine December 2013.
http://www.ncbi.nlm.nih.gov/pubmed/17229895 J Am Coll Nutr December 2006.
Current Pharmaceutical Design. Effect of magnesium supplementation on plasma C-reactive protein concentrations: A systematic review and meta-analysis of randomized controlled trials. 2017 May 25. doi: 10.2174/1381612823666170525153605.
†Results may vary. Information and statements made are for education purposes and are not intended to replace the advice of your doctor. Oasis Advanced Wellness/OAWHealth does not dispense medical advice, prescribe, or diagnose illness. The views and nutritional advice expressed by Oasis Advanced Wellness/OAWHealth are not intended to be a substitute for conventional medical service. If you have a severe medical condition or health concern, see your physician of choice.
Save
Save
Save
Save
Save
Save
Save
Save
Save
Save
Save
Save
Save
Save
Save
Save
Save
Save
Save
Save
Save
Save
Save
Save
Save
Save
Save
Save