intraMAX Liquid Vitamin Supplement
$80.00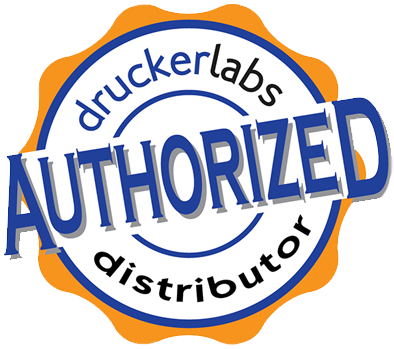 intraMAX liquid vitamin is a 100% organic liquid vitamin and mineral supplement that is nutrient-rich. The 100% natural flavored Organic Homeostatic Soil-based MicroComplexes are derived from 100% organic plant sources and thus are ultra dissolved, organically complexed trace minerals. intraMAX liquid vitamin is a completely organic, liquid, trace mineral, multi-nutritional dietary supplement. A potent all-in-one formula, It contains over 65 organic, trace minerals, health-promoting superfoods and phyto-nutrients. It's low glycemic, vegetarian, hypoallergenic and has no chemicals.
10 Top Benefits of intraMAX Liquid Vitamin

1. The Ultimate Organic Multivitamin
Compare intraMAX to any other product and you'll will soon realize that intraMAX liquid vitamin is the most scientifically advanced, clinically proven, health promoting organic vitamin available in the marketplace.
2. Highly Bio-Available Nutrition
Uses the power of fulvic acid to deliver bio-available nutrients for maximum absorption. The Physicians Desk Reference advises vitamins are 98% absorbed in liquid form but only 20% in pill.
3. Helps Meets Your Nutritional Requirements
Compare the labels, intraMAX liquid vitamin contains more potent, organic nutrients than most people consume in their diet. It's an awesome way to fill the gaps in your nutritional requirements.
4. Doctor Formulated and Approved
Created by Dr. Richard Drucker, M.S., N.D., Ph.D., a highly respected doctor in the natural health field, intraMAX is clinically tested.
5. Unparalleled Production Quality
Created with proprietary CellV™ Technology which provides pH balance and enhances vitamin, enzyme and nutrient absorption.
7. Void of Harmful Ingredients
Does not contain wheat, yeast, gluten, corn, soy, animal products, dairy, antibiotics, starch, herbicides or pesticides.
8. Uses Safe Packaging
Every bottle of  is given an inert, protective coating prior to being filled to ensure chemical-free purity.
9. Available in Convenient Sizes
Available in 32 fluid oz. full size or 2 fluid oz. travel size.
10. Convenient and Easy
All you need is 1 capful of intraMAX liquid vitamin daily and you're done with your foundational vitamin supplement. No handful of pills to remember to take.
Save
Save
Save
Save
Save
Save
Save
Save
Save
Save
Save
Save
Save
Save
Save
Save
Save
Save
Save
Save
Save
Save
Save
Save
Save
Save
Save
intraMAX is produced using intraCELL Technology. This innovative cold-fill manufacturing process allows the 415+ ingredients in intraMAX to retain their maximum nutritional value while being enriched organically with naturally-sourced fulvic acid.
In just a one-ounce daily serving, intraMAX provides an array of vitamins, trace and macro minerals, probiotics, antioxidants, digestive enzymes, fruits, vegetables, essential fatty acids, bioflavinoids, amino acids and much more! The unique ingredient blends in intraMAX not only support the body's ability to eliminate harmful substances†, they also provide support for a wide range of systems and functions which include:
Endocrine and hormone
Immune, development, and response
Blood, cellular, and circulatory
Cognitive, brain development, and neurological
Skin, bone, skeletal, muscle, and joint
Energy, strength, stamina, and stress management
Recommended for ages 12 - adult
Vegetarian
Peach Mango Flavor
†Results may vary.
Save
Save
Save
Save
Save
Contents: 32 fluid ounces
Usage
Shake well before each use.
Best taken on an empty stomach.
Do not dilute with juices, foods, or water.
Do not take pharmaceuticals or any other nutraceuticals within 2 hours prior or 2 hours after taking dose.
After your dose follow with 6-8 oz. filtered water, never tap water.
For best results hold product under your tongue for 30 seconds then swallow.
Refrigerate product after opening.
Dosage
ADULTS: Take 1 ounce, or as directed by your healthcare professional.
CHILDREN: Take half the adult dose or as directed by your healthcare professional.
TODDLERS: Take 1-2 teaspoons or as directed by your healthcare professional.
PRE-NATAL: Take 1 ounce, or as directed by your healthcare professional.
intraMAX™ is best taken on an empty stomach (at least 30 minutes before or after eating), because the intraCELL™ V technology will increase absorption of any item it encounters in the system. When users are just beginning an intraMAX™ nutritional program, 1/2 ounce once daily may be sufficient. After 4-7 days of successful treatment, an additional 1/2 ounce may be added. This may be taken in one dose or two. Many who use intraMAX respond best to 1/2 oz in the am and 1/2 oz in the afternoon.Do not take intraMAX™ after 6 pm as the 65 organic electrolytes which provide natural energy may prevent sleep.
†Results may vary.
Fenestra Clinical Study
In this randomized, gold-standard, double-blind placebo-controlled study intraMAX ® was shown to be a safe and highly effective means of improving one's nutrition while helping to maintain or improve cellular system functions.
Details of the efficacy results supported by the clinical study's findings on intraMAX can be grouped into the following four areas: energy, cellular function, detoxification, and optimal wellness.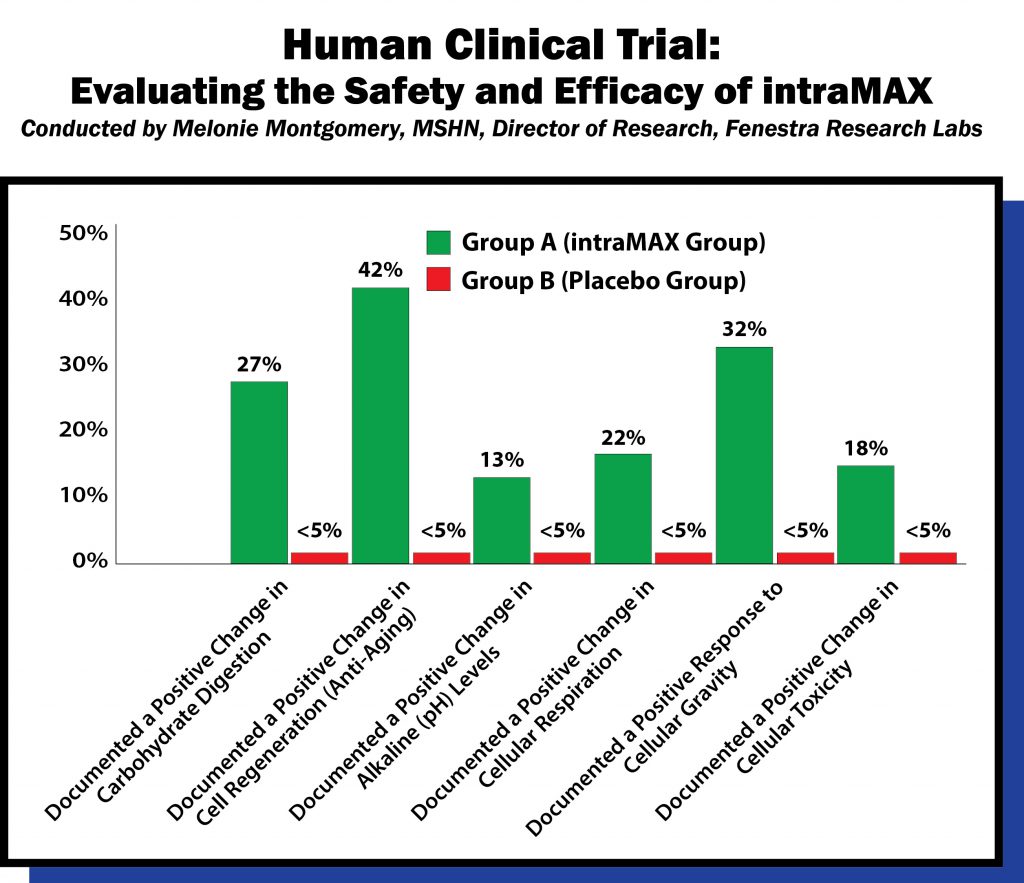 View the clinical study paper here.
†Results may vary.
Save
Save
Save
Save
Save
Save
Save
Save
Save
Save
Save
Save
Save
How is intraMAX® different from other dietary supplements on the market?
intraMAX® offers many unique features, including :
Complete ingredient formulas that contain naturally-occurring trace minerals and provide comprehensive nutrition
A fulvic acid base which allows for rapid intracellular absorption in order to deliver nutrition quickly and efficiently
Optimal nutritional value is maintained by using a proprietary cold-fill manufacturing process
Great taste in a convenient liquid form
How many servings are there per bottle?
The suggested serving size for intraMAX® is 1 fl oz per day. The full-sized bottle contain 32 servings, and the travel-sized bottle contain 2 servings.
How long does intraMAX® last?
Unopened bottles of intraMAX® can be stored in a cool, dry environment for approximately 9 months.  Once opened and refrigerated all intraMAX®will last up to 60 days.
Why is intraMAX® in liquid form?
intraMAX® is in a liquid form to preserve the nutritional benefit of the ingredients and to ensure higher absorption within the body's cells. In addition, intraMAX® uses a proprietary cold-fill process to retain the greatest nutritional value. (Most liquids and many pills and powders are manufactured with heat which significantly reduces the potency of nutrients.)
What is intraCELL Technology?
intraMAX® is created using a proprietary carbon-bonding process called intraCELL Technology. This technology allows living carbon to bind to nutrients within each product in order to provide a faster, more efficient absorption rate. Though science plays a major role in our products, nothing replaces the necessity of nature. That is why our core ingredients come from whole food sources such as fruits, vegetables, and herbs. The result is complete liquid nutrition all-in-one ounce.
What are the Facts about Fulvic Acid?
When fulvic acid is produced in nature, phytochemicals from plants become very concentrated.
The traits of fulvic acid are akin to the bio-active and organically complex material it was produced from. The benefits are similar in almost all mammals and are enhanced over time.
All supplements, therapeutic substances, herbal extracts, and pharmaceuticals can be linked to the chemical makeup of fulvic acid.
Every microbe, plant, or animal on earth, whether extinct or living, has DNA that has become a purified constituent of fulvic acid.
A number of plants, primarily microscopic ones, are involved in the production of fulvic acid.
The production of fulvic acid is a recycling cycle as fulvic acid gives a consistent rise in health to later successors.
Today's methods of agriculture and waste management have interfered with nature's natural processes and have led to crop deterioration that has led to health deterioration.
During the Ming Dynasty of the 15th century, Li Shi Zhen noted the use of "Wujinsan" (golden medicine) containing fulvic acid as the necessary ingredient.
Why is intraMAX® considered vegetarian but not vegan?
Our all-in-one dietary supplements, intraMAX® and intraKID®, are not considered vegan because both products contain bee pollen, bee propolis, and royal jelly. These ingredients are naturally-derived byproducts of bees. However, our trace mineral supplements, intraMIN® Tropical Fruit and intraMIN Unflavored, are vegan products.
Should I be concerned about heavy metals in intraMAX®?
No. Heavy metals in our products are well below the daily limits established by the FDA . Drucker Labs tests every lot to ensure that these standards are met prior to your product being released for distribution.
Why are ingredients like aluminum and fluoride in your products?
All intraLINE products contain over 71 trace minerals in a fulvic acid base. The fulvic acid is obtained through a soil extraction method which simultaneously yields minerals and other elements which are naturally present in the soil. Many of the trace minerals assist in maintaining health and well-being. These trace minerals include aluminum and fluoride among others and are not present in any measurable amount.
Why should I refrigerate my product after opening?
In order to reduce the oxidation of intraMAX®, it is recommended that you refrigerate your product after opening. Refrigeration slows this natural process.
Should I purchase your intraLINE products through Amazon or eBay?
Oasis Advanced Wellness along with the intraLINE manufacturer does not recommend that you purchase supplement products from online retailers found on Amazon or eBay. These retailers are not authorized distributors of intraMAX, intraMIN or intraKID. You may receive product that has been compromised because it has expired, has not been stored optimally, has the expiration and lot identification code missing, etc. We recommend that you purchase only through authorized distributors.
BE AWARE: If you purchase intraMAX, intraKID, intraMIN products from eBay and receive a bottle of product that has an Oasis Advanced Wellness label on it, you have purchased from a fraudulent eBay seller. This is a scam and we ask that you notify eBay immediately that the seller is using stolen credit card numbers under your name when purchasing intraMAX from us.
What is your return policy for intraMAX®?
If you are not 100% satisfied with your purchase, contact Oasis Advanced Wellness within 30 days of the order date. To qualify, you must have purchased your product directly through Oasis Advanced Wellness. When you call, please have the following information available:
Product name
LOT number
Expiration (EXP) date
Invoice number (if available)
Reason for return
This information is necessary in order to process your Return Authorization Number (RAN). Drucker Labs requires an RAN for all returned product. Upon product receipt, we will exchange your product or refund your purchase.
What should I do if I receive damaged product?
Any and all damages should be reported immediately to Oasis Advanced Wellness within one day of receiving shipment.
†Results may vary.