Lung Health – Natural Respiratory Support
$26.96
Whether you're under the weather and need relief or want natural, everyday support to keep your lungs feeling strong and healthy, Lung Health is the solution. Lung Health is an organic, natural respiratory support product using a powerful blend of herbs and essential oils to cleanse and open your airways. Lung Health is certified organic and formulated with Raw Herbal Extract technology, and two times more potent as before.
Helps to Cleanse the Lungs
Assists Easy Breathing
Soothes Throat Irritation & Discomfort

Lung Health

Organic Natural Respiratory Support Formula
What Is Lung Health?
Air quality affects everyone and is something in which we are all concerned. Smog, pollen, or industrial burn-offs, pet dander, household chemicals, and inside dust can compromise your respiratory system and make breathing uncomfortable. Until now, there haven't been many natural and non-toxic ways to lessen the effects these airborne toxins can have on your health.
Lung Health is a liquid, all-natural, herbal formula that can detoxify, cleanse, and refresh the whole respiratory system. Lung Health is formulated with a blend of robust herbs and essential oils that soothe and cleanse the lungs, throat, and sinuses to promote clear, easy breathing. You can use Lung Health Natural Respiratory Support any time to support your airways! It's great for daily use -- morning, afternoon, or in the evening before bed. Each one-ounce bottle lasts 14 days when used as directed.
Health Benefits of Lung Health

Helps You Breathe Easy
If you're under the weather or want to support your respiratory health naturally, Lung Health encourages circulation to help your lungs feel strong and help you breathe easier.
Reduces Irritation
Whether you've got a frog in your throat or your sinuses are on fire, Lung Health can help. Made with menthol, peppermint, and eucalyptus, just a few sprays can ease respiratory discomfort.
Keeps Your Lungs Feeling Clean
Air pollutants affect your lungs and ability to breathe. Lung Health contains natural ingredients such as orange peel that stimulate mucus production, helping your body expel built-up toxins.
The Best 5 Reasons You Need Lung Health


What's Not in Lung Health

Alcohol
Harsh Chemicals
Dairy
Gluten
GMOs
Soy
Toxic Additives
Why Lung Health Is Different
Lung Health is the best solution for natural respiratory health support.
Safe, Gentle & Fast-Acting
Lung Health Natural Respiratory Support Formula has an all-natural, great-tasting formula that's perfect for anyone — even kids! Ingredients like peppermint and lemon balm soothe and open the airways quickly and naturally.
Easy-to-Take Liquid Formula
Lung Health is made with herbal extracts in organic vegetable glycerin. It tastes great and isn't harsh like alcohol. The sprayer makes it easy to get a consistently sized serving every time.
Satisfaction Guaranteed
We stand by the products we offer. That's why our 30-Day Money-Back Guarantee backs Lung Health. If you use it and it doesn't make life better, we'll refund your money.
Tips for Taking Lung Health

Strengthen Your Lungs
Deep breathing exercises are an excellent way to keep your airways open and strengthen both your lungs and their capacity — and, let's not forget, relieve stress. Once or twice a day, find a quiet place, close your eyes, and take a series of nine deep breaths. Inhale slowly, hold it for 16 seconds, and exhale slowly.
Get an Air Purification Device
Get an air purification device to help clean the air in your home. Stand-alone units are readily available, and some models can even attach to your HVAC system. The best use a combination of HEPA and UV filtration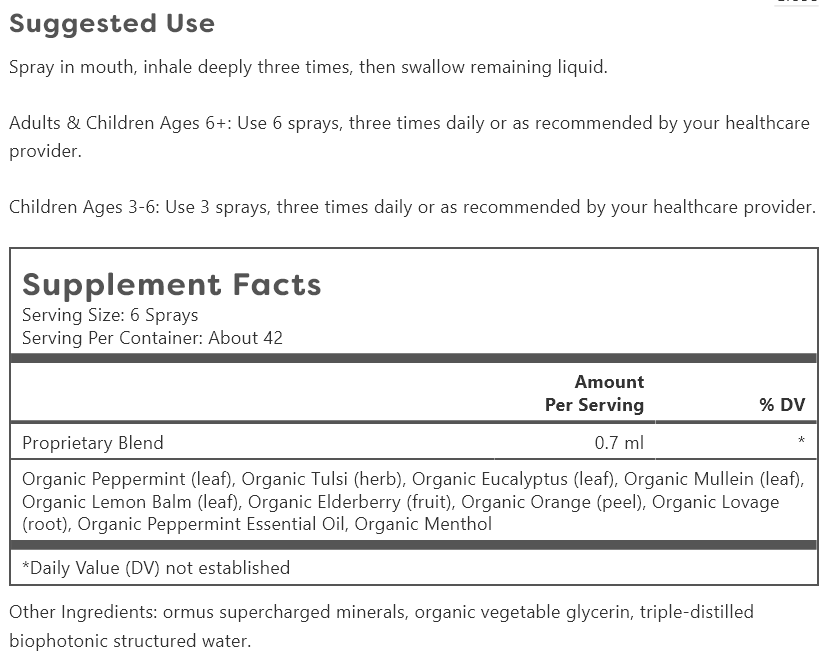 Q: I have bronchiectasis would this product help me?
A: Lung Health is not intended to treat or address specific medical conditions like bronchiecstasis; however, it may still help stimulate mucus production to support easy breathing.
Q: Will Lung Health work with a Nebulizer?
A: It's best to take Lung Health at full strength directly by mouth without diluting it or using a nebulizer.
Q: Is Lung Health is good for children?
A: Yes, children can also benefit from Lung Health. Here is our recommended protocol: Spray into the mouth, inhale deeply three times, then swallow the remaining liquid.
-Adults and Children 6+: 6 sprays 3 times daily or as recommended by your healthcare provider
-Age 3-6: 3 sprays 3 times daily or as recommended by your healthcare provider
Q: Do you take the product full strength, or is intended to be diluted in a nebulizer with isotonic saline (or other.) ready to order soon.
A: It's best to take Lung Health at full strength directly by mouth without diluting it.
Q: Does Lung Health clear your nasal passage?
A: Yes, Lung Health is made to cleanse your nasal passages and lungs.
Q: I have allergy-induced asthma, would this be helpful with not being able to breathe at night when my inhaler doesn't do much?
A: Lung Health is made to cleanse the lungs and support easy breathing; however, it's not intended to treat any form of asthma or replace your inhaler. We're sorry for the inconvenience. Overall, it's challenging to know how it will personally affect you, but if you decide to give it a try, please consider checking in with your healthcare provider before use.
Q: Does it help with animal allergies? Mine are mainly in my chest. Love my dog but his dander makes my chest tight and makes me a tad wheezy.
A: While Lung Health is not intended to treat any form of allergy, it's an excellent natural remedy to help minimize the effects of environmental irritants like pollen and dust. So, we imagine that it may also be beneficial for you, as it detoxifies your entire respiratory tract. As always, we'd love to hear your feedback if you choose to try Lung Health for yourself.
Q: Proprietary blend? What's in it? People need to know what's in it to avoid bad interactions with anything else they take.
A: We appreciate your feedback. Lung Health indeed contains a proprietary blend of ingredients which can be found under the Ingredients and Use section.
Q: How much is Alletrex?
A: Lung Health is 26.96 USD per bottle and one bottle lasts approximately 14 days.
Q: How long does one bottle last?
A: When taken as directed (6 sprays three times daily), one bottle of Lung Health will last approximately 14 days.
Q: Is there anything in Lung Health that would raise blood pressure?
A: Lung Health does not contain any ingredients that would inherently affect your blood pressure. Nevertheless, we also understand that everyone is different. We imagine that Lung Health will be safe and effective for you, but to be safe or if you have specific medical issues, please consider touching base with your healthcare provider for additional tips and guidance.