Organic Hemp Extract – Relaxation & Joint Relief
Finally here, a hemp product you can trust! Full-spectrum, high-CBD Organic Hemp Extract allows you to enjoy the remarkable benefits of this impressive plant as nature intended. Every bottle contains 3,300 mg of pure hemp extract — 110 mg per serving when used as directed.† 1 ounce. †Results may vary.

What Is Organic Hemp Extract?
The hemp revolution is exploding! And rightly so because of the many benefits hemp provides. The hemp plant is loaded with beneficial constituents known as cannabinoids that calm the mind and promote homeostasis (balance) throughout the body. We're very excited to offer you an organic, full-spectrum, CBD-rich formula made with Colorado's best American-grown hemp.
Gluten-free, non-GMO, and always tested for purity and safety, it's perfect for helping you relax, sleep better, and put out the fire of sore, aching joints. There is 3,300 mg of hemp per bottle in a base of organic, coconut-derived MCT oil with Energized Trace Minerals™ added to enhance absorption. It has a natural flavor and contains no unnecessary additives.
If you need relief or are just looking for the best hemp extract, you've found what you need.
Health Benefits of Organic Hemp Extract
Hemp contains phytocannabinoids, including cannabidiol (CBD), which support the endocannabinoid system — responsible for maintaining homeostasis throughout the body. Organic Hemp Extract contains MCT oil and Energized Trace Minerals for better bioavailability. Some of the many health benefits include:
√ Stress Relief
Do you ever feel the uneasiness of a loud mind? If so, say hello to serenity and calm. The plant compounds in hemp help you relax and stay ahead of stress.
√ Promotes Restful Sleep
Do you need a natural sleep remedy that actually works? This is it. Best of all, the fast-acting formula is perfect for taking a couple of hours before bed.
√ Eases Stiff and Sore Joints

Exercise, overuse, and the natural progression of life can leave you with sore, swollen joints. Hemp can ease joint stiffness and soreness.
√ Calms the Inflammatory Response
Researchers believe that the CBD in hemp interacts with receptors in your brain and immune system. As a result, hemp keeps your inflammatory response in line so you can move easier.

The Top 5 Reasons to Take Organic Hemp Extract
Relax & Unwind
This full-spectrum formula is the ultimate in peaceful relaxation that leaves you feeling good — not spacey or cloudy. It's perfect for regular, everyday support.
Sleep Like a Baby
CBD and the other health-boosting compounds in hemp can help you fall into a deep, restful slumber that lasts all night and prepares you to go all day.
Move Easier & Faster
Aching joints? Don't rely on synthetic chemicals that have more side effects than benefits. Hemp promotes a normal inflammatory response for everyday relief.
Rely on This Fast-Acting Product
You can count on this organic hemp extract to work quickly when you need it. The formula is enhanced with MCT oil and Energized Trace Minerals for quick absorption.
Enjoy Our Pure Formula
With a raw, natural flavor, smooth texture, and absolutely no artificial flavors or unnecessary ingredients, a serving of hemp extract is a treat you'll look forward to.
What's In Organic Hemp Extract?
Organic Hemp - (Cannabis sativa, whole plant)
Organic MCT Oil - (Fractionated coconut oil)
Energized Trace Minerals™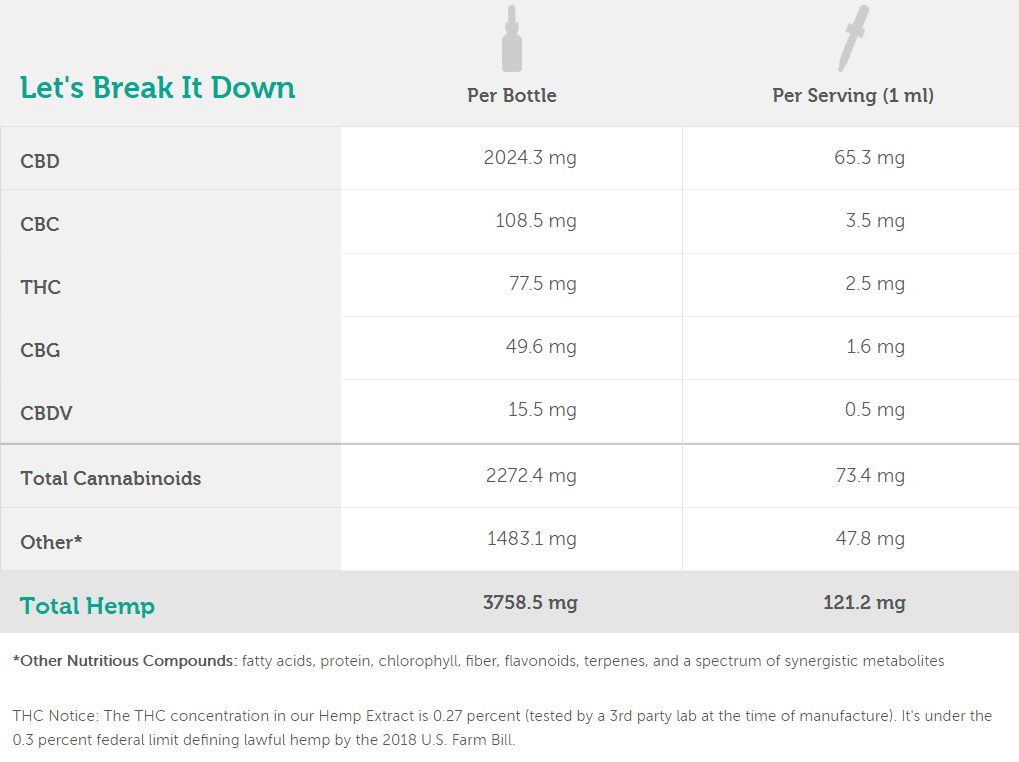 What's Not In Organic Hemp extract
Ingredients or packaging that could harm your health or the environment is never used. Organic Hemp Extract is 100% free of any:
GMOs
Alcohol
Animal Byproducts
Allergens
Gluten
Soy
Dairy
Why Organic Hemp Extract Is Different
Organic Hemp Extract is in a class of its own. Potent, effective, pure, and reliable — our organic hemp extract provides all the benefits of cannabis and its constituents without the unwanted effects that come from additives and fillers.
√ Trustworthy Source
Organic Hemp Extract is made with the full plant from the best hemp grown in the United States and produced with the care and quality our customers expect.
Other Brands: Risky, Unknown Vendors - Many profit-oriented companies have flooded the new hemp market with weak, untested, and potentially dangerous products heavy on marketing but low on quality. In addition, in a rush to sell a product, many companies use hemp grown in toxic conditions.
√ Organic, Full-Spectrum Formula
Organic Hemp Extract is one of few certified-organic, whole-plant, cold-processed, full-spectrum extracts. Full-spectrum means all the phytocannabinoids, including CBD, terpenes, antioxidants, and other compounds, are retained. Together, their synergistic effect is stronger than the individual components.
Other Brands: Incomplete Extraction - Most hemp extracts remove many of the plant compounds, keeping only CBD or a few terpenes. If even one naturally occurring compound is missing, it is not considered full-spectrum. Many manufacturers lose other vital constituents in the manufacturing process. As a result, these extracts won't produce the desired health effects.
√ Potent Formula, Amazing Price
The total potency in the bottle and per serving is higher than most products on the market. Organic Hemp Extract contains 3,300 mg per bottle — 2,500 mg of cannabinoids, and almost 2,200 mg is cannabidiol or CBD. Every 110 mg serving contains about 80 mg of cannabinoids (70 mg of CBD).
Other Brands: Less Potent and More Expensive - Compare for yourself, and you'll see that other hemp extracts are less potent and more expensive. For example, most hemp products sold only contain 500 to 2,000 mg per bottle, and the servings only offer 15 to 30 mg. Even worse, they sell for $70 to $130 per ounce.
Tips for Taking Organic Hemp Extract
Maximize Absorption
Holding the extract in your mouth for a longer period before swallowing can increase absorption. Eating citrus fruits after taking it may also improve the absorption of this organic hemp extract.
Time Your Servings
Some people find that taking hemp extracts or CBD at night wakes them up initially but enhances sleep later. Until you know how you're affected, take this product at least two hours before bed.
Pure Earth Promise
Only the best ingredients are used in Organic Hemp Exact. As a result, you may notice the slight taste, smell, and color variations in each bottle. While other companies use chemicals and dyes to hide the naturally occurring variations, we proudly embrace them as a reminder of the ingredient's natural authenticity.
†Results May Vary

Suggested Use
Shake bottle well. Take 1 ml, hold in mouth for 1 minute and then swallow. Use 1 to 2 times daily or as recommended by your healthcare provider.
†Results May Vary
Is there a benefit to taking this sublingually vs. just swallowing?
Yes, consuming this sublingually vs. just swallowing can enhance the rate at which this product absorbs in the bloodstream to see quicker results.
Do you have a third-party certification?
Yes, it's tested by a 3rd party lab at the time of manufacture to ensure that it is safe for consumption and contains the advertised amount of hemp (including its individual components) per serving.
How does it compare with the effect of taking Bramhi (bacopa m..) or chyavanaprash?
Ayurvedic herbs like bacopa monnieri (brahmi) and chyawanprash can be used to improve focus and concentration. The naturally occurring plant compounds in hemp support the healthy functioning of the brain, organs, neurological system, immune, digestive, skeletal, and cardiovascular system. Organic Hemp Extract is intended for full-body support. If you decide to take other supplements with Organic Hemp Extract, please take them 20-30 minutes apart from one another to ensure maximum absorption.
How is your hemp extracted?
It's an advanced, proprietary sub-zero degree ethanol extraction. Our hemp is cold processed at temperatures below the freezing point of water to preserve the therapeutic compounds in the product. Our hemp is not CO2 extracted or processed with butane or other harsh solvents.
The CBD oil I tried from a different company included 30 MG of CBG (1.67oz bottle size). Does yours include CBG, and do you know if it's a similar dosage?
There's currently 49.6 mg of CBG (cannabigerol) per bottle and 1.6 mg per serving.
You don't ship to Canada?? What's the restriction? Is there an alternative method of shipping?
Due to regulations in Health Canada, we are unable to ship this product to Canada at this time. However, we're diligently working on making this possible in the future.
Can I purchase Organic Hemp Extract if I live outside of the US?
No, Organic Hemp Extract can only be shipped within the U.S.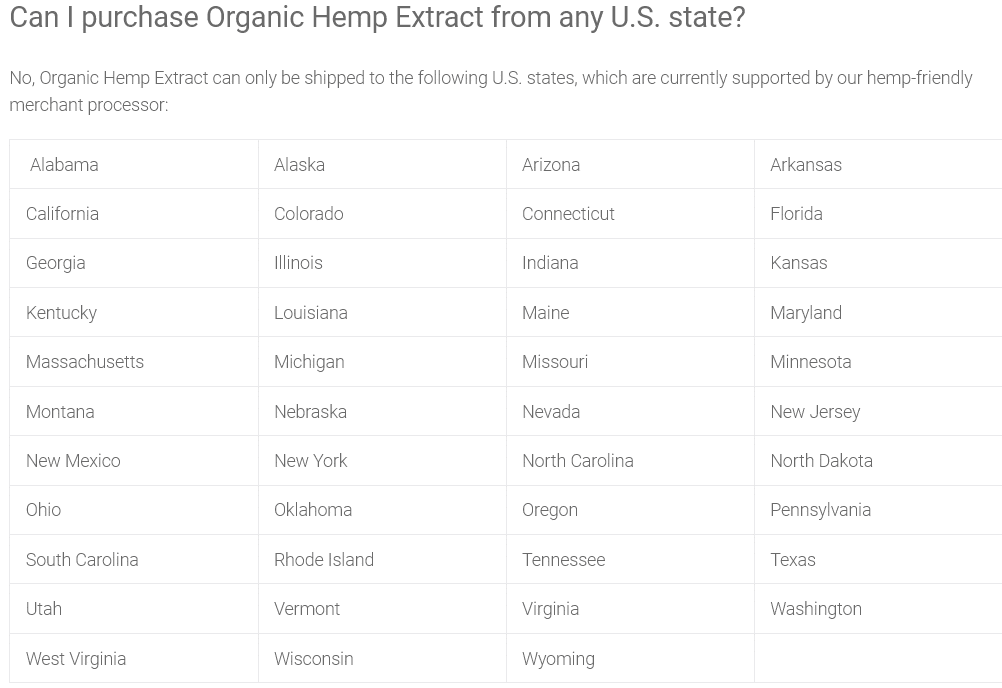 Is Organic Hemp Extract considered a Cannabidiol?
This product is a full-spectrum hemp extract. It contains all of the naturally occurring compounds found in hemp (including cannabidiol). Together, they're better able to promote balance throughout the body as opposed to an individual constituent.
Is alcohol used in the processing?
Subzero ethanol is used in our cold-extraction technology to harness and preserve the full potential of the plant's diverse, active compounds. This also allows for a higher concentration of cannabinoids per batch.
How often is the CBD lab tested for concentrations, each batch, etc.?
We test each batch for purity and concentration levels of CBD and other phytocannabinoids during the manufacturing process. Generally, there is 70 mg of CBD per serving.
Will taking this make me positive on a drug test for THC at work?
This product will most likely not result in a positive drug test, but it is possible. Most tests look for THC over a certain threshold. Although our extract does contain THC — less than 0.3% — it's conceivable that it could accumulate in the body to a concentration above testing thresholds. Please use our hemp extract responsibly.
Will the MCT oil increase your triglyceride level in the body?
MCT oil is not known to increase triglyceride levels.
How long does it typically take to notice the benefits of this product?
Most people notice benefits within 30 minutes to one hour of taking this organic hemp extract.
Can I mix this hemp extract into my water, tea, or smoothie?
Yes, if you don't enjoy the raw, natural flavor or want to give another beverage a kick, add a serving of Organic Hemp Extract to your water, tea, or smoothie and enjoy. We've also gotten positive reports from people who combine it with honey.
Should I take this product with prescription or over-the-counter medication?
Hemp extracts may interact with certain medications that are metabolized by the liver and should always be taken at least two hours before or after taking prescription or over-the-counter medications. If you take medications, discuss your situation with your healthcare provider before taking hemp extract.
Is this extract made from marijuana?
No, this is a full-spectrum hemp extract. Both hemp and marijuana are variations of the Cannabis sativa plant. However, hemp was bred to be high in health-promoting compounds called phytocannabinoids and very low levels of naturally-occurring THC, the psychoactive compound that produces the "high" feeling. In fact, CBD can help to lower the negative effects of THC by acting on the same receptors to reduce the psychoactive effects.
How much is the maximum safe serving per day?
We suggest 1 to 2 servings per day. There is limited research to clearly establish a maximum daily amount, especially from full-spectrum hemp extracts. We do not recommend taking more than the stated serving unless directed by your healthcare provider.
Can children take it?
Keep out of reach of children. Hemp supplementation in children should be recommended and monitored by your healthcare provider.
Can pregnant or nursing women take it?
Consult your healthcare provider before taking if pregnant or nursing, or for any additional concerns.
Can this product be given to pets?
We do not perform animal testing on our products. Therefore, we do not recommend giving this product to pets.
Is this product decarboxylated?
Yes, the extract is mostly in the decarboxylated state, which means the acidic form of CBDA is converted to CBD, the biologically activated form.
Can this product cause me to fail a drug test?
Probably not, but it is possible, and neither OAW nor the manufacturer can't be held responsible if using this product results in a failed drug test. Most tests look for THC over a certain threshold. Although the extract does contain THC — less than 0.3% — it's conceivable that it could accumulate in the body to a concentration above testing thresholds. Please use our hemp extract responsibly.
Does this product contain THC?
Hemp contains minimal amounts of THC. Our extract is a full-spectrum which means it contains all the naturally occurring compounds in hemp, including THC; however, it's tested to ensure it contains less than the legal limit of 0.3%.
Does this product have psychoactive effects?
This product is not intended to produce psychoactive effects due to its low THC content. However, some people are particularly sensitive to THC. When taking it for the first time, observe how it affects you.
Is this the same as hemp seed oil?
Nope, they are very different! Hempseed oil is made only from the seed and contains no CBD. While it has its place, this full-spectrum herbal extract is made from the entire hemp plant.
How do phytocannabinoids like CBD affect the endocannabinoid system?
Phytocannabinoids act indirectly on special receptors, found mostly in the brain and immune system. Phytocannabinoids nourish and help to regulate the internal endocannabinoid system to optimize neurological and organ function. There are over one hundred phytocannabinoids found in Cannabis sativa, and more are being discovered yearly. One of the most researched, beneficial phytocannabinoids found in hemp is cannabidiol, commonly known as CBD.
The primary goal of the cannabinoid system is homeostasis, the maintenance of a stable internal environment despite the many influences of the external environment. CBD and other cannabinoids interact with receptors in the body and brain, primarily referred to as the CB1 and CB2 receptors and serotonin receptors. Both CB1 and CB2 receptors are located throughout the body. Still, in general, CB1 receptors are found in higher concentrations in the brain and nervous system, while CB2 receptors are more concentrated in the immune system, bones, and bone marrow. It helps keep everything in balance and naturally regulated by the body without feeling "high."
What is MCT?
MCT oil, which stands for medium-chain triglycerides (fatty acids), is from organically grown and processed coconuts. Compared to longer-chain fats, MCTs are absorbed more easily. Because of this, MCT oil is an ideal carrier for the hemp extract because it better preserves its natural constituents and phytocannabinoids.
What are energized trace minerals?
Energized Trace Minerals come from carefully-prepared bamboo salts containing a full array of energized macrominerals and trace minerals essential to normal body function. They're added to maximize the energetic value of the hemp extract and increase the function of the natural constituents.
†Results may vary.