Plant-Based Vein Health
$34.95
Plant-Based Vein Health is an organic Raw Herbal Extract™ designed to promote normal circulatory health. Advanced Formula Plant-Based Vein Health is all-natural, supports normal vein durability, and helps minimize the appearance of spider veins.
Promotes Healthy Veins & Arteries
Helps With Spider Veins
Encourages Normal Blood Flow & Circulatory Health
2 fluid oz †Results may vary.

What Is Plant-Based Vein Health?
Strong blood vessels are crucial for healthy circulation. However, if you find yourself sitting or standing for long periods of time, lacking daily exercise, or straining during bowel movements, the integrity of your veins and arteries can be affected. When this happens, blood doesn't move as easily through your body and may even pool in some areas.
Plant-Based Vein Health is specifically formulated to support circulatory health by supporting strong, durable veins and arteries while promoting elasticity. This advanced, organic formula also works to minimize the appearance of arteries and spider veins on the skin's surface.
The Top 5 Reasons You May Experience Poor Circulation
Regularly sitting or standing for long periods of time.
Frequently straining while having a bowel movement or have less than 2 bowel movements each day.
Not getting enough fiber.
Not getting enough daily exercise.
Obese or overweight.
Benefits of Plant-Based Vein Health

Nutritional foundation for optimal vein health.
The ability to normalize permeability of veins and capillaries to promote elasticity.
Boosts blood flow by strengthening vein walls.
Lessens swelling.
Helps minimize spider veins.
Soothes and tones blood vessels.
Helps to boost stamina.
Why is Plant-Based Vein Health the Best Circulatory Support Product Available?
Comprised of certified organic and wild-crafted herbal ingredients.
100% Kosher and safe for vegetarians.
No excipients, binders, fillers, toxic preservatives, or other impurities.
Never tested on animals and made in the USA.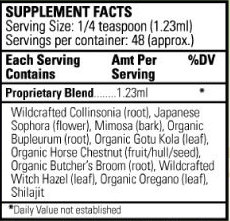 Plant-Based Vein Health Ingredient List
Wildcrafted Collinsonia (root)
Collinsonia's supports blood vessel contraction and flow, helps to reduce irritation, and calms the swelling of blood vessels.
Japanese Sophora (flower)
Promotes circulation by normalizing the permeability of blood vessels.
Mimosa (bark)
An Ayurvedic plant with many unique qualities and beneficial nutrients.
Organic Bupleurum (root)
Known in Chinese medicine as a cooling herb that promotes circulatory health and strengthens blood vessel walls.
Organic Gotu Kola (leaf)
Supports optimal vascular health.
Organic Horse Chestnut (fruit/hull/seed)
Contains aesci, an ingredient used by alternative health practitioners to support optimum circulation.
Organic Butcher's Broom (root)
Contains high levels of flavonoids that strengthen capillary walls and support a healthy circulatory system. Butcher's broom helps the elasticity of stretched and swollen blood vessels.
Wildcrafted Witch Hazel (leaf)
Witch hazel is a widely used topical astringent that reduces redness.
Organic Oregano (leaf)
Reduces temporary soreness.
Shilajit
Decomposed plant matter loaded with humic acid and fulvic acid, which enhance the efficacy of other ingredients.
Other Ingredients
Kosher certified vegetable glycerin
More gentle and stable than alcohol, USP Kosher certified vegetable glycerin is the best solvent base for Spagyrex® formulations.
Purified water (pH neutral)
Purified water is one of the best neutral carriers. It's effective, gentle, and, unlike alcohol, appropriate for everyone.
†Results may vary.
Save
Save
Save
Save
Save
Save
Save
Save
Suggested Use
Take 1 serving, approximately 2 droppers, in the morning and 1 serving in the afternoon before meals.
†Results may vary.
Theil, R. Efficacy of glandulars and herbs: the result of 945 cases. The Original Internist. 2012 March. colume 19 (1) 7-11.
Dr. Royal Lee. Collinsonia root (PDF).Standard Process Inc. 1999
Frostburg.edu. Stoneroot-Collinsonia canadensis L.
H.T. Webster MD, John W. Fyfe MD, J.M. Scudder MD, F.J. Locke MD, H.W. Felter MD. A treatise on Collinsonia candensis. Lloyd Brothers, Pharmacists Inc. 1904.
Felixsson E, Persson IA, Eriksson AC, Persson K. Horse chestnut extract contracts bovine vessels and affects human platelet aggregation through 5-HT(2A) receptors: an in vitro study. Phytother Res. 2010 Sep;24(9):1297-301. doi: 10.1002/ptr.3103.
Methlie CB, Schjøtt J. [Horse chestnut–remedy for chronic venous insufficiency]. Tidsskr Nor Laegeforen. 2009 Feb 26;129(5):420-2. doi: 10.4045/tidsskr.09.33871. Norwegian.
Sirtori CR. Aescin: pharmacology, pharmacokinetics and therapeutic profile. Pharmacol Res. 2001 Sep;44(3):183-93. Review.
Suter A, Bommer S, Rechner J. Treatment of patients with venous insufficiency with fresh plant horse chestnut seed extract: a review of 5 clinical studies. Adv Ther. 2006 Jan-Feb;23(1):179-90.
Pittler MH, Ernst E. Horse chestnut seed extract for chronic venous insufficiency. Cochrane Database Syst Rev. 2012 Nov 14;11:CD003230. doi: 10.1002/14651858.CD003230.pub4.
Bisler H, Pfeifer R, Klüken N, Pauschinger P. [Effects of horse-chestnut seed extract on transcapillary filtration in chronic venous insufficiency]. Dtsch Med Wochenschr. 1986 Aug 29;111(35):1321-9. German.
Rathbun SW, Kirkpatrick AC. Treatment of chronic venous insufficiency. Curr Treat Options Cardiovasc Med. 2007 Apr;9(2):115-26.
Bässler D, Okpanyi S, Schrödter A, Loew D, Schürer M, Schulz HU. Bioavailability of beta-aescin from horse chestnut seed extract: comparative clinical studies of two Galenic formulations. Adv Ther. 2003 Sep-Oct;20(5):295-304.
Jolayemi, AT, and JAO Ojewole. "Comparative Anti-Inflammatory Properties of Capsaicin and Ethyl-aAcetate Extract of Capsicum Frutescens Linn [Solanaceae] in Rats." African Health Sciences 13.2 (2013): 357–361. PMC. Web. 27 Feb. 2017.
Clyne MB, Freeling P, Ginsborg S. Troxerutin in the treatment of haemorrhoids. Practitioner. 1967 Mar;198(185):420-3.
Redman DA. Ruscus aculeatus (butcher's broom) as a potential treatment for orthostatic hypotension, with a case report. J Altern Complement Med. 2000 Dec;6(6):539-49.
MacKay D. Hemorrhoids and varicose veins: a review of treatment options. Altern Med Rev. 2001 Apr;6(2):126-40.
Kathy Abascal, B.S., J.D., R.H. (A.H.G.), Eric Yarnell, N.D., R.H. (A.H.G.). Botanical Treatments for Hemorrhoids. ALTERNATIVE & COMPLEMENTARY THERAPIES—DECEMBER 2005.
Guex JJ, Avril L, Enrici E, Enriquez E, Lis C, Taïeb C. Quality of life improvement in Latin American patients suffering from chronic venous disorder using a combination of Ruscus aculeatus and hesperidin methyl-chalcone and ascorbic acid (quality study). Int Angiol. 2010 Dec;29(6):525-32.
Lascasas-Porto CL, Milhomens AL, Virgini-Magalhães CE, Fernandes FF, Sicuro FL, Bouskela E. Use of microcirculatory parameters to evaluate clinical treatments of chronic venous disorder (CVD). Microvasc Res. 2008 May;76(1):66-72. doi: 10.1016/j.mvr.2008.02.002. Epub 2008 Mar 15.
Vanscheidt W, Jost V, Wolna P, Lücker PW, Müller A, Theurer C, Patz B, Grützner KI. Efficacy and safety of a Butcher's broom preparation (Ruscus aculeatus L. extract) compared to placebo in patients suffering from chronic venous insufficiency. Arzneimittelforschung. 2002;52(4):243-50.
Aguilar Peralta GR, Arévalo Gardoqui J, Llamas Macías FJ, Navarro Ceja VH, Mendoza Cisneros SA, Martínez Macías CG. Clinical and capillaroscopic evaluation in the treatment of chronic venous insufficiency with Ruscus aculeatus, hesperidin methylchalcone and ascorbic acid in venous insufficiency treatment of ambulatory patients. Int Angiol. 2007 Dec;26(4):378-84.
Ahmad H, Sehgal S, Mishra A, Gupta R. Mimosa pudica L. (Laajvanti): An overview. Pharmacogn Rev. 2012 Jul;6(12):115-24. doi: 10.4103/0973-7847.99945.
Zhang J, Yuan K, Zhou WL, Zhou J, Yang P. Studies on the active components and antioxidant activities of the extracts of Mimosa pudica Linn. from southern China. Pharmacogn Mag. 2011 Jan;7(25):35-9. doi: 10.4103/0973-1296.75899.
Gunvanti H. Vaidya and U. K. Sheth. MIMOSA PUDICA (LINN.) ITS MEDICINAL VALUE AND PILOT CLINICAL USE IN PATIENTS WITH MENORRHAGIA. Anc Sci Life. 1986 Jan-Mar; 5(3): 156–160.
Kokane DD, More RY, Kale MB, Nehete MN, Mehendale PC, Gadgoli CH. Evaluation of wound healing activity of root of Mimosa pudica. J Ethnopharmacol. 2009 Jul 15;124(2):311-5. doi: 10.1016/j.jep.2009.04.038. Epub 2009 May 3.
Reuter J, Wölfle U, Korting HC, Schempp C. Which plant for which skin disease? Part 2: Dermatophytes, chronic venous insufficiency, photoprotection, actinic keratoses, vitiligo, hair loss, cosmetic indications. J Dtsch Dermatol Ges. 2010 Nov;8(11):866-73. doi: 10.1111/j.1610-0387.2010.07472.x.
Periera da Silva A, Rocha R, Silva CM, Mira L, Duarte MF, Florêncio MH. Antioxidants in medicinal plant extracts. A research study of the antioxidant capacity of Crataegus, Hamamelisand Hydrastis. Phytother Res. 2000 Dec;14(8):612-6.
Kathy Abascal, B.S., J.D., R.H. (A.H.G.) and Eric Yarnell, N.D., R.H. (A.H.G.). Botanical Treatments for Hemorrhoids. ALTERNATIVE & COMPLEMENTARY THERAPIES—DECEMBER 2005.
Shyu KG, Tsai SC, Wang BW, Liu YC, Lee CC. Saikosaponin C induces endothelial cells growth, migration and capillary tube formation. Life Sci. 2004 Dec 31;76(7):813-26.
Incandela L, Cesarone MR, Cacchio M, De Sanctis MT, Santavenere C, D'Auro MG, Bucci M, Belcaro G. Total triterpenic fraction of Centella asiatica in chronic venous insufficiency and in high-perfusion microangiopathy. Angiology. 2001 Oct;52 Suppl 2:S9-13.
Cesarone MR, Belcaro G, Rulo A, Griffin M, Ricci A, Ippolito E, De Sanctis MT, Incandela L, Bavera P, Cacchio M, Bucci M. Microcirculatory effects of total triterpenic fraction of Centella asiatica in chronic venous hypertension: measurement by laser Doppler, TcPO2-CO2, and leg volumetry. Angiology. 2001 Oct;52 Suppl 2:S45-8.
Chong NJ, Aziz Z. A Systematic Review of the Efficacy of Centella asiatica for Improvement of the Signs and Symptoms of Chronic Venous Insufficiency. Evid Based Complement Alternat Med. 2013;2013:627182. doi: 10.1155/2013/627182. Epub 2013 Feb 21.
Pointel JP, Boccalon H, Cloarec M, Ledevehat C, Joubert M. Titrated extract of Centella asiatica (TECA) in the treatment of venous insufficiency of the lower limbs. Angiology. 1987 Jan;38(1 Pt 1):46-50.
1. Why is vein health important?
Excessive straining or pressure from sitting, stress, constipation, or diarrhea can cause veins to become constricted and uncomfortable. This may even lead to bleeding if vein walls become so weakened they break open, exposing you to infection.
2. Should I take Plant-Based Vein Health with my blood pressure medication?
Mixing Plant-Based Vein Health with blood pressure medication is not recommended as it could lower blood pressure and cause complications. Talk to your doctor first if you're taking any prescription medications.
3. Will Plant-Based Vein Health help with hemorrhoids?
Plant-Based Vein Health can help overall circulation and, over time, may help hemorrhoid swelling.