ALOE FUZION
$24.95
Highest Potency Aloe Vera Supplement Available
Aloe Fuzion is a 200x concentrate formula containing the most bio-available, certified-organic aloe with the highest amount of acemannan made today. Acemannan is the active ingredient that supports the immune system, soothes irritation, and encourages a healthy gut environment. Aloe Fuzion is aloin free and does not act as a harsh laxative, unlike many whole leaf aloe products.† 60 vegetarian capsules
What is Aloe Fuzion?
Aloe Fuzion is organic, freeze dried, inner leaf Aloe vera powder and has a bio-active profile nearly identical to natural Aloe vera inner leaf gel. Aloe Fuzion is the highest quality, most bioavailable, most immunomodulatory Aloe vera currently available. Absolutely no other Aloe vera product can match its bioavailable polysaccharide and acemannan content. Compare and see for yourself, Aloe Fuzion is the gold standard for Aloe vera capsules.
The Top 5 Reasons You Need Aloe Fuzion
1. Supports Digestion
Aloe Fuzion helps soothe and cleanse the digestive tract. When digestion is smooth and functioning properly, your body can better absorb nutrients to enhance your overall wellness.
2. Boosts Immune System
Aloe Fuzion has natural detoxifying properties that effectively cleanse the digestive and circulatory systems. As nutrient absorption accelerates, blood circulation is strengthened and provides more oxygen rich blood to cells, which in turn strengthen your immune system.
3. Quality
The rise in popularity of Aloe vera has created an opportunity for fly-by-night operations to offer inferior products. In fact, some industry experts estimate up to 75% of Aloe vera is either impure or void of beneficial nutrients. You can rest easy knowing that Aloe Fuzion is formulated with ultra high-quality, organic Aloe vera.
4. Convenience
Aloe vera juice is bulky and requires refrigeration. It's not easy to travel with and not everyone likes the taste. Aloe Fuzion offers the benefits of Aloe vera in an easy vegetarian capsule. Whether you're at home or on the go, Aloe Fuzion is quick and simple.
5. Nutrition
Aloe Fuzion offers all the active ingredients found in Aloe vera, including polysaccharides, glycoproteins, amino acids, vitamins and enzymes. It's a great source of vitamins, minerals, and antioxidants. In particular, Aloe Fuzion offers mucopolysaccharides, also known as glycosaminoglycans (GAGs), which are an active component.
Surprising Facts About Aloe Vera
With a history that extends back 6,000 years, Aloe vera is believed to have originated in the Sudan.
Although it resembles a cactus, Aloe is a member of the lily family.
There are 400 species of the Aloe vera plant.
Aloe's health benefits are supported by nearly 700 published scientific and clinical studies.
Aloe vera offers over 200 biologically active amino acids, vitamins, antioxidants, minerals, and enzymes.
Both Ayurvedic medicine in India and Traditional Chinese Medicine utilize Aloe vera.
Aloe vera is the second most frequently used ingredient in Hispanic culture and, in Asian culture, is second only to red ginseng.
Native Americans called it the "Wand of the Heaven."
The Health Benefits of Aloe Fuzion
Supports a healthy immune system.
Encourages normal pH levels.
Acts as a prebiotic for intestinal flora.
Incredible source of powerful antioxidants and vital nutrients.
Soothes the entire body, from the digestive tract to sore joints and muscles.
Excellent nutritional support for the liver.
Encourages normal lipid profiles and cardiovascular health.
Helps to enhance absorption of vitamins and other nutrients.
Supports vibrant, better looking skin.
Why Aloe Fuzion is Risk-Free For You To Try
We are sure you will see and feel the health benefits of Aloe Fuzion.
If you aren't absolutely satisfied...if you aren't feeling better, you're protected by our...
100% No-Risk 30-Day Money Back Guarantee
If you are not satisfied with your results, just let us know and we'll send you a prompt refund.
Why is Aloe Fuzion the Best Aloe Vera Product Available?
Produced with Aloe vera (L.) grown in the hot and humid climate of the tropical volcanic island of Hainan.
200x concentrate formula contains the most bio-available certified-organic aloe high in acemannan.
Contains a minimum 15% acemannan content with greater than 7% bioavailable and greater than 10% immunomodulatory.
No preservatives, flavors, fillers, gluten, GMOs, or artificial colors.
Easy vegetarian capsules have no bitter taste and are convenient for travel.
Meets quality and purity standards of the International Aloe Science Council.
No refrigeration required.
Economical for daily use.
The Top 3 Questions People Ask About Aloe Fuzion
1. Why is it important to only use gel from the inner leaf? Aloe Fuzion is made from only the inner leaf gel without the rind, which contains a laxative called aloin. Many companies use the rind and later eliminate the aloin by using a charcoal filter which degrades the acemannan content of the Aloe.
2. What is acemannan? Acemannan, or poly acetyl mannose, is one of the most active ingredients in Aloe vera. Aloe Fuzion contains the highest quality, most bio-available, most immunomodulatory, and simply the most acemannan of any Aloe vera product available. Farming, harvesting, processing, and packaging all impact acemannan content and its bioavailability. Don't take chances with inferior products.
3. What nutrients does Aloe Fuzion provide? Aloe Fuzion is a natural source of vitamins, minerals, trace elements, and enzymes. Some of the main enzymes found in Aloe vera include bradykinase, which supports healthy immune function, lipase to help digest fats, and amylase to help break down sugars and starches. 20 of the 22 required amino acids are found in Aloe vera gel, including leucine, lysine, tryptophan, threonin and isoleucine. Aloe vera gel also contains saponins, a filmy soapy substance that promotes cleansing.
Feel More Alive, Energetic, and Vibrant Today with Aloe Fuzion!
†Results may vary.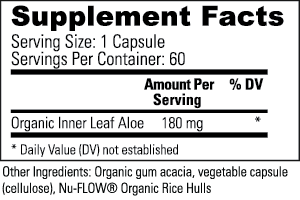 Ingredients
Organic Inner Leaf Aloe
The Aloe vera plant has many potent, soothing qualities. Ingested, aloe vera may be helpful for supporting the gastrointestinal system, digestive process, and normal blood sugar.
Other Ingredients
Organic Gum Acacia
Added as a flow agent, the manufacturer of Aloe Fuzion has revolutionized the supplement manufacturing industry by refusing to add toxic fillers, binders and excipients like magnesium stearate to our products.
Vegetable Capsules (cellulose)
Vegetable capsules are used instead of standard drug capsules that are composed of protein sourced from bovine, porcine, equine, and even fish.
Nu-FLOW® organic rice hulls
Organic rice hulls are a flow agent.
† Results may vary.
Suggested Use
Take one capsule in the morning and one in the evening with purified water.
†Results may vary.
How is Aloe Fuzion produced?
The Aloe vera used to produce Aloe Fuzion is only grown in the hot and humid climate of the tropical volcanic island of Hainan, where Mother Nature pours an average of 70 inches of rain a year. No synthetic fertilizers, herbicides or pesticides are used. Organic farmers carefully tend to nearly everything by hand, including harvesting. Aloe Fuzion is produced using freeze drying techniques. Other companies delay processing for days or weeks after harvesting and then use heat, enzymes, and preservatives causing their Aloe to degrade, lose potency and even become toxic. We take great care in offering Aloe that's carefully handled to preserve the natural goodness and healing properties.
What are the benefits of Aloe vera?
Used externally, Aloe vera supports wound healing and soothes burns and skin irritations. Internally, Aloe vera soothes the stomach and digestive system and even supports joint health and the immune system.
What are anthraquinones?
Anthraquinones are undesirable compounds found in the outer rind of the Aloe vera leaf. If the label doesn't say it has removed the anthraquinones or if the Aloe vera is sold as a laxative, avoid the product.
† Results may vary.