Excellae′ Age Defense Cream
$59.95
Excellae′ Age Defense Cream from Purely Ageless™ Skincare combines premium botanical expertise to create a spa-quality moisturizing and hydrating cream formulated with organic and natural ingredients and an impressive botanical ingredient list, including the highest purity of essential oils. Purely Ageless™ Skincare utilizes this premium expertise to support graceful aging without the use of toxic ingredients.
Deeply moisturizes and hydrates your skin with all-natural ingredients.
Softens skin and minimizes the appearance of fine lines and wrinkles.
Promotes a feeling of calmness and well-being with our unique blend of exotic essential oils.
Organically preserved. Free of toxic ingredients. Vegan.
Excellae′ Age Defense Cream
from Purely Ageless™ Skincare
Premium Botanical Expertise | Natural and Organic Ingredients | Pure Plant Oils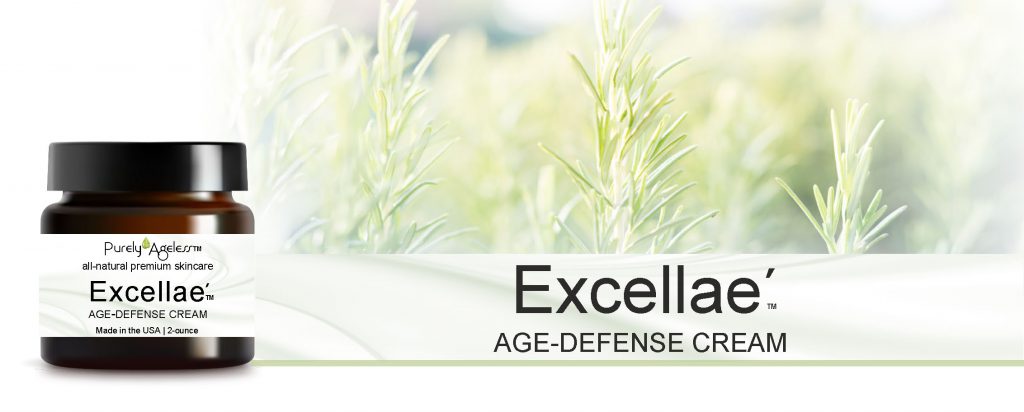 Purely Ageless™ Skincare, formulated by Naturopath Practitioner and Clinical Herbalist Loretta Lanphier, announces its flagship product and exclusive age defense cream, Excellae′ Age Defense Cream. Excellae′™ Age Defense Cream combines premium botanical technology with the latest natural anti-aging ingredients that can help your skin repair, refresh, and restore its natural beauty. Note: Purely Ageless™ Age Defense Cream is reformulated and is now Excellae′ Age Defense Cream from the Purely Ageless™ Skincare brand.
Synthetic chemical ingredients in skincare products are not more effective


than natural and organic ingredients. They are just cheaper and toxic to your body.




Loretta Lanphier, NP, CN, CH
What is Excellae′ Age Defense Cream?
Excellae′ Age Defense Cream is a natural and organic age-defense creme that's deeply moisturizing, intensely rich in skin nutrients, and enriched with exotic botanicals. Powered by ingredients such as vitamin-rich organic aloe vera, skin-loving organic virgin olive oil, and organic coconut oil, you will love Excellae′. This superb anti-aging cream will melt into your skin, reducing the appearance of fine lines and wrinkles. With consistent use, Excellae′ Age Defense Cream helps relieve even the driest skin, leaving it with a smooth, hydrated satin sheen. As a bonus, our unique blend of pure essential oils promotes the feeling of calmness and well-being, with renewed tranquility. Excellae′ Age Defense Cream will take you from stress to calm (both day and night) with just one application – a great reason to never be without it.
Excellae′ Age Defense Cream Highlights
Organically preserved with a hi-tech, plant-based emulsification system.
Antioxidant-rich Pomegranate Seed Extract and Green Tea -- ideal for mature skin.
Includes Organic Aloe, which adds moisture and hydration to this absorbent formula.
Gentle on your delicate neck and facial skin. Effective on feet, elbows, and cuticles.
Leaves your skin feeling silky, soft, hydrated, and happy!
Prominent Ingredients in Excellae′ Age Defense Cream
Organic Coconut Oil
Organic Green Tea Extract
Pomegranate Seed Extract
Organic Olive Oil
Organic Aloe
Lightly scented with our unique calming & balancing essential oil blend
Why choose Purely Ageless™ Skincare Products?
Formulated by naturopathic practitioner Loretta Lanphier for those who genuinely want age-defense products that are soothing, refreshing, and safe.
Made in small batches in FDA certified and Organic-certified facilities and in compliance with current Good Manufacturing Practices (cGMP).  No worries about contamination or adulteration that "homemade" products may incur.
Made with 100% natural and organic ingredients.
Our high-quality natural ingredients include the purest, wild-crafted or organic, essential oils, organic herbs, and plant oils in their natural state and cold-pressed. These ingredients create well-balanced, holistic, and nourishing formulations that we consider naturally healthy for the skin.
What Sets Purely Ageless Skincare Products Apart From Other Skincare Products?
Naturally hydrates and moisturizes into the layers of the skin.
Contains botanicals & essential oils that have been used through the ages to keep skin healthy and radiant!
Helps to soften skin naturally.
Minimizes the appearance of wrinkles and fine lines without toxic chemicals.
Contains natural anti-inflammatory ingredients.
Promotes healthy tissue.
Antibacterial and Anti-fungal.
Helps with acne break-outs - does not clog pores.
Provides vitamins, minerals, and essential nutrients to the cells.
Works for all types of skin.
No toxic ingredients, preservatives, or emulsifiers.
Can be worn under makeup for a flawless look.
Promotes natural and radiant-looking skin - your skin will glow!
What's Not in Purely Ageless Skincare Products?
Petroleum products (mineral oils, paraffin); PEG (PolyEthylene Glycol); Sulfates (Sodium Laureth Sulfate); Parabens (methyl-, propyl-); Sodium Benzoate; FD&C colors; Toxic Foam-Boosters; Toxic Emulsifiers; Toxic Perfumes; or Toxic Preservatives.

Purely Ageless Skincare: Skin Wrinkling 101 – The Short Course

One of the most critical factors contributing to skin wrinkling is the amount of sun exposure to the skin.
While sun exposure is essential for health and well-being, it can also dry out the skin and, if protection is not adequate, lead to free radical damage to the skin cells. The sun is your friend -- but remember to eliminate overexposure.
Estimates say that 90% of what we usually think of as signs of age are signs of sun overexposure. We highly recommend getting 30-40 minutes of unprotected sun each day before 10:00 am or after 3:00 pm.  We suggest using a non-toxic sunscreen for safe and effective skin protection for other times when sun exposure will be longer. For after-sun natural skincare, we recommend HydraTone™ to keep your skin healthy and hydrated.
Healthy Diet
No matter what professionals say, your skin will reflect what you eat! Try to include lots of organic fruits and freshly juiced vegetables, which will provide your skin with healing nutrients, water, and oxygen. Whole grains, seeds, nuts, legumes, healthy oils, and essential fatty acids will also prove beneficial.
Stay Hydrated
Drink at least ½ of your body weight in ounces of spring or distilled water with two tablespoons of organic apple cider vinegar (mixed in one gallon of water) every day. It will help to hydrate the skin and flush away toxins.
Healthy Fats and Oils
Consume Essential Fatty acids in the form of healthy oils such as coconut oil, hemp seed oil, flaxseed oil, and organic, cold-pressed olive oil.
Supplement with Enzymes

Around the ages of 30-35, most people have a reduced amount of available enzymes. Enzymes reduce chronic inflammation, which is a major aging factor and a primary contributor to death. Enzymes also help reduce blemishes and pigmentation.   Most importantly, enzymes aid in breaking down the keratin protein in the upper layer of the skin -- which sticks dead skin cells together. The final result is smooth, healthy-looking skin. A proteolytic enzyme formula with serrapeptase is highly recommended.
Eliminate Smoking | LessCaffeine
Eliminate smoking and avoid, as much as possible, alcohol and caffeine. These substances contribute to dry and sallow-looking skin, making it more prone to wrinkles. A smoking habit causes you to use your lips hundreds of times each day which may cause wrinkles. Continually drinking from a straw may also foster wrinkling of the skin.
Healthy Sun Exposure
The sun is a gift from our Creator - use it wisely by always protecting yourself from overexposure. Outings that require extended periods of sun exposure require the application of an excellent natural and organic sunscreen with a sun protection factor (SPF) of at least 15 to all exposed areas of your skin, especially your face. Chemical-laden sunscreens add chemicals to the body and, in the long run, are not healthy for your skin or your health.
Exercise Regularly
Your skin gets its nourishment from the bloodstream, thus requiring good circulation. Exercise increases the circulation of blood to your skin. We recommend a 30-minute walk every day and bouncing on a mini-tramp 10-15 minutes per day, both of which help with lymphatic drainage.
Keep Hormones in Balance
Virtually all women who live in an industrialized country (i.e., the United States) are at significant risk of estrogen dominance because of exposure to xenoestrogens (endocrine disruptors). Xenoestrogens, primarily petroleum-based synthetic estrogens, are present in tremendous amounts in our food chain, water supplies, and especially the environment. Unbalanced hormones tax the entire body and accelerate the aging process. We highly suggest saliva testing your hormones and using bioidentical hormones if they are needed.
Natural Skin Toner
A natural ingredient skin toner is excellent for refreshing the skin. Skin Toners are also fantastic for freshening up your makeup. We recommend all-natural and refreshing Hydra-Tone™ for healthy and refreshing skin toning.
Oxygen Facials are Awesome

Perform an oxygen facial using our Oxy-Balm™ oxygen facial balm one-two times weekly. Using clean fingertips and circular motions, rub Oxy-Balm™ into your skin right before bed.  Oxy-Balm will moisturize your skin while you sleep. Your skin will feel and look very soft the following day, and it will rejuvenate the cells of your skin.
Facial Expression Habits
Squinting, raising your eyebrows, or making other potentially wrinkle-inducing expressions over and over again may cause wrinkles.
Cleanse Your Skin

Use a natural facial wash such as Purely Ageless HydraCleanze™ to cleanse and remove dirt and makeup. Do not scrub facial skin but instead apply gently to your face and rinse it off with warm filtered water. Tap water contains chlorine and fluoride, and other harmful chemicals which are not only toxic to your body but can also damage and kill skin cells.
Natural Cosmetics
Use natural/organic cosmetics and use them sparingly. Replace cosmetics every three months. Wash all application brushes weekly.
Natural Anti-Aging Moisturizing - It's Important

Use Excellae′ Age Defense Cream daily as an under makeup moisturizer and as a nightly age defense cream. You will notice the remarkable difference in your skin within one to two weeks!
†Results may vary.
Excellae′ Age Defense Cream Ingredient List
Net Content - 2.0 fl. oz (50ml)
Organic Aloe Leaf Juice (Aloe Barbadensis), Organic Coconut Oil (Cocos Nucifera), Cetearyl Olivate, Sorbitan Olivate, Cetyl Palmitate, Sorbitan Palmitate, Sorbitan Olivate, Organic Olive Fruit Oil (Olea Europaea), Organic Green Tea Leaf Extract (Camellia Sinensis), Pomegranate Seed Extract (Punica Granatum), Salvia Sclarea (Clary Sage) Essential Oil, Jasminum Grandiflorum (Jasmine) Absolute, Rosa Damascena (Bulgarian Rose) Absolute, Cananga Odorata var. Genuina (Ylang Ylang II) Essential Oil, Citrus Aurantium (Neroli) Essential Oil, Matricaria Chamomilla (Organic German Chamomile), Pelargonium Graveolens (Geranium) Essential Oil, Lavandula Angustifolia (Lavender) Essential Oil, Stearic Acid, Xanthan Gum. (All essential oils are wild-crafted or naturally farmed and 100% pure and natural.)

Excellae′ Age Defense Cream Ingredient Overview
Organic Aloe Leaf Juice (Aloe Barbadensis)
Aloe leaf juice is packed with vitamins A, C, E, B1, B2, B3, B6, B12, and folic acid. It's also rich in minerals like calcium, magnesium, zinc, iron, selenium, and potassium. When used topically, aloe leaf juice can soothe inflamed skin and enhance collagen and hyaluronic acid to help rejuvenate skin.
Organic Coconut Oil (Cocos Nucifera)
USDA-certified organic virgin coconut oil is an excellent carrier oil for dry, sensitive skin.
Cetearyl Olivate - Sorbitan Olivate
Cetearyl olivate and Sorbitan olivate is a unique mild and natural PEG-free emulsifier derived from olive oil. It reduces skin water loss, has a high moisturizing effect, is hypoallergenic, and mimics the skin. It is free of soap and ethoxylated ingredients, facilitating skin moisture retention.
Cetyl Palmitate, Sorbitan Palmitate, Sorbitan Olivate
Cetyl Palmitate, Sorbitan Palmitate, Sorbitan Olivate is a cutting-edge oil-in-water emulsion stabilizing agent and liquid crystal promoter lamellar liquid that reorganizes emulsion structure on a microscopic level improving product performance, texture, and feel. This is remarkably similar to the skin's own natural lipid structure, creating an excellent delivery system that provides superior hydrating effects due to the high water content of the liquid crystalline structure that forms when in contact with the skin. Through powerful moisturization and skin softening abilities, it leaves a uniquely modern, light, non-greasy feel and finish without tackiness or whitening effect. This blend is derived from olive oil fatty acids, which are naturally gentle and skin-friendly.
Organic Olive Fruit Oil (Olea Europaea)
Certified organic extra virgin olive oil is the highest grade and ideal for use in organic skincare products. More commonly known as olive oil, Olea europaea fruit oil contains many skincare benefits, especially if you want to make a healthy change in your skincare routine by using organic and natural ingredients. Olea europaea fruit oil contains high amounts of antioxidants, vitamins, and fatty acids, making it very nourishing and moisturizing for dry skin. The skin is encouraged to remain healthy with a completely functioning natural protective barrier with the hydration from the fatty acids, such as linoleic and oleic acids. This is strengthened with the help of the antioxidant properties that fight free radical damage that comes into contact with your skin daily -- things such as climate, weather, UV exposure, and other environmental toxins that cause skin stress.
Organic Green Tea Leaf Extract (Camellia Sinensis)
USDA Certified Organic Matcha (tea leaf extract) is made from whole-ground tea leaves and is distinguished by its vibrant bright green color. Because of the way matcha is grown and harvested, it has a more complex composition than traditional green tea. Matcha has a high caffeine content and the amino acid L-theanine. It also has strong antioxidant power due to the high content of polyphenols and Epigallocatechin gallate (EGCG). Combining caffeine and antioxidants makes USDA Certified Organic Matcha an excellent ingredient for vibrant, bright skin through toning skincare.
Pomegranate Seed Extract (Punica Granatum)
Rich in essential fatty acids, Pomegranate oil has impressive emollient properties making it a very effective and lovely moisturizer. With its high antioxidant values, this oil is a superb choice for those who want to enjoy the suppleness of skin as long as possible, helping to reduce the appearance of fine lines. Also fabulous in hair for a natural shine, this thicker oil gives hair and skin a revitalized look.
Vegetable Stearic Acid - A vegetable derivative used to stiffen and stabilize lotions and creams. It occurs naturally in vegetable fats—a white, waxy, natural fatty acid.
Xanthum Gum - A polysaccharide derived from non-GMO fermented corn sweeteners. It's used as a safe and non-toxic thickener for cosmetic products.
Excellae′ Age Defense Cream  Calm & Balance Essential Oil Blend
A calm and balancing essential oil blend of relaxing clary sage, uplifting geranium, nurturing rose, calming lavender, and more! The blend works in a synergistic manner to harmonize body and mind while providing your skin nourishment and anti-aging benefits. Excellent for both morning and night applications.
Clary Sage
Used to help calm the nervous system, especially during times of stress, depression, and insomnia. It helps regulate oil production and reduce inflammation that contributes to dermatitis.
Jasmine Absolute
It can improve your state of mind by inducing confidence, optimism, and euphoria. It helps banish fear, guilt, and stress. The aroma of the oil helps relax and uplift the spirit. It helps in treating dry or dehydrated skin, eczema, and dermatitis. It also has antiviral and germicidal properties.
Bulgarian Rose Absolute
Rose absolute oil is traditionally calming and uplifting and has anti-inflammatory, cooling, and soothing properties. It works well for dry, hot, inflamed, or itchy skin. It can also work well to prevent scarring, treat broken capillaries, and even relieve stress. Studies have also shown rose oil to have antimicrobial properties.
Ylang-ylang
Ylang-ylang oil helps relax the body and soul and may be helpful for people suffering from insomnia, fatigue, and frigidity. This essential oil has been proven to help regulate sebum production, an oily substance secreted by the sebaceous glands, to protect your hair and skin from drying out. It has many cosmetic uses, including maintaining skin moisture and clearing and healing acne.
Neroli
Neroli helps improve skin health by regenerating and keeping your skin elastic, preventing the appearance of stretch marks, banishing acne, reducing the appearance of scars, and helping heal broken capillaries. Neroli is valued for its calming and relaxing scent, which acts as a tranquilizer that can help alleviate anxiety and heart palpitations, relieve insomnia, and even prevent or treat stress-related depression. Its fragrance can also help alleviate digestive issues, such as intestinal spasms, colitis, dyspepsia, and diarrhea.
Organic German Chamomile
A powerful essential oil with anti-inflammatory properties, German Chamomile possesses many benefits. German Chamomile is widely known for promoting emotions of serenity, which also may be helpful for focusing. Organic German Chamomile is a powerful antioxidant and anti-inflammatory, which can be extremely helpful in reducing redness from Rosacea, broken capillaries, and inflamed skin. It is known for improving dryness and relieving dark, puffy circles under the eyes.
Geranium
Geranium essential oil treats acne, sore throat, anxiety, depression, and insomnia. Its use is mainly for women due to its rosy smell and beneficial effect on menstruation and menopause. The essential oil can also uplift mood, lessen fatigue, and promote emotional wellness. Geranium oil also functions to reduce pain and inflammation. Geranium Essential Oil has a good reputation for effectively eliminating dead cells, tightening the skin, promoting the regeneration of new skin, and diminishing signs of aging. Its antiseptic properties can help speed up the healing of wounds and treat various skin issues, such as burns, frostbite, fungal infections, athlete's foot, and eczema.
Lavandula Angustifolia
Lavender essential oil is known for its anti-inflammatory, antifungal, antidepressant, antiseptic, antibacterial, and antimicrobial properties. It also has antispasmodic, analgesic, detoxifying, hypotensive, and sedative effects. It can treat various skin disorders like acne, psoriasis, eczema, and wrinkles. Because lavender essential oil is full of antioxidants, it can help protect your skin from damaging free radicals, which contribute to fine lines and wrinkles (as well as other signs of aging skin). It also helps form scar tissues, which may be essential in healing wounds, cuts, and burns. According to some dermatologists, lavender is a natural anti-inflammatory, so it helps to soothe and reduce itching, swelling, and redness.
For continuous hydration and nourishment: After cleansing with HydraCleanze and toning with HydraTone (morning and night), apply a small dab of Excellae′ Age Defense Cream on forehead, cheeks, nose, and chin. Rub into skin using circular, upward motion with a gentle touch. Don't help gravity by tugging down on your skin, and remember that the skin on your face, especially around the eyes, is very delicate.
Apply with clean hands.
Store at room temperature (68 - 75 F).
Make sure your container is tightly closed after each use.
Protect your Purely Ageless Skincare products from moisture, extreme temperatures, and direct UV light.
" Excellae′ Age Defense Cream made an immediate difference in my skin's texture and clarity. I have sensitive skin that tends to react to moisturizers with chemicals and fillers. Excellae′ has a very calming and soothing effect on my skin and continues to improve it with each use. Thanks for a product that I can feel good about putting on my face."  DMG - Dallas, Texas
"By the way, I like the Excellae′ Age Defense Cream! Both Excellae′ and HydraTone seem to calm and restore my skin."  LS - Ohio
"I adore the Excellae′ cream!  It's lightweight and absorbs right away into the skin, leaving no greasy feel behind. It smells wonderful and lasts a long time. I especially like mixing a little of it with my liquid foundation to create more of a "tinted moisturizer" look."  Melissa - Colorado
"Excellae′ is the absolute best all-natural anti-aging cream on the market today!  I am so glad that I found the Purely Ageless Skincare products. Nothing better than the HydraTone and I have tried them all.  Thumbs-up to you Dr. Lanphier for creating products that work and are safe!  RB - Texas
"I work for Drucker Labs and Mr. Lanphier (President of OAW) came by to see us, he was kind enough to give us a sample of Excellae′, I love it, I have more people ask me if I have done something different to my hair, no I say I have found the Fountain of Youth, and my three daughters want to use it. Thank you Dr. Lanphier this is the best product and most effective product I have ever used." CM - Texas
"All I can say is WOW!!!  I have tried so many "natural and organic" skincare products and have always been disappointed. I love Excellae′ and am telling all my friends and family about this product. Truly this product lives up to the advertising and beats the department store high-end creams hands-down!"  KK - New York
"Just want to tell you how much I love Excellae′ and HydraTone!  I will never be without these two products. My skin has cleared and looks radiant, according to my husband. Thanks for offering a safe alternative to the chemical creams."  Joy - California
"The best moisturizing cream I have found...and I've tried many."  I will not be without Excellae′ Age Defense Cream."  JM - New York City
Excellae′ Age Defense Cream by Purely Ageless Skincare Frequently Asked Questions
Are the essential oils used in Excellae′ Age Defense Cream therapeutic grade essential oils?
Therapeutic Grade is a marketing term used by some companies to differentiate their Essential Oils in a crowded marketplace. The term is unregulated, and there is no standard by which to judge an essential oil in this manner. Don't be fooled or swayed; either an essential oil is pure and unadulterated or adulterated. It is either Certified Organic, or it is not. It truly is that simple. The essential oils used in Excellae′ are pure, unadulterated, wild-crafted, naturally farmed, or organic.
Does Excellae′ Age Defense Cream work for all skin types?
Excellae′ Age Defense Cream is formulated to work on all skin types: normal, dry, oily, acne-prone, and sensitive skin.
How quickly will I see results?
Although Excellae′ Age Defense Cream begins to work immediately, everyone's skin regenerates at a different rate. You should allow at least 30 days of continuous daily use to start to see outward signs of improvement.
Should Excellae′ Age Defense Cream be kept refrigerated?
Our Excellae′ Age Defense Cream does not require refrigeration. However, many women have told us they like to keep it in the fridge, especially during warmer months, because they like the refreshing feeling of cool on their face - both morning and evening. We suggest placing a small mirror with a magnet on your fridge so you can apply Excellae′ quickly and return it to the refrigerator.
How long does one jar of Excellae′ Age Defense Cream last?
That depends. A small dab of Age Defense Cream rubbed into the forehead, cheeks, nose, and chin is adequate. With daily use, a jar of Excellae′ Age Defense Cream should last approximately one to two months.†
†Results may vary.