Mycozil
$39.95
Mycozil is an all-natural blend of potent herbs and enzymes that support detoxification of yeast and undesirable fungal organisms.† 120 vegetarian capsules
Learn About the Impressive Power of Fungal Cleansing with Mycozil
What is Mycozil?
Mycozil is a distinctive, all-natural supplement designed to support the body's natural cleansing of yeast and fungal organisms. Mycozil is made from wildcrafted and organically-certified herbs and formulated for maximum effectiveness.
The Top 5 Reasons You Need Mycozil
1. Deliver Balance to Your Body
Mycozil provides nutritional support that supports your body's natural defenses against yeast and fungus imbalance.
2. Full Potency Formula
Mycozil is formulated with a proprietary blend of potent botanicals and enzymes to support fungal detoxification by breaking down aggressive yeast and fungus.
3. Encourages Internal Harmony
Your body contains many friendly organisms that assist with digestion and other tasks. When harmful yeast or fungus proliferates, friendly organisms are overwhelmed and can't do their job. Mycozil helps keep the rowdy organisms in check.
4. Works in Combination with Full Body Cleansing
Along with colon, liver, and kidney cleansing, harmful organism cleansing and promoting normal yeast levels applies to nearly everyone. Everyone's body contains Candida and imbalances are extremely common.
5. Highest Quality Product of Its Kind
The organic and wildcrafted ingredients in Mycozil are carefully selected, it does not contain any bulk substances from China. Extreme quality control exists at all levels of production and it's packaged in a recyclable, UV-protectant glass bottle.
Alarming Facts about Yeast and Fungus Overgrowth
When yeast increases throughout the body, it negatively affects health and causes many health issues.
Although a vaginal yeast infection is one of the most commonly known examples of yeast imbalance, men too can be affected by yeast and fungus overgrowth.
Candida can release more than 70 different toxins into your blood stream to weaken your immune system and negatively affect your health.
Many people are unaware that Candida exists and suffer the health consequences of an imbalance for years before it's addressed.
There's no shortage of doctors who are uneducated about the negative impact of yeast and fungal imbalance. It's not uncommon for people to see many doctors or even be labeled a hypochondriac before the concern is discovered.
What are the Benefits of Mycozil?
Supports fungal detoxification.
Provides nutritional support for yeast cleansing.
Encourages your body's natural defenses against yeast and fungal overgrowth.
Promotes a healthy environment for beneficial organisms.
Balanced candida overgrowth.
Excellent for normal fingernails and toenails.
Trusted by athletes and others concerned with yeast imbalance on their feet.
Mycozil is Risk-Free For You To Try
We are sure you will see and feel the cleansing results of Mycozil.
If you aren't absolutely satisfied, you're protected by our...
100% No-Risk 30-Day Money Back Guarantee.
Why Our Customers & Clients Recommend Mycozil
Formulated with natural herbs that support fungal detoxification.
Gentle formula is effective without disrupting your day.
Helps the body break down candida overgrowth.
Mycozil is gluten free and contains no allergens or artificial ingredients.
Packaged in a recyclable, UV-protectant, glass bottle.
Made in the USA from globally sourced ingredients.
Top 3 Questions People Ask About Mycozil
1. How do I know if I have a yeast or fungal imbalance? There are no tests that can distinguish yeast overgrowth from normal yeast growth. However, people who suffer from digestive issues such as gas, bloating, constipation, or diarrhea, fatigue, regular nerve discomfort, congestion, sinus concerns, or long-term antibiotic use may be most interested in achieving yeast and fungal balance.
2. What diet best promotes a healthy yeast balance? Yeast thrives on sugar. You can enjoy 1 or 2 pieces of fruit a day, but avoid concentrated sugars like juice or soft drinks. Instead, consume low carbohydrate foods, nuts, and non-starchy vegetables. Foods with yeast should also be avoided, this includes fermented foods, bread, mushrooms, and beer. Once you're satisfied with your results, slowly reintroduce the foods you avoided (unless they're unhealthy and you're better off without them!).
3. How long does one bottle of Mycozil last? When used as directed, one bottle of Mycozil will last 20 days. To avoid a lapse, we recommend purchasing a minimum of three bottles as most people report satisfaction within 60 days.
Still Not Sure if Mycozil Can Help You? Just Read These Reviews...
"Great product! After 4 months taking Mycozil my toenails grew out healthy. When I was taking Mycozil I also noticed a boost in overall well being. I am very satisfied with your product and I wish more people can experience nature's benefits." † ~Natalia
"Worked wonderfully for me! It has only been 3 months but the new nail that is growing is completely normal! Yay! I am only 29 and I was not about ready to look like a 65 year old! Thank you! Keep up the good work!" † ~Shauna
"Seems to be working well. I have been taking it for only 2 months now and I am seeing clear nails growing in." † ~Scott
Additional Tips for Fungal Cleansing
Avoid sugar and foods with yeast.
Support your immune system and reduce your stress levels; exercise is a great remedy.
Perform an Optimum Wellness Starter Oxygen Colon Cleanse.
Take a probiotic to promote healthy intestinal flora.
Use Mycozil with Oregatrex™ for a complete spectrum of defense.
Get Started Now & Experience Balance
With Mycozil!
† Results may vary.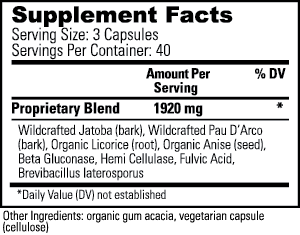 Ingredients
Wildcrafted Jatoba (bark)
Jatoba is a rain forest tree with compounds that are toxic to harmful organisms and fungus.
Wildcrafted Pau D'Arco (bark)
Pau d'arco is an herb found in the rain forests of the Amazon. Its indigenous use against harmful organisms and fungus goes back centuries.
Organic Licorice (root)
Licorice root has a long history of use for supporting harmful organism cleansing.
Organic Anise (seed)
Potent against harmful organisms, anise is reputed to have been used since the seventh century.
Beta Glucanase
Beta glucanase enzymes break down the cell wall of many fungal organisms, including candida.
Hemicellulase
Hemicellulase is the enzyme that breaks down hemicellulose. Candida cell walls contain hemicellulose.
Fulvic Acid
Fulvic acid naturally boosts the bioavailability and absorption of important nutrients.
Brevibacillus laterosporus
Brevibacillus laterosporus is a spore-bearing microorganism that helps establish colonies of healthy intestinal flora.
Other Ingredients
Organic gum acacia
Added as a flow agent. No added toxic fillers, binders and excipients.
Vegetarian capsule (cellulose)
Vegan-friendly vegetable capsules are used instead of standard drug capsules that are composed of protein sourced from bovine, porcine, equine, and even fish.
† Results may vary.
Suggested Use
Take 3 capsules 2 times daily before meals or as recommended by your healthcare professional.
†Results may vary.
What is Candida?
Candida albicans is a yeast that normally exists in harmony with healthy organisms who keep its levels in check. In fact, properly balanced, candida even detects and destroys harmful organisms. However, it flourishes in warm, moist environments and overgrowth in the mouth, feet, vagina and gastrointestinal tract is common.
Can candida overgrowth affect the entire body?
Candida is a highly adaptive organism and difficult to fight. It spreads to the gastrointestinal tract, penetrates the intestinal wall, and enters the blood stream, a problem known as systemic candida or candidiasis. At that point, all organs and systems may be affected -- lungs, muscles, brain, liver, bones, joints, etc. The immune system can be irritated and hypersensitivity to candida can result.
Why is candida overgrowth so harmful?
Candida can release over 70 toxins inside your body, including ethanol and acetaldehyde. These toxins disrupt body processes, mimic estrogen, and affect the liver, just to name a few. Candida and the toxins it releases can affect your health, physically and mentally.
Are women more affected?
Although men and women both experience yeast and fungal overgrowth, it's more of a concern for women due to imbalances in vaginal flora. When the vagina isn't a harmonious environment, the body's natural defenses can be weakened. The causes can be very simple -- poor diet, sugar, stress, illness, or medication. When this happens, candida may thrive.
What role do antibiotics play?
Antibiotics don't affect candida but they can kill beneficial probiotics. When the good bacteria levels diminish due to antibiotics, candida is able to spread.
What about diet?
Since candida thrives on sugar, it's best to eliminate sugar from your diet. It's not just simple sugars, either. Any food that contains starches or simple carbohydrates can feed candida and cause it to flourish. Additionally, poor nutrition leaves the immune system vulnerable to candida and fungus.
How long will I need to take Mycozil?
It depends on your situation. For fingernail and toenail health, most people report signs of satisfaction within one month and significant changes after 5-6 months of taking Mycozil. Remember, nails grow slowly and it takes 6 months to 1 year for completely healthy nails to grow out. Other situations, like rebalancing candida, may only require a 2-3 month cycle of Mycozil. Individual results always vary.
†Results may vary.