Paratrex – Eliminate Harmful Organisms From Your Body
$34.95
Paratrex harmful organism cleanse is a full spectrum blend of all-natural ingredients formulated to help eliminate harmful organisms by creating an environment in your body that is hostile and unwelcoming to invading organisms. If unwanted, internal guests are affecting your health, Paratrex can help bring it all back in balance.† 120 vegetarian capsules.  † Results may vary.
Cleanses Your Body of Harmful Organisms
Supports Normal Digestive Health
Boosts the Immune System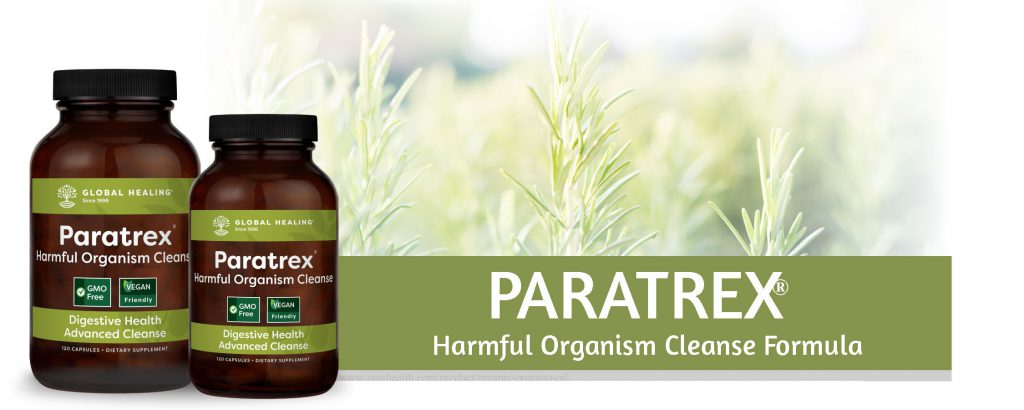 It is said that harmful organisms affect literally billions of people. And more than an estimated 150 million Americans alone may have these invaders lurking inside their bodies without even knowing it. Once a person is infiltrated, it's not difficult to eliminate the adult organisms. What is difficult is in dealing with the complete life cycle of these intruders. Paratrex® is one of the most powerful aids in helping the body create an internal environment that is hostile to unwanted invaders.
What is Paratrex?
Paratrex is a complete all-natural blend of ingredients formulated to boost the cleansing and detoxification of harmful organisms. Harmful organisms are all around us and can be transmitted by people, pets, the environment, food, and water. They steal your nutrients and release toxic waste into your body. When you've been infiltrated and become a dumping ground for these harmful organisms, your health can suffer. Paratrex can help cleanse your body of these unwanted invaders.
5 Reasons You Need Paratrex
1. Harmful Organisms Negatively Affect Your Health
What if you opened the doors and windows to your home and allowed wildlife to enter and live unchecked. How long would it take before catastrophe would be declared? In principle, the inside of your body is the same way; harmful organisms release waste and weaken your immune system.
2. Harmful Organisms Rob Your Body of Nutrition
Harmful organisms are just like any other living organism -- they need nutrition for survival. When they've made your body their home, their nutrition comes from you. Harmful organisms feed off your food and take away your nutrients.
3. Harmful Organism Infestation is Common
Contaminated food, water, air... nobody is immune to exposure from harmful organisms. In fact, you may be affected right now and not even know it. Warning signs of harmful organism infestation can vary from none to mild discomfort to serious disease. If you experience abdominal issues, digestive issues, or symptoms such as constipation, nausea, malaise, weakness, loose stools, or weight fluctuations, it could indicate that harmful organisms are at the root of the issue.
4. Paratrex is Unparalleled Quality
There are cheaper "harmful organism cleansing" supplements on the market, but there's no better one. Pesticide-laced "herbs" from China are a real issue you don't have to worry about with the products that OAWHealth offers. Choose Paratrex and avoid the frustration of dealing with ineffective, junk supplements.
5. Paratrex Supports Full Body Cleansing
Colon cleansing, liver cleansing, and chemical and toxic metal cleansing are all plans that offer incredible benefits, especially when performed semi-regularly and in succession. Harmful organism cleansing with Paratrex is your next piece of the puzzle.
Shocking Statistics About Harmful Organisms
Nine out of ten people are infested with harmful organisms.
Pork, shellfish, and contaminated food are sources of exposure in America.
Animals, including pets, are more prone to infestation and can pass it to humans.
An infestation may not be noticed for years, at which point your health has already suffered.
Harmful organisms can even be spread during sexual activity.
Warning Signs of H

armful Organism
Fatigue
Bloating
Irritability
Poor Vision
Foul Breath
Itchy Rectum
Yellow Skin
Poor Memory
Lack of Appetite
Intestinal Malfunction
Unexplained Weight Gain
What are the Health Benefits of Paratrex?
Promotes healthy, gentle detoxification.
It turns your body into an environment that is hostile to harmful organisms.
Ridding your body of harmful organisms frees the nutrients they've been stealing.
Cleansing your body of harmful organisms can rejuvenate your energy levels!
Formulated by a doctor and a team of leading natural health specialists!
Why is Paratrex the Best Product for Harmful Organism Cleansing?
Only Paratrex contains organic and wildcrafted ingredients that are tried and tested.
Paratrex works by creating an environment within your body that is not welcoming to harmful organisms.
Paratrex is an ultra absorbable, highly bioavailable formula produced with the highest quality herbs available.
Paratrex does NOT contain artificial ingredients, fillers, or dangerous ingredients.
Easy capsules, no bad-tasting concoctions!
Additional Tips for Best Results...
Keep your body in an alkaline state; avoid acidic foods like sugar, dairy, wheat, meat, fish, and poultry.
Thoroughly wash all raw organic fruits and vegetables and drink plenty of purified water.
Water from streams or lakes may be high risk. When camping, boil your water to kill harmful organisms.
Cook meat according to guidelines to kill harmful organisms and their eggs.
Take Oxy-Powder. Supplementing with a maintenance serving of Oxy-Powder two to three times per week can help your body get rid of harmful organisms as they die off, as well as the toxins they release
Support your gut. One of your best defenses against yeast, fungus, and other harmful organisms is a strong microbiota. An advanced, daily probiotic and prebiotic like Floratrex® can help strengthen your gut.
Use Organic Oregano Oil for additional support against harmful organisms.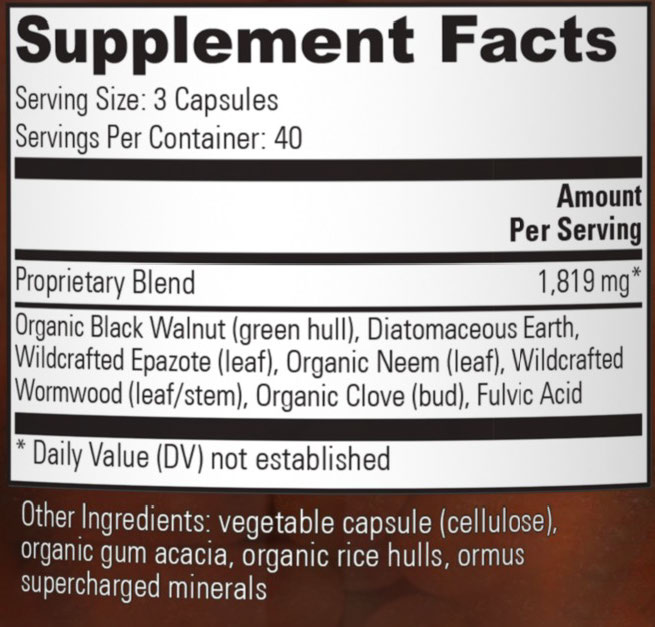 Ingredients
Organic Black Walnut (green hull)
Black walnut hull is of the most potent herbs for removing harmful organisms from the intestinal tract. The high tannin content of the green hull is primarily responsible for this effect. Other constituents such as juglandin, juglone, and juglandic acid are also involved in the purging process. Research suggests black walnut can oxygenate the blood to create a hostile environment to harmful organisms. The green husk also contains organic iodine, which assists the cleansing of harmful organisms.
Diatomaceous Earth
Wildcrafted Epazote (leaf)
Rich in ascaridole, epazote is an herb of choice for attacking and expelling various harmful organisms that take up residence in the intestinal tract.
Organic Neem (leaf)
Wildcrafted Wormwood (leaf/stem)
Wormwood has been used as an intestinal cleansing herb as far back as 1600BC. Wormwood creates an extremely hostile environment for harmful organisms in your intestinal tract and promotes healthy digestion by increasing liver and gallbladder secretions.
Organic Clove (bud)
Clove Bud is considered one of the best herbs for killing eggs from harmful organisms and it also discourages fungus.
Fulvic Acid
Other Ingredients
Vegetable Capsule (cellulose)

Organic Gum Acacia
Organic Rice Hulls
Ormus Supercharged Minerals
†Results may vary.
Recommended Use:
Take 3 capsules 20 minutes before breakfast and 20 minutes before lunch. For best results use for 40 days (requires additional bottle). Drink plenty of water while using Paratrex.
After the initial 40 days, take 5 capsules 2-3 times weekly as needed or as recommended by your healthcare provider.
Warning
Keep out of reach of children. Do not take if pregnant or nursing. Consult your healthcare provider for any additional concerns. Store tightly closed in a cool, dry place.
The Complete Harmful Organism Cleanse
For the complete harmful organism cleanse, please view the instructions for the Optimum Wellness Harmful Organism Cleanse Kit.
†Results may vary.
What are the botanical names of the plants used in Paratrex?
Paratrex contains the following proprietary blend of ingredients. Please note that the blend of ingredients (vs. any one ingredient) is vital in safely and effectively creating a hostile environment to invading organisms.
-Organic Black Walnut (green hull)
-Wildcrafted Epazote (leaf)
-Diatomaceous Earth
-Organic Neem (leaf)
-Wildcrafted Wormwood (leaf/stem)
-Organic Clove (bud)
-Fulvic Acid
-Vegetable Capsule (cellulose)
-Organic Gum Acacia
-Organic Rice Hulls
How common are harmful organisms?
Harmful organisms are everywhere. They can enter the body through undercooked meat, contaminated water, poor hygiene, unwashed fruits and vegetables, pets, even walking around barefoot. Whether they know it or not, it's estimated 90% of the population has some form of harmful organism lurking in their bodies! Stealing nutrients and releasing waste into your body, the health consequences of harmful organism infestation can be severe. If you suffer from any of the following, you should consider cleansing your body of harmful organisms.
Bloating
Foggy memory
Food cravings
Anal itching
Sleep difficulty
Tiny red abrasions
Rash
Unpleasant mood
Gas
Fatigue
Candida
Restlessness
How does Paratrex work?
Paratrex is a comprehensive blend of all-natural, wildcrafted herbs traditionally used and appreciated for harmful organism cleansing. It kicks the harmful organisms out of your system by establishing an internal physical environment that is hostile and unwelcoming.
I am concerned about the safety of Diatomaceous Earth which is used as an insecticide. WebMD says there is no evidence regarding the safety of this ingredient. What are your thoughts?
While we cannot speak to the information presented by other sources, our internal research indicates food-grade diatomaceous earth, like the one in Paratrex, is safe for consumption and effective against harmful organisms; when ingested, it passes safely through the digestive system.
Please note that Paratrex is not solely a diatomaceous earth product. The blend of ingredients in the formulation is also vital in safely and effectively creating a hostile environment to invading organisms.
How long should I use Paratrex?
Because the life cycle of many harmful organisms is six weeks, cleansing with Paratrex for a full six-week cycle is recommended.
Should I take Oxy-Powder while taking Paratrex?
Although it's not a requirement, supplementing with a maintenance serving of Oxy-Powder 2-3 times per week can help the body purge harmful organisms as they die, as well as the toxins they release.
What diet should I follow while taking Paratrex?
Keeping the bowel in an alkaline state is suggested while taking Paratrex. To accomplish this eliminate the following: refined sugar, non-organic dairy, wheat, red meat, fish, and poultry. These foods are acidic in nature and parasites thrive on them. We recommend lots of raw organic fruits (berries and green apples) and vegetables (thoroughly wash them first) and consuming half of your body weight in ounces of clean, purified water every day.
I started taking Paratrex and I have started to get mild headaches, what is it?
It sounds like you may be experiencing a healing crisis. A healing crisis is a phenomenon that occurs during cleansing, where you may feel a little worse during the initial cleansing phase. This is due to toxins or byproducts of toxins being "dislodged" as they're processed for removal. Fatigue, headache, minor rash, lack of mental clarity, joint or muscle aches, irritability, difficulty sleeping, or mood swings are common complaints and often subside within a few days.
Does this rid of fungus?
Paratrex is for eliminating harmful organisms that come from undercooked meat, contaminated water, unwashed produce, or pets. Mycozil is more suited for balancing yeast and fungus. Here you have more details:
https://oawhealth.com/product/mycozil/
What if I miss a serving?
If you miss a serving, take it with your next meal and continue as directed.
Can I give Paratrex to my children?
This product is not recommended for children.
Can I give Paratrex to my pet?
Paratrex hasn't been tested for pets but we've received reports from customers who've had encouraging experiences. We suggest speaking with your veterinarian FIRST to determine the needs of your pet.
Can I take vitamins, minerals, or other formula medicines after Paratrex in 20 minutes? Thanks.
You can try taking all other supplements 20-30 minutes away from Paratrex to ensure maximum absorption. Please consider consulting with your healthcare provider for additional tips and guidance if you are taking any medication.
I have a very hard time with capsules, can you take this without the capsule?
Yes, you can also open the capsules and mix the powder in water; that's just as effective as swallowing the capsules.
† Results may vary.