Cytozyme-AD™ 180 count
$46.50
Cytozyme-AD™ supplies glandular specific support as Neonatal Adrenal Complex (bovine), combined with SOD and catalase, important antioxidant enzymes.
Cytozyme-AD™ is a natural adrenal support supplement that provides nutritional support for the adrenal gland. It can help with general fatigue and symptoms related to adrenal dysfunction or fatigue.
Symptoms of Adrenal Disorders Include:
Difficulty maintaining concentration
Feeling overwhelmed or unable to cope with everyday tasks
Slower recovery from illness or injury
Poor digestion
Allergic reactions
Sensitivity to cold
Impatience' irritability' or being quick to anger
The Importance of the Adrenal Glands

The adrenal glands—alternately known' more simply' as the adrenals—sit on top of each kidney' and are responsible for secreting over fifty essential hormones. Furthermore' they are also involved in the production of energy' storage of fat' and maintaining a balance between fluids and electrolytes. Therefore' proper adrenal functioning may support a better overall quality of life.
Perhaps the most well-known function of the adrenals is the production of adrenaline; the hormone is responsible for what's known as the "fight or flight" response when confronted by danger or otherwise stressful circumstances. This reaction evolved from early humans being faced with life-threatening situations. However' the overabundance of low-level stressors in our everyday lives can cause the adrenals to become overworked; this may cause adrenal fatigue.
In order to provide glandular-specific support' Cytozyme-AD™ by Biotics Research combines bovine Neonatal Adrenal Complex with the important antioxidant enzymes SOD (superoxide dismutase) and catalase. Each bottle contains 180 tablets.
Salivary Adrenal hormone profiles are the gold standard for the assessment of the various states of adrenal exhaustion.
Each bottle contains - 180 tablets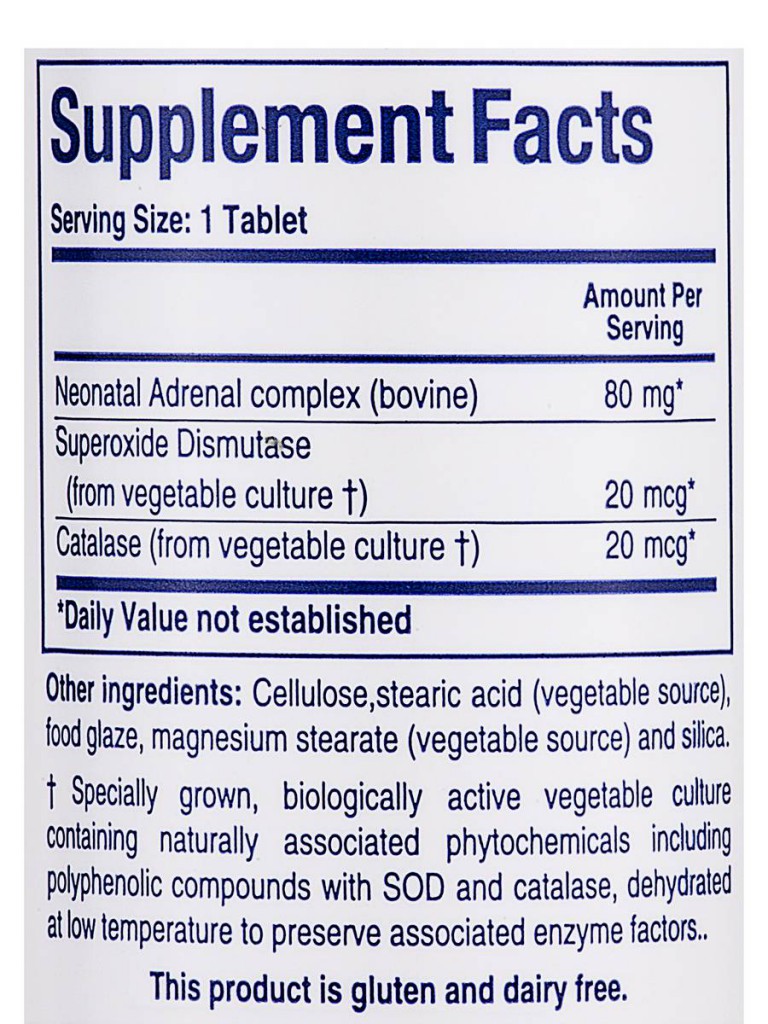 Take one (1) table one (1) to three (3) times each day as a dietary supplement or as otherwise directed by a healthcare professional.
Keep out of reach of children. Store in a cool' dry area. Sealed with an imprinted safety seal for your protection.