Unique B-12 Vegetarian Formula
$22.95
Unique B-12 Vegetarian Formula consists of Methylcobalamin B-12, B6, Folic Acid and Biotin. B-12 is a vital nutrient necessary for normal energy levels, the cardiovascular system, and nervous system.† †Results may vary.
UNIQUE B-12 VEGETARIAN FORMULA
Sublingual B-12 | Gluten-Free
What is Unique B-12 Vegetarian Formula?
Unique B-12 is a highly absorbable vegan-friendly and gluten-free formula that contains B-12 (methylcobalamin), B6, Folic Acid and Biotio in a sublingual tablet. Unique B-12 Vegetarian Formula is specifically formulated to bypass the digestive system providing the B vitamins directly to the bloodstream.
The Main Reasons To Use Unique B-12 Vegetarian Formula
Vitamin B12 Nutritionally Supports
Healthy nervous system
Healthy cardiovascular function
Maintenance of healthy red blood cells
Balanced and effective energy levels
DNA synthesis
Healthy hormonal balancing
Multiple metabolic functions
B12 deficiency is known to cause
Mood disorder
Depression
Chronic stress
Chronic fatigue
Injury to the peripheral nerves and, in later stages, the spinal cord
Vitamin B6 Nutritionally Supports
Metabolization of fat
Conversion of food into energy
Healthy hair, skin, liver and eyes
Digestive functioning
Proper brain development and function
Production of serotonin and norepinephrine
A rebalancing of homocysteine
Folic Acid Nutritionally Supports

Deficiencies have been considered common
Cell growth and metabolism
Neurological Health
Biotin Nutritionally Supports

Health of skin, nerves, digestive tract, metabolism and cells
Is a coenxyme and a type of B vitamin
Is also sometimes known as vitaimin H
More Facts About B-12
Approximately 30% of adults over 50 are unable to absorb B-12 in food, making supplementation the best source.
A University of Oxford research study indicated that vitamin B-12 deficiency may lead to brain shrinkage.
While B-12 supplementation is not a cure for Alzheimer's disease, preliminary reports indicate a link between vitamin B-12 deficiency and Alzheimer's disease.
Vitamin B-12 deficiency leads to megaloblastic anemia, a fatigue ridden condition where red blood cells are unable to develop sufficiently and unable to carry oxygen efficiently.
Why is Unique B-12 the Best Vitamin B-12 Complete Supplement?
Contains methylcobalamin which is the bioavailable, coenzyme forms of B-12.
Highly bioavailable and absorbable and bypasses the digestive system.
Unique B-12 Vegetarian Formula is formulated to optimize absorption of all four ingredients. Taking vitamin B-6 is a strategy recommended by many experts to help increase the amount of vitamin B-12 your body is able to absorb.
Unique B-12 is provided in great tasting sublingual tablet -- no injections.
Vegetarian and vegan friendly, GMO and gluten free!
Made in the USA and according to Good Manufacturing Practices (GMPs).
B12 Deficiency - Know the Symptoms 
†Results may vary.
Unique B-12 Vegetarian Formula Supplement Facts
Serving Size: 1 Sublingual Tablet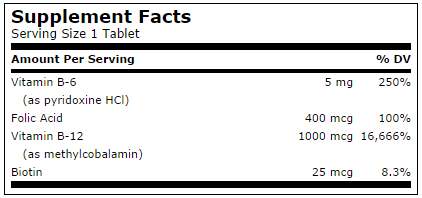 Other ingredients: Mannitol, natural cherry flavor, vegetable stearic acid, vegetable cellulose, L-ascorbic acid, vegetable magnesium stearate, silica, stevia.
†Results may vary.
Directions: As a dietary supplement, take 1 or 2 tablets daily, Allow tablets to dissolve under tongue.
Conforms to USP <2091> for weight. Meets USP <2040> disintegration for maximum bioavailability.
Made in USA in an FDA Registered Facility using Good Manufacturing Practices (GMPs)
Caution:
If you are pregnant or nursing do not take this product.
Keep out of reach of children.
Store in cool, dry place.
†Results may vary.
Why is B-12 absorption a concern for some people?
B-12 is the largest vitamin known and difficult to absorb. Additionally, the gut produces something called intrinsic factor, this helps the body absorb B-12. Without intrinsic factor, B-12 just exits the body. As we age, the availability of intrinsic factor decreases and the risk for B-12 deficiency increases.
Who needs B-12?
Everyone! Some people, more than others, need to pay special attention to their B-12 levels. Those who drink alcohol, take antibiotics, use antacids, smoke, vegetarians and vegans,  have trouble sleeping, pregnant and breast-feeding women, the elderly, people who have celiac disease or have difficulty digesting gluten and absorbing nutrients, and people who are affected by harmful organisms may all be advised to keep their B-12 levels in good range.
Does B-12 affect homocysteine levels?
Homocysteine levels are an independent stressor on the cardiovascular system and can be responsible for poor heart and cardiovascular health. The vitamin B6 and folic acid in Unique B-12 Vegetarian Formula work synergistically with vitamin B12 to promote normal homocysteine levels.
†Results may vary.