Fresh, cold watermelon on a hot summer day – in my opinion, life doesn't get much better! It's high water content at approximately 92% makes watermelon thirst-quenching while providing hydration and refreshment to the body. Hydration is one of the best benefits of watermelon especially for those that suffer from being easily dehydrated. And if that's not enough, the many health benefits of watermelon make it a fruit that you may want to enjoy every day.
Melons are predigested. In fact, the flesh of the watermelon is so digestible that the digestive system hardly needs to process it because of the high amount of enzymes and certain co-enzymes. In less than one minute, the fructose in melon departs the stomach. The remaining part of the fruit goes directly into the intestinal tract where it promptly fortifies and recharges the body. Eating melon can be compared to getting an intravenous nutrient therapy. Watermelon greatly reduces inflammation, helps to flush out edema, aids in weight loss, and can reduce depression. Watermelon is also able to improve the immune system and nourish vision.
Natural Vitamin A is wonderful for your skin, and just one cup of watermelon contains nearly one-fourth of  the recommended daily intake of it. Vitamin A help to keep skin and hair moisturized, and it also encourages healthy growth of new collagen and elastin cells. Vitamin C is also beneficial in this regard, as it promotes healthy collagen growth.
Did you know that not all watermelons are pink? There are some varieties that have orange, yellow and even white flesh; however, they are probably not as high in lycopene (a carotenoid phytonutrient that's important for cardiovascular and bone health) as the pink watermelons.
Recent studies indicate the nutritional importance of allowing a watermelon to fully ripen. This research shows that the biggest jump in lycopene content occurs at the time when a watermelon's flesh turns from white-pink to pink. When that flesh is allowed to continue to ripen, resulting in a color change from pink to red, the lycopene content becomes even more concentrated.
How to Choose a Fully Ripe Watermelon
1)  When you purchase a watermelon sliced into halves or quarters, choose the flesh that is deepest in color and lacks any white streaking. If the watermelon is seeded, the seeds should also be deep in color, or white.
2)  When you purchase a whole watermelon, there are three features to look for.
Weight – A fully ripened watermelon will feel heavy for its size. Heaviness in a watermelon is a good thing because the water content of a watermelon will typically increase along with ripening, and a fully ripened watermelon will be over 90% water in terms of weight, and water is one of the heaviest components in any food.
Rind – Look for a watermelon with a relatively smooth rind that is slightly dulled on top. The top and the bottom of a watermelon are worth determining and examining on a watermelon. The bottom is the spot where it was resting on the ground. A fully ripened watermelon will often have a ground spot that has turned creamy yellow in color. Opposite from the ground spot will be the top of the watermelon. In a fully ripened watermelon, that spot will typically not be shiny but somewhat dulled. The green color may appear in many different shades, however, from light green to deeper shades.
Thumping – Even though somewhat controversial (who can resist thumping?), most experts seem to believe that a fully ripened watermelon will have a deeper, hollower "bass" sound rather than a solid and shallow "soprano" sound.

Seedless Watermelons – Genetically Engineered?
There is a good bit of controversy over the exact nature of seedless watermelons. Contrary to some information found on various websites, seedless watermelons are not the result of genetic engineering but instead the result of hybridization. By crossing a diploid watermelon (with two sets of chromosomes) and a tetraploid watermelon (with four sets of chromosomes), it is possible to produce a watermelon that contains triploid seeds (with three chromosomal sets). When planted, these triploid seeds will grow into seedless watermelons. Seedless watermelons will typically appear to contain some white seeds even though they are labeled as seedless. These white seeds are not actually seeds, but only empty seed coats. (www.whfoods.com)
Health Benefits of Watermelon
As you can tell, the health benefits of watermelon are many. Below are some of the most important health benefits of watermelon.
antioxidant properties
anti-inflammatory benefits
anti-cancer benefits
rich source of vitamin C, beta-carotene & manganese
free radical scavenger
anti-estrogen effects
helps with hydration
helps with blood pressure
beneficial for pyorrhea
aids in digestion
helpful with constipation
natural remedy for treating tapeworms
high silica content
helps brittle nails
may relieve gout & arthritis pain
beneficial for diabetes
may reduce cholesterol levels
may help with kidney stones
aids in weight loss
good source of B vitamins
effective hangover cure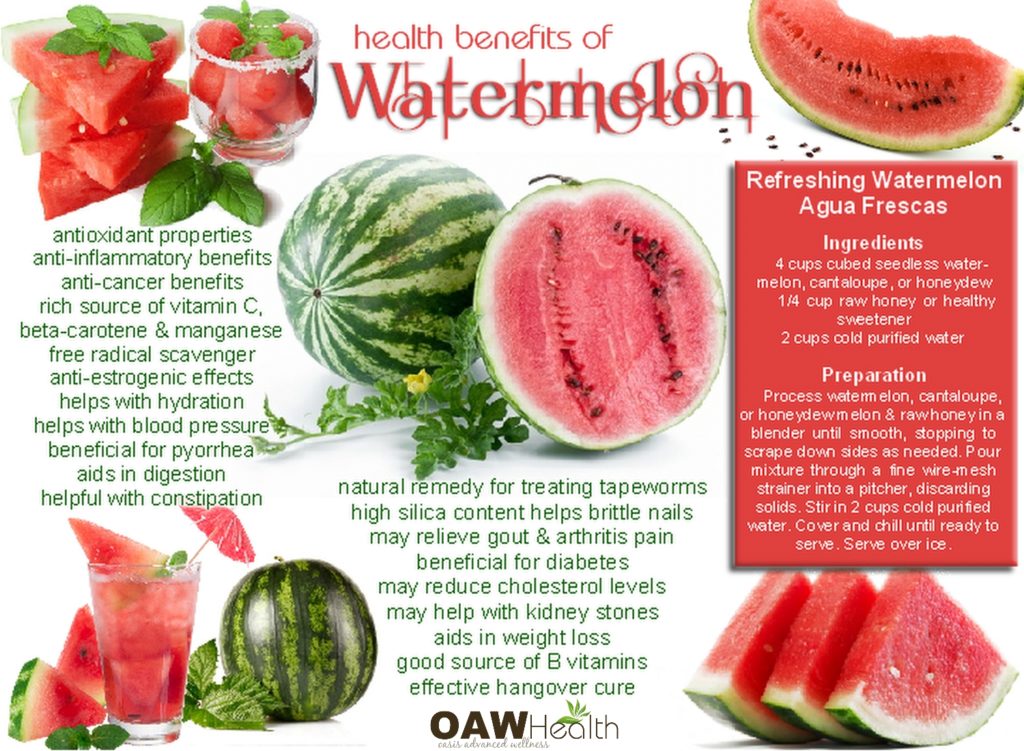 Refreshing Watermelon Agua Frescas Recipe
Ingredients
4 cups cubed seedless watermelon, cantaloupe, or honeydew
1/4 cup raw honey or healthy sweetener
2 cups cold purified water
Preparation
Process watermelon, cantaloupe, or honeydew melon & raw honey in a blender until smooth, stopping to scrape down sides as needed. Pour mixture through a fine wire-mesh strainer into a pitcher, discarding solids. Stir in 2 cups cold purified water. Cover and chill until ready to serve. Serve over ice.
RELATED: Watermelon Smoothie with Mint
RESOURCES
Watermelon lycopene and allied health claims. EXCLI J. 2014 Jun 3;13:650-60. eCollection 2014.
Consumption of watermelon juice increases plasma concentrations of lycopene and beta-carotene in humans. J Nutr. 2003 Apr;133(4):1043-50.
Watermelon consumption improves inflammation and antioxidant capacity in rats fed an atherogenic diet. Nutr Res. 2015 Mar;35(3):251-8. doi: 10.1016/j.nutres.2014.12.005. Epub 2015 Jan 3.
†Results may vary. Information and statements made are for education purposes and are not intended to replace the advice of your doctor. Oasis Advanced Wellness/OAWHealth does not dispense medical advice, prescribe, or diagnose illness. The views and nutritional advice expressed by Oasis Advanced Wellness/OAWHealth are not intended to be a substitute for conventional medical service. If you have a severe medical condition or health concern, see your physician of choice.
Save
Save
Save
Save
Save
Save
Save
Save
Save
Save
Save
Save
Save
Save
Save
Save
Save
Save