Have you noticed that avocados are being included in just about every type of recipe that can be imagined?  Avocado will help your smoothies and salad dressings such as the Avocado Raw Salad Dressing Recipe found below to be much more creamy and rich. And rightly so when we consider that it is one of the most healthiest food one can eat.  In fact, eating one avocado daily is recommended by many, including myself.


Health Benefits of Avocado
Some of the health benefits of avocado include: promotes cardiovascular health, anti-inflammatory benefits, promotes blood sugar regulation as well as anti-cancer benefits. Avocado sometimes receives a "bad rap" as a vegetable too high in fat. The fact is that the avocado is a high-fat food (about 85% of its calories come from fat) but the fat contained in avocado is unusual and provides research-based health benefits.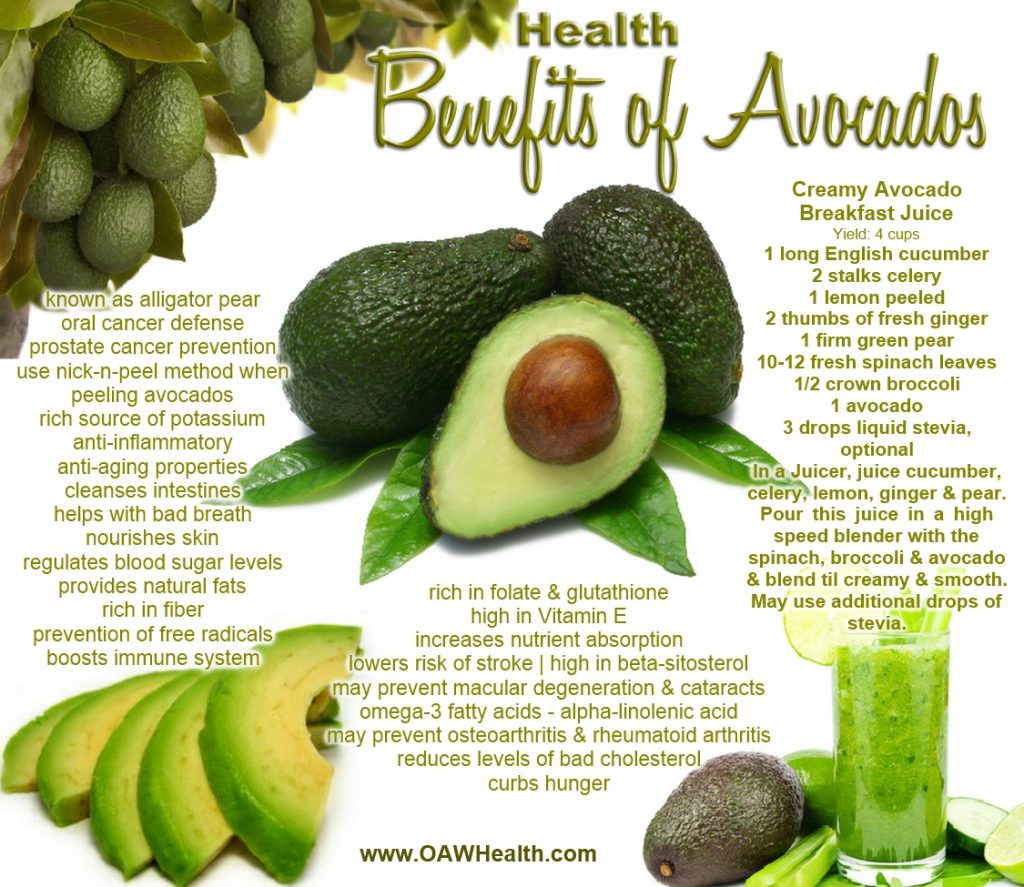 Avocados and Your Immune System
Avocados are also superheros of the immune system. Avocado is rich in glutathione which is a powerful detoxifier. Glutathione helps to cleanse the body of oxidized fat. Essential fatty acids in avocados can help to reduce inflammatory conditions associated with colds and flu.
Avocados: Did You Know?
Research indicates that absorption of two key carotenoid antioxidants—lycopene and beta-carotene—increases significantly when fresh avocado (or avocado oil) is added to a salad in which avocado is not an ingredient. When just one cup of fresh avocado (150 grams) is added to a salad of romaine lettuce, spinach, and carrots the absorption of carotenoids increases from this salad between 200-400%!


Below you will find the details for the avocado raw salad dressing recipe. All of the ingredients carry their own special healthy benefits. The Avocado Raw Salad Dressing Recipe is non-dairy, gluten-free, vegan and can be used as a healthy dressing for wraps and salads as well as a very healthy vegetable dip.
Avocado Raw Salad Dressing Recipe
Store in refrigerator for 2 days, max. Use organic ingredients when available.
(makes approx. 1.5 cups/2 cups)
Ingredient List
2 cloves Garlic, peeled (or more to taste)
2 regular Avocados, pitted
1/2 cup Coconut oil or fresh Flaxseed Oil
3 green onions, white & green parts
1/2 cup Italian Parsley
small handful of fresh Dill
small handful of fresh Basil
1 Lime, juiced or squeezed
2 tsp Braggs Aminos or coconut aminos
3 – 5 tablespoons Purified Water
Himalayan Salt & Black Pepper to taste
Place all ingredients in high speed blender or use an immersion blender. Blend until smooth and creamy. Enjoy!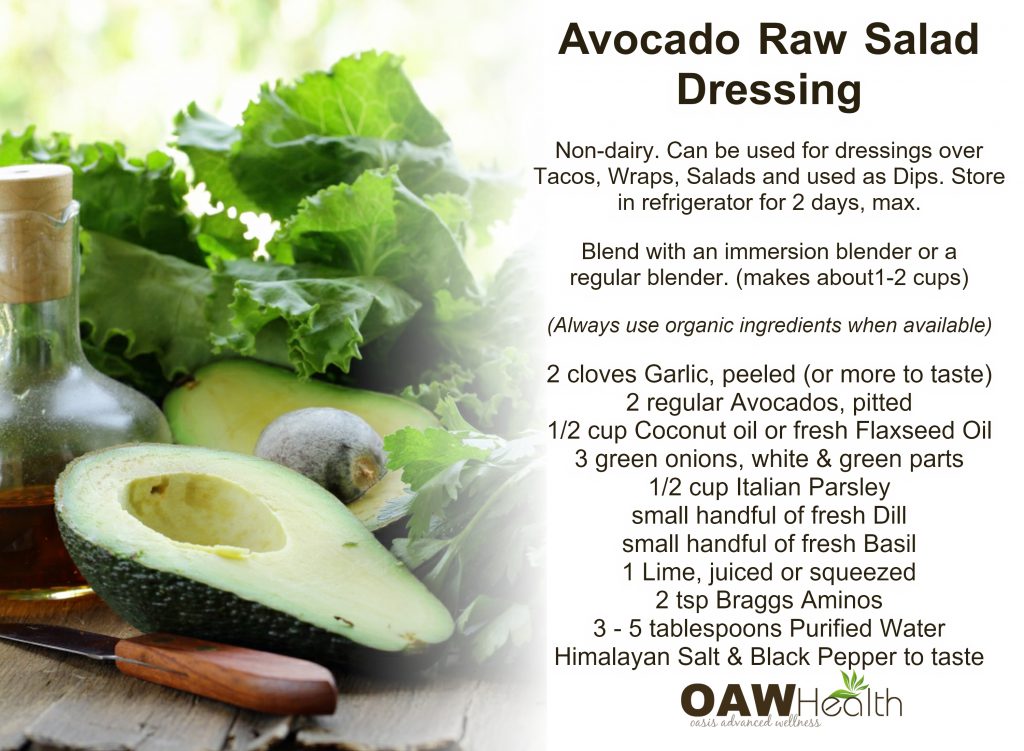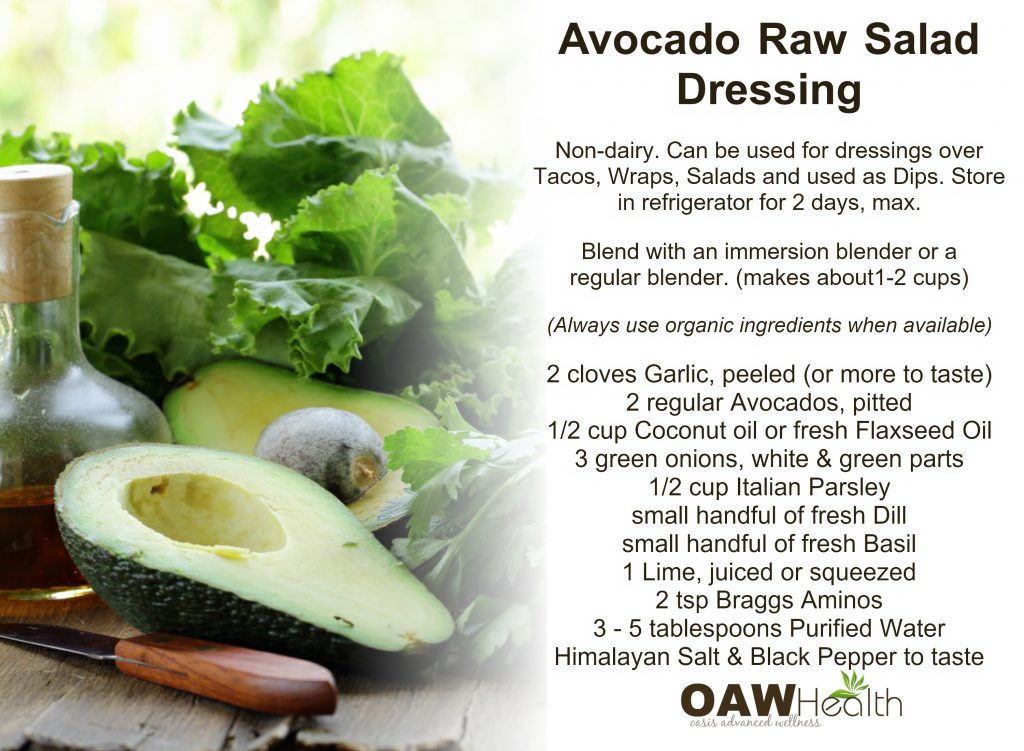 †Results may vary. Information and statements made are for education purposes and are not intended to replace the advice of your doctor. Oasis Advanced Wellness/OAWHealth does not dispense medical advice, prescribe, or diagnose illness. The views and nutritional advice expressed by Oasis Advanced Wellness/OAWHealth are not intended to be a substitute for conventional medical service. If you have a severe medical condition or health concern, see your physician of choice.
Save
Save
Save
Save
Save
Save
Save
Save
Save
Save
Save
Save
Save
Save