Healthy and non-toxic skin care is very important to your entire health. Your skin is the largest organ of your body, and the fact is that whether you are pleased with your skin or not, you will need to implement good skin care for the rest of your life. Your skin serves you in many different ways. It assists in sensory perception; helps to protect you from injuries; works to prevent dehydration; is involved in body temperature maintenance; removes toxins from your system; aids in the synthesis of vitamin D, and provides structural stability to the organs and tissues within your body. As a hard-working organ, it is essential to implement good skin care so that your skin can continue to serve you well throughout your lifetime.
Skin Care Tip #1 – Knowing Your Skin
How well do you really know and understand the particulars of your skin? Is it dry or oily? Sensitive or thick? Do new moles, blemishes, or wrinkles develop easily? Do you notice a difference in how your skin reacts when you change skin care products? Do you have a daily skin care routine that is practiced without fail?
As I stated at the beginning, the health of your skin is critical to your overall wellness. Take some time to examine your skin and become familiar with its various features and characteristics. If you are not satisfied with the current products you are using for skin care, maybe it's time to aim higher and look into quality, natural, non-toxic, organic skin care options that will improve the condition and appearance of your skin and not jeopardize your overall health.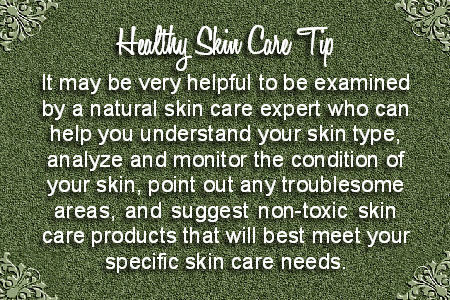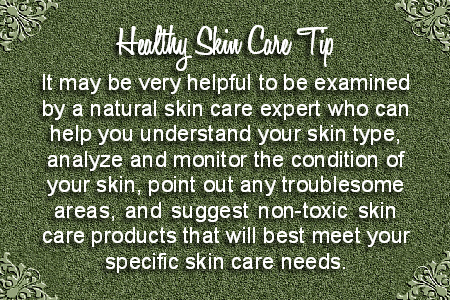 Skin Care Tip #2 – Protecting Your Skin
One of the best things you can do for the health of your skin is to protect it from the damaging ultraviolet rays of the sun. Excessive exposure to the sun can lead to all kinds of skin troubles, including: skin discoloration, premature aging, sagging, wrinkles, and even cancer. While your summer suntan will fade as the seasons change, the damage to your skin is an ongoing concern. Below are a couple of tips that will greatly minimize skin damage from the sun:
Sun Screen: Use of a non-toxic, organic sunscreen with a minimum SPF rating of 30 is a must. Even if you don't plan on sunbathing, daily activities such as driving in your car or taking a walk will expose you to the sun as well. Use a non-toxic sunscreen everyday in which you will be getting maximum sun exposure, and if you are exercising or you tend to perspire a lot, reapply it every 2-3 hours.
Reduce Sun Overexposure:  Use the sun wisely. Always protect yourself from overexposure. In addition to wearing sunscreen, it's a good idea to limit the amount of ultraviolet radiation your skin is exposed to every day. Whenever possible, avoid long periods of time outdoors between 10:00AM and 3:00PM when the sun is directly overhead and its rays are most intense. Wearing clothing such as wide brimmed hats, long sleeves, and sunglasses is recommended. If you must be in the sun for more than 45 minutes at a time, try to build your tolerance by gradually extending your exposure by a few minutes every day. Remember that everyone needs some sun exposure for Vitamin D production and for good health. Getting 30-45 minutes of daily sun exposure is healthy.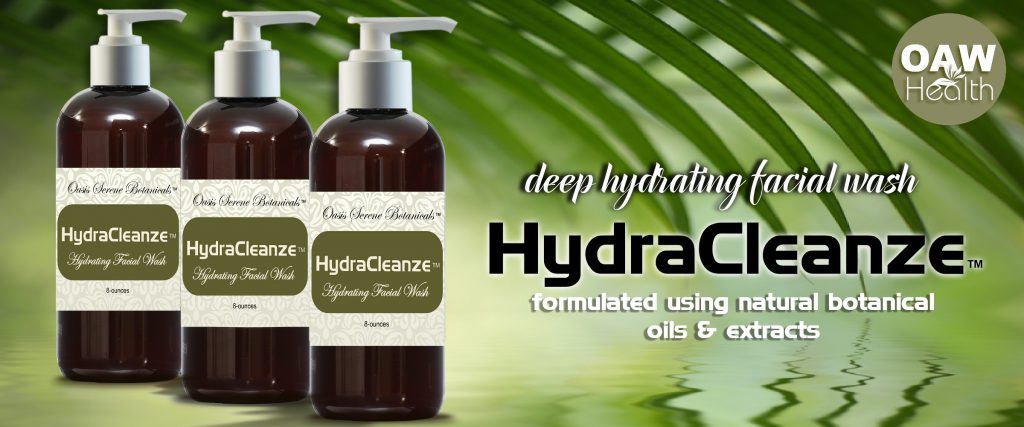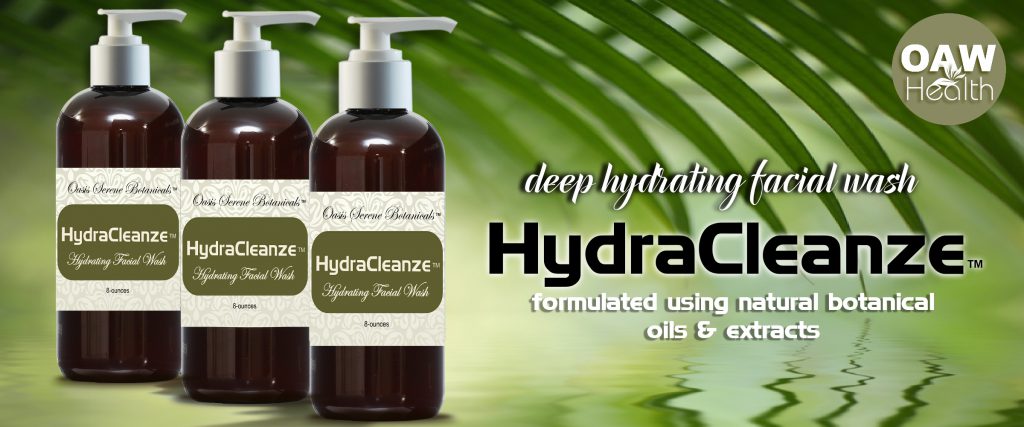 Skin Care Tip #3 – Cleansing Your Skin
In addition to sun protection, proper cleansing of the skin is another vital skin care step you can take to assure healthy skin. Properly washing your skin helps to remove grime, pollutants, dead skin cells, bacteria, cosmetics, perspiration and other toxins that accumulate on your skin. Choose a gentle skin cleanser made with organic ingredients that is specifically designed for your skin type and particular skin care needs (e.g. oily skin or anti-acne.) Gently cleanse your skin once in the morning and once before bed (never go to bed without cleansing your face), and more often if needed to keep it fresh, clean, and functioning properly.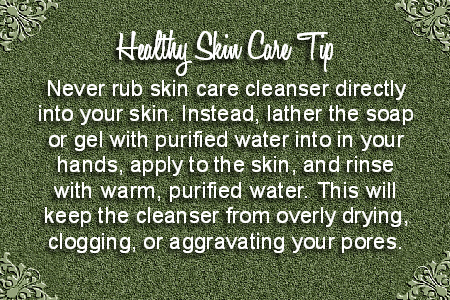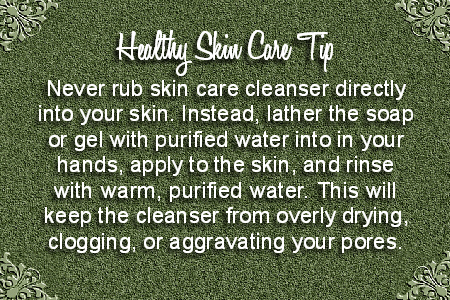 Skin Care Tip #4 – Moisturizing Your Skin
When your skin becomes dry, the skin barrier is compromised which can lead to a low-grade chronic inflammation and ultimately a breakdown of collagen thus faster aging. Dehydrated skin also makes the fine lines in your skin look more pronounced. Proper moisturizing and hydration makes your skin look healthy and young.
An effective skin care moisturizer should naturally hydrate and moisturize into the layers of your skin. It should be made with non-toxic ingredients and use a non-toxic preservative system. Did you know that many of the chemical ingredients in so-called natural moisturizing creams are actually toxic and over time can actually cause your skin to look unhealthy? This is why I developed a clean, not-toxic, age defense moisturizer, Purely Ageless™. In Purely Ageless™ you will also find a blend of some of the most effective essential oils not only for healthy skin, but also beneficial in balancing stress and emotions. Not only will you enjoy the many skin care benefits of a non-toxic age defense creme, but you will also experience a balance and sense of calmness from the blend of essential oils.


Being diligent to incorporate effective skin care habits is essential for healthy and fresh looking skin. Other healthy habits to support healthy skin include a very healthy diet rich in organic vegetables, fruits and healthy oils. Daily exercise and stress reduction techniques will also help your skin look its best. Your skin is the outward appearance of what is going on inside your body. Treat your body well from the inside out, implement good skin care habits and your skin will glow as a result of your endeavors.
†Results may vary. Information and statements made are for education purposes and are not intended to replace the advice of your doctor. Oasis Advanced Wellness/OAWHealth does not dispense medical advice, prescribe, or diagnose illness. The views and nutritional advice expressed by Oasis Advanced Wellness/OAWHealth are not intended to be a substitute for conventional medical service. If you have a severe medical condition or health concern, see your physician of choice.
Save
Save
Save
Save
Save
Save
Save
Save
Save
Save