The health benefits of cabbage as well as other cruciferous vegetables like kale and broccoli are well-known for being full of beneficial nutrients. When trying to improve your health and well-being, cabbage (both red and green) should be at the top of your weekly grocery list.
Because of its leafy appearance, cabbage is often thought to belong to the lettuce family; however, cabbage is considered a cruciferous vegetable. Cabbage can vary in color from light and dark green to a rich red and purple with either smooth or crinkled leaves. With less than 20 calories per half cup cooked, cabbage is a very healthy vegetable that everyone should include in their diet.
Eating a half-cup of cooked cabbage provides 47% of your vitamin C needs for the day. Cabbage also provides 102% of vitamin K, 8% of manganese, 6% of folate and lesser amounts of vitamin B-6, calcium, potassium and thiamin. Cabbage contains the antioxidants choline, beta-carotene, lutein and zeaxanthin as well as the flavonoids kaempferol, quercetin, and apigenin.
DID YOU KNOW? Cabbage provides you with cholesterol-lowering benefits when it is cooked by steaming. The fiber-related components in cabbage do a better job of binding together with bile acids in your digestive tract when steamed. When this binding process takes place, it's easier for bile acids to be excreted, and the result is a lowering of your cholesterol levels. Raw cabbage still has cholesterol-lowering ability, just not as much as steamed cabbage.
25 Amazing Health Benefits of Cabbage
abundant in vitamin C
rich in fiber
contains sulforaphane which helps fight cancer
rich in iodine
beneficial detoxifier
helps with constipation
supports immune system
anti-bacterial | anti-viral
protection from radiation therapy
improves blood flow
reduces free radicals
helps with gastric ulcers
raw cabbage juice contains the anti-ulcer factor, vitamin U
benefits the nervous system
lowers risk of colon cancer
anti-inflammatory properties
supports endocrine system
rich in glucosinolates
source of indole-3-carbinol
cabbage leaves can relieve painfully engorged breasts in breastfeeding
low calorie
supports healthy cholesterol levels
promotes healthy digestive system
boosts energy
supports healthy skin cells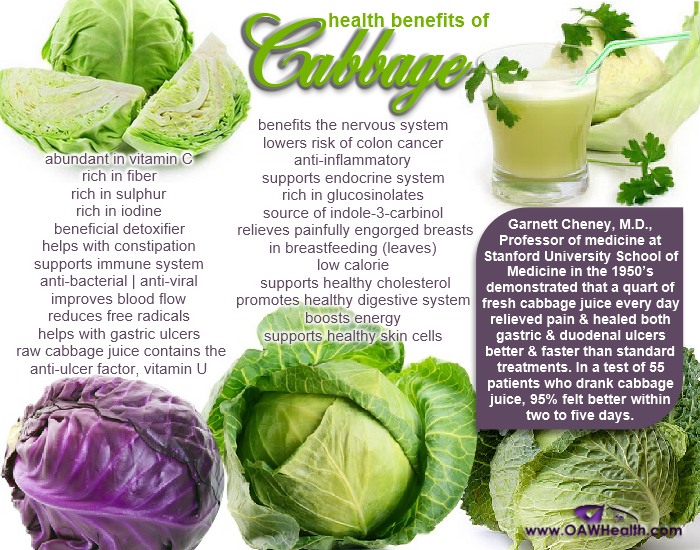 Garnett Cheney, M.D., Professor of medicine at Stanford University School of Medicine in the 1950's demonstrated that a quart of fresh cabbage juice every day relieved pain & healed both gastric & duodenal ulcers better & faster than standard treatments. In a test of 55 patients who drank cabbage juice, 95% felt better within two to five days.
How to Serve Cabbage For Best Health Benefits

Braised Cabbage. Braise organic red cabbage with a chopped organic apple and red wine. This is also kid-friendly since the alcohol (but not the flavor or the flavonoids) will evaporate.
Coleslaw. Combine shredded organic red and green cabbage with fresh organic lemon juice, extra virgin olive oil, and organic seasonings such as turmeric, cumin, coriander, and black pepper to make an Indian coleslaw.
Oven roasted cabbage. Preheat oven to 400 F. Cut a large cabbage into 1″ thick slices. Mince 5 large garlic cloves. Brush both sides of each cabbage slice with extra virgin olive oil. Spread minced garlic evenly on each side of the cabbage slices and season to taste with Himalayan salt and pepper. Roast uncovered in oven for 20 minutes; turn slices over and roast them again for another 20 minutes or until the edges are crispy.

Is Cabbage a Goitrogenic Food?
Cabbage is sometimes referred to as a "goitrogenic" food. According to the latest studies, foods themselves—including cabbage—are not "goitrogenic" in the sense of causing goiter, even when they are consumed in excess. Most foods that are commonly called "goitrogenic" (including cabbage, broccoli, kale, and cauliflower and soyfoods) do not interfere with thyroid function in healthy people even when they are consumed on a daily basis. Nor is it scientifically correct to say that foods "contain goitrogens," at least not if you are thinking about goitrogens as a category of substances like proteins, carbohydrates, or vitamins. With respect to the health of our thyroid gland, all that can be contained in a food are nutrients that provide us with a variety of health benefits but which, under certain circumstances, can also interfere with thyroid function. The term "goitrogenic food" makes it sound as if something is wrong with the food, but that is simply not the truth. What causes concerns for certain individuals is not the food itself but the mismatched nature of certain substances within the food to their unique health circumstances.
Research & Reference
Ambrosone CB, Tang L. Cruciferous vegetable intake and cancer prevention: role of nutrigenetics. Cancer Prev Res (Phila Pa). 2009 Apr;2(4):298-300. 2009.
Bhattacharya A, Tang L, Li Y, et al. Inhibition of bladder cancer development by allyl isothiocyanate. Carcinogenesis. 2010 Feb;31(2):281-6. 2010.
Higdon JV, Delage B, Williams DE, et al. Cruciferous Vegetables and Human Cancer Risk: Epidemiologic Evidence and Mechanistic Basis. Pharmacol Res. 2007 March; 55(3): 224-236. 2007.
Hu R, Khor TO, Shen G, Jeong WS, Hebbar V, Chen C, Xu C, Reddy B, Chada K, Kong AN. Cancer chemoprevention of intestinal polyposis in ApcMin/+ mice by sulforaphane, a natural product derived from cruciferous vegetable. Carcinogenesis. 2006 May 4; [Epub ahead of print. 2006. PMID:16675473.
Kahlon TS, Chiu MC, Chapman MH. Steam cooking significantly improves in vitro bile acid binding of collard greens, kale, mustard greens, broccoli, green bell pepper, and cabbage. 2008 Jun;28(6):351-7. 2008.
Kurilich AC, Tsau GJ, Brown A, et al. Carotene, tocopherol, and ascorbate contents in subspecies of Brassica oleracea. J Agric Food Chem 1999 Apr;47(4):1576-81. 1999. PMID:13300.
Kushad MM, Brown AF, Kurilich AC, et al. Variation of glucosinolates in vegetable crops of Brassica oleracea. J Agric Food Chem 1999 Apr;47(4):1541-8. 1999. PMID:13320.
Kusznierewicz, B, Bartoszek A., Wolska, L et al. Partial characterization of white cabbages (Brassica oleracea var. capitata f. alba) from different regions by glucosinolates, bioactive compounds, total antioxidant activities, and proteins. LWT Food Science and Technology 2008, 41, 1-9. 2008.
Miron A, Hancianu M, Aprotosoaie AC et al. [Contributions to chemical study of the raw polysaccharide isolated from the fresh pressed juice of white cabbage leaves]. Rev Med Chir Soc Med Nat Iasi. 2006 Oct-Dec;110(4):1020-6. 2006.
Prawan A, Saw CL, Khor TO et al. Anti-NF-kappaB and anti-inflammatory activities of synthetic isothiocyanates: effect of chemical structures and cellular signaling. Chem Biol Interact. 2009 May 15;179(2-3):202-11. 2009.
Rungapamestry V, Duncan AJ, Fuller Z et al. Effect of cooking brassica vegetables on the subsequent hydrolysis and metabolic fate of glucosinolates. Proc Nutr Soc. 2007 Feb;66(1):69-81. 2007.
Silberstein JL, Parsons JK. Evidence-based principles of bladder cancer and diet. Urology. 2010 Feb;75(2):340-6. 2010.
Steinbrecher A, Linseisen J. Dietary Intake of Individual Glucosinolates in Participants of the EPIC-Heidelberg Cohort Study. Ann Nutr Metab 2009;54:87-96. 2009.
Tang L, Zirpoli GR, Guru K, et al. Consumption of Raw Cruciferous Vegetables is Inversely Associated with Bladder Cancer Risk. 2007 Apr 15;67(8):3569-73. 2007.
Tang L, Zirpoli GR, Jayaprakash V, et al. Cruciferous vegetable intake is inversely associated with lung cancer risk among smokers: a case-control study. BMC Cancer 2010, 10:162. 2010.
Vidrih R, Filip S, Hribar J. Content of higher fatty acids in green vegetables. Czech Journal of Food Sciences 2009, 27 Special Issue: S125—S129. 2009.
Voorrips LE, Goldbohm RA, et al. Vegetable and fruit consumption and risks of colon and rectal cancer in a prospective cohort study: The Netherlands Cohort Study on Diet and Cancer. Am J Epidemiol. 2000 Dec 1;152(11):1081-92. 2000. PMID:11117618.
Zhao H, Lin J, Grossman HB, Hernandez LM, Dinney CP, Wu X. Dietary isothiocyanates, GSTM1, GSTT1, NAT2 polymorphisms and bladder cancer risk. Int J Cancer. 2007 May 15;120(10):2208-13. 2007. PMID:17290402.
The World's Healthiest Foods. www.whfoods.org
†Results may vary. Information and statements made are for education purposes and are not intended to replace the advice of your doctor. Oasis Advanced Wellness/OAWHealth does not dispense medical advice, prescribe, or diagnose illness. The views and nutritional advice expressed by Oasis Advanced Wellness/OAWHealth are not intended to be a substitute for conventional medical service. If you have a severe medical condition or health concern, see your physician of choice.
Save
Save
Save