Helichrysum essential oil, also known as, Helichrysum angustifolium or Helichrysum italicum is often referred to as the "everlasting" or "immortal" oil because of the length of its shelf-life. While the cost of Helichrysum can hit the pocketbook pretty hard, compared to other essential oils, most other essential oils have a much shorter shelf-life. These 22 benefits of helichrysum show how important Helichrysum can be in natural healing and wellness.
The name "helichrysum" comes from the Greek word "helisso," meaning, "to turn around," and the word "chrysos," which means "gold." In historical times, the flowers of the plant were dried and offered to the Greek Gods. In aromatherapy, helichrysum is believed to open the heart and to help soothe past emotional wounds, and aid in dealing with depression, stress, and mental exhaustion. The scent of Helichrysum is also believed to help one feel secure and safe.
22 Benefits of Helichrysum
antispasmodic
anticoagulant
anti-allergenic
antimicrobial
relieves arthritis pain
supports nervous system
anti-inflammatory
relieves coughs
helps wounds, cuts & scars disappear fast
expectorant
reduces fever
antiseptic
helps neutralize acids
promotes good digestion
supports blood pressure
promotes thinning of excess mucus
fungicidal
supports healthy liver function
acts as a natural diuretic
supports a healthy spleen
promotes cell health
prevents dehydration of the skin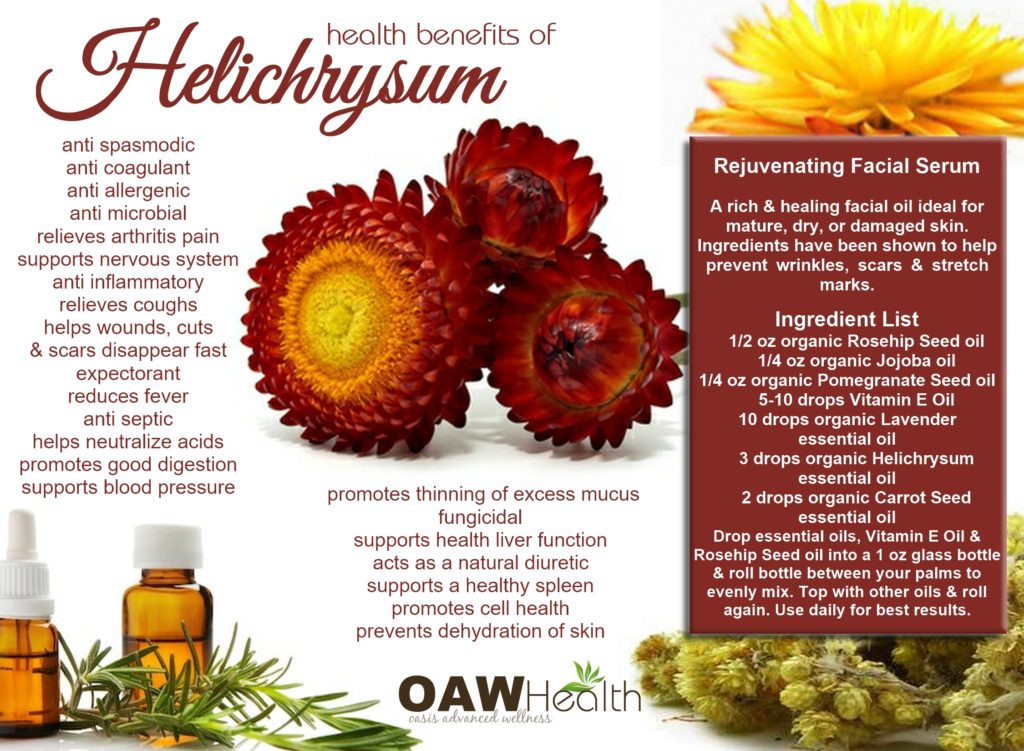 Rejuvenating Facial Serum DIY

Facial Oils nourish the skin at a deep cellular level. The recipe below is for a rich & healing facial oil ideal for mature, dry, or damaged skin. Ingredients have been shown to help prevent wrinkles, scars & stretch marks.
Ingredients
1/2 oz organic Rosehip Seed oil
1/4 oz organic Jojoba oil
1/4 oz organic Pomegranate Seed oil
5-10 drops Vitamin E Oil (mixed tocopherols and tocotrienols)
10 drops organic Lavender essential oil
3 drops organic Helichrysum essential oil
2 drops organic Carrot Seed essential oil
Drop essential oils, Vitamin E Oil, and Rosehip Seed oil into a 1 oz glass bottle and roll bottle between your palms to evenly mix the oils. Top with other oils and roll again. Use daily for best results.
Recipe from http://mountainroseblog.com/category/recipes/page/3/
References
Elizabeth Varney and Jane Buckle. Effect of Inhaled Essential Oils on Mental Exhaustion and Moderate Burnout: A Small Pilot Study. The Journal of Alternative and Complementary Medicine. January 2013, 19(1): 69-71. doi:10.1089/acm.2012.0089.
Sala A, Recio M, Giner RM, Máñez S, Tournier H, Schinella G, Ríos JL. Anti-inflammatory and antioxidant properties of Helichrysum italicum  The Journal of Pharmacy and Pharmacology, 2002.
Effects of Helichrysum italicum extract on growth and enzymatic activity of Staphylococcus aureus Nostro A, Bisignano G, Angela Cannatelli M, Crisafi G, Paola Germanò M, Alonzo V. International Journal of Antimicrobial Agents, 2001.
Meyer JJM, Dilika F (1996) Antibacterial activity of Helichrysum pedunculatum used in circumcision rites. J Ethnopharmacol 53: 51-54.
Lawless, Julia 1995 The Illustrated Encyclopedia of Essential Oils UK: Element.
Journal of Ethnopharmacology. Antibacterial activity of Helichrysum aureonitens (Asteraceae). J.J. M. Meyer & A. J. Afolayan. Botany Department, University of Pretoria, Pretoria 0002, South Africa. Volume 47, Issue 2, 7 July 1995, Pages 109-111 (doi:10.1016/0378-8741(95)01261-B) [PMID: 7500636].
The Department of Botany, University of Pretoria in South Africa has found that Helichrysum aureonitens demonstrates antiviral activity against herpes simplex virus type 1 (HSV-1) in vitro. [PMID: 8733118] Another study from the Department of Botany at the University of Natal Pietermaritzburg found that it was useful for the treatment of headache or inflammatory diseases, due to its high inhibitory activity. (DOI: 10.1007/s11101-004-5570-7) Studies show that it is also an effective antibacterial agent against Staphylococcus aureus and Micrococcus kristinae.
J Ethnopharmacol. 2014 Jan 10;151(1):54-65. doi: 10.1016/j.jep.2013.11.005. Epub 2013 Nov 14.Helichrysum italicum: from traditional use to scientific data.
J Ethnopharmacol. 2013 Dec 12;150(3):901-6. doi: 10.1016/j.jep.2013.09.034. Epub 2013 Oct 16.Intestinal antispasmodic effects of Helichrysum italicum (Roth) Don ssp. italicum and chemical identification of the active ingredients.
J Ethnopharmacol. 2013 Aug 26;149(1):103-10. doi: 10.1016/j.jep.2013.06.006. Epub 2013 Jun 11.Exploration of the wound healing potential of Helichrysum graveolens (Bieb.) Sweet: isolation of apigenin as an active component.
Oji KA, Shafaghat A. "Constituents and antimicrobial activity of the essential oils from flower, leaf and stem of Helichrysum armenium." Nat Prod Commun. 2012 May;7(5):671-4.
†Results may vary. Information and statements made are for education purposes and are not intended to replace the advice of your doctor. Oasis Advanced Wellness/OAWHealth does not dispense medical advice, prescribe, or diagnose illness. The views and nutritional advice expressed by Oasis Advanced Wellness/OAWHealth are not intended to be a substitute for conventional medical service. If you have a severe medical condition or health concern, see your physician of choice.