If you want tasty, a little heat and some added crunch then Pickled Jalapeno Peppers are for you! There are numerous ways to incorporate them into foods such your favorite chili recipe, on top of healthy nachos, on top of chalupas, in pinto beans, salad or even a healthy pizza to add a little of the "spice of life". If you are not a fan of hot, just remove the seeds and membranes. Ok…the best part? The presentation of Pickled Jalapeno Peppers look simply gorgeous inside the mason jar.  Another added benefit is that this recipe makes very inexpensive and yummy gifts – especially Christmas gifts (thinking – make early!) – homemade from your kitchen!
Pickled Jalapeno Peppers Recipe
Ingredients (this recipe makes 4 quarts):
3 C Purified Water
9 C Distilled White Vinegar
2 TBS Kosher Salt
1 1/2 tsp ground cumin
8 cloves of organic Garlic, peeled and left whole
6 Lbs Jalapeno Peppers-green & red (that's about 180 small peppers or 60 large)
4 Quart Jars with lids and rings (sterilized)
Canner & canning utensils
Gloves
Directions
Put on rubber gloves and de-stem the jalapenos. If you want less hot jalapeno's, cut out the membrane and the seeds. Slice the jalapeno's to be about 1/4-1/2″ thick.
Peel the garlic gloves and apply slight pressure to each clove with your thumb. Don't smash them completely as this is just to release a bit of flavor.
Brine: Pour the 3 cups of water into a large stainless steel pot. Place the pot on a large burner on the stove.
Add the 9 cups of vinegar to the pot.
Add the 2 TBS of Kosher salt.
Finally, add the 1 1/2 tsp of ground Cumin.
Whisk all of these ingredients together and bring to a boil. Stir until the Kosher salt dissolves completely.
While you are waiting on the brine to boil, fill the canner up with water, about 3/4 of the way up. Turn the burner on high, set the canner lid loosely on top – do not screw the lid on.
Put a clove of garlic (or two if the clove is small) in the bottom of the sterilized jars.
While wearing gloves, pack each jar completely full of jalapeno pepper slices.
Place the canning funnel over each jar. Fill the jar full of the hot brine, leaving a 1/4″ at the top of the jar.
Use a clean knife to remove any air bubbles.
Remove any excess liquid from the mouth of the jar with a clean cloth.
Place the lids on the jars and hand tighten the rings.
Using tongs, place the jars inside of your water bath canner.
Place the canner lid and process the jars for 10 to 15 minutes.
Remove the jars with the tongs, and set on clean dish towels on the counter. As the jars cool, you can hear a 'ping' which tells you the jars were processed correctly and are now sealed.
Store for 3+ weeks in a dark area. This allows all the flavors to mingle and in turn makes the jalapenos super delicious.
Store opened jars for 6 months in the fridge. Use only clean utensils to remove peppers. No fingers! Keep unopened jars for a year.
You can make Pickled Jalapeno Peppers in the summer after the jalapeno harvest and give as Christmas gifts months later!
Original Recipe at Potholes & Pantyhose

BONUS Recipe – Sweet Pickled Jalapenos (aka Cowboy Candy)
Be warned!  These little sweet, spicy, crunchy, garlicky, sweet pickled jalapeno rounds can be highly addictive…Enjoy!
Ingredients
1 lb fresh jalapenos (sliced in 1/8″ – 1/4″ slices with tops removed)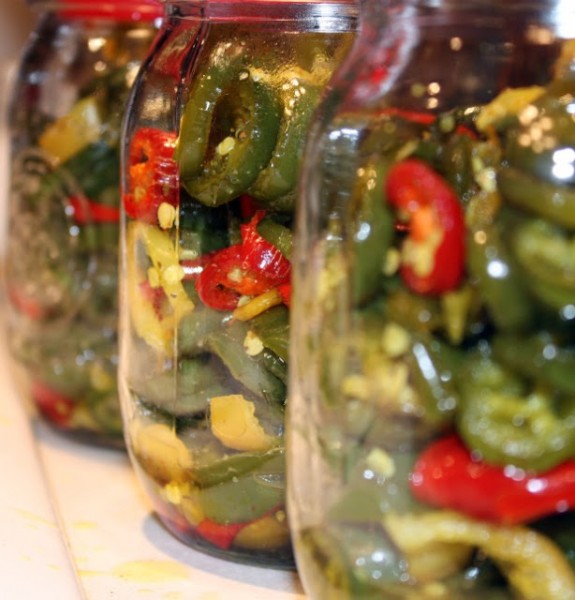 2 cups organic sugar
2/3 cup cider vinegar
2 tablespoons mustard seed
1 tablespoon garlic powder
1/4 teaspoon turmeric
1/4 teaspoon celery seed
1/4 teaspoon cayenne pepper
Directions
In a large pot, mix sugar, cider vinegar, mustard seed, garlic powder, turmeric, celery seed, and cayenne and bring to boil. Reduce heat and simmer for 5 minutes. Add jalapenos and continue to simmer for an additional 5 minutes. Using a slotted spoon, load sterilized jars with jalapenos.  Then add liquid, filling the jars and leaving a 1/4 headspace. Process in a water bath for 15 minutes. Makes approximately 2 half-pints (more or less).  Store for 3+ weeks in a dark area in order to allow flavors to mingle.
†Results may vary. Information and statements made are for education purposes and are not intended to replace the advice of your doctor. Oasis Advanced Wellness/OAWHealth does not dispense medical advice, prescribe, or diagnose illness. The views and nutritional advice expressed by Oasis Advanced Wellness/OAWHealth are not intended to be a substitute for conventional medical service. If you have a severe medical condition or health concern, see your physician of choice.
Save
Save
Save
Save