Dry body brushing, practiced for hundreds of years in Japan and Greece, is catching on in many of the high-end spas as a way to decrease cellulite and improve skin appearance. Dry body brushing, also known as lymphatic drainage, is effective in helping to get rid of dead skin cells, increasing circulation, helping the lymphatic system work better (removing toxins from the body) as well as decreasing stress and bloating.
I was first introduced to dry body brushing in 2001 when I was fighting stage three colon cancer. My main reason for using this lymphatic drainage technique was to encourage my lymphatic system to work efficiently, thus making sure toxins were eliminated properly. I was pleasantly surprised that I saw many other benefits such as a reduced appearance of cellulite, and tightened healthy looking skin. I was also pleased to read that body brushing was the most effective home remedy for cellulite in a study done by Huffington Post.
Something else wonderful about dry body brushing is there is no need to pay a hefty high-end spa price in order to experience all the health benefits of dry body brushing. For those who are DIY motivated, dry body brushing in the privacy of your home. Dry body brushing is also very easy to learn (only takes minutes to perform) and only takes a few minutes to perform.  An all-natural (plant-based) dry body brush can be purchased online and in most health food stores. That's all you need to begin seeing results — except for the willingness and determination to perform dry skin brushing every day.

Directions for Daily Dry Body Brushing
Always brush towards your heart. Make long sweeps up toward the heart.  Avoid improper brushing techniques of back and forth or scrubbing and circular motions. Begin with your feet, then up the legs on both sides, then work from the arms toward your chest. Direct the brush counterclockwise for the stomach area. Don't make the mistake of brushing too hard. The end result is to stimulate  and invigorate, but not irritate or redden your skin.
Always brush skin when dry. Preferably in the morning before shower.
Use natural vegetable-derived bristle brush.
Brush in direction of heart.
Follow with warm shower.
Never brush broken skin.
After brushing, your skin should be pink, not red.
Do not brush before bed as it may interrupt sleep
Clean your brush with the help of a non-toxic soap at least one time a week.
Health Benefits of Dry Body Brushing
stimulates all organs of detoxification
removes cellulite
cleanses the lymphatic system
removes dead skin layers
strengthens immune system
stimulates hormone & oil-producing glands
tones muscles
stimulates circulation
improves nervous system
helps digestion
helps to tighten skin
reduces need for body lotion
easy & inexpensive
removes excess fluid from body
known as an effective lymphatic drainage technique
eliminates clogged skin pores
helps with even distribution of fat deposits
keeps skin soft, smooth & younger looking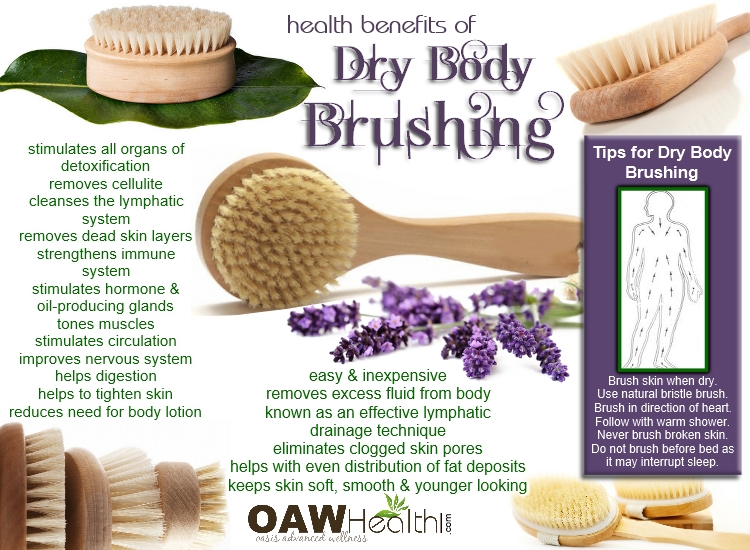 While the investment cost of dry skin brushing is low, you will find the pay-off high. If you're a newbie, most likely you'll be quite happy with the results. As one dry body brushing fan described in the Examiner:
"I've only been at this for about two weeks, but I've already experienced many of the benefits listed above. For one thing, dry skin brushing just feels really good. It's one of those miraculous practices that manages to be both relaxing and energizing all at the same time. For another, it cured my cellulite! …Dry skin brushing also helped heal some ingrown hairs and some innocuous though unsightly bumps on my arms. My skin is softer and no longer dry or flakey. Additionally, though I'm not sure whether or not it's related to dry skin brushing, I must say that I've been sleeping better and experiencing less 'brain fog' throughout the day!"
References
EatingBirdFood.com February 2014
BirchBox.com
NaturalHealthMag.com
†Results may vary. Information and statements made are for education purposes and are not intended to replace the advice of your doctor. Oasis Advanced Wellness/OAWHealth does not dispense medical advice, prescribe, or diagnose illness. The views and nutritional advice expressed by Oasis Advanced Wellness/OAWHealth are not intended to be a substitute for conventional medical service. If you have a severe medical condition or health concern, see your physician of choice.