Evening primrose, a wildflower that grows throughout North America and commonly called, "The King's Cure-All," seems to have a wide range of healing attributes. This plant gets its name from its flowers that usually bloom after sunset and/or on extremely overcast days during the months of June through September. The roots of the Evening Primrose plant are eaten in some countries in the spring, and in France it is often use it for garnishing salads.
The health benefits of evening primrose are many – especially for women. Evening Primrose Oil is converted to a hormone-like substance called prostaglandin E1 which has anti-inflammatory properties that act as both a blood thinner and a blood vessel dilator. It is most famous for its use as a natural anti-inflammatory and reducing the symptoms of PMS and menopause. It is also popular as an ingredient in mature and anti-aging skin preparations to help soothe skin dryness, itchiness, and redness. Evening Primrose has been studied in use for eczema, reducing the symptoms of diabetic neuropathy and reducing symptoms from Raynaud's.  It has been found to improve blood flow and nerve function by lowering blood lipid risk factors.

Health Benefits of Evening Primrose
high in fatty acid gamma linolenic acid (GLA)
may reduce PMS symptoms
may help atopic eczema
helps with inflammation
nourishes skin, hair & nails
helps with menopausal symptoms
may help with rheumatoid arthritis
may help asthma symptoms
may help to lower cholesterol
may help chronic fatigue syndrome
may help with ADHD symptoms
helps with hypertension symptoms
may help with diabetic neuropathy
may help with menstrual cramps
helps with joint inflammation
may help with infertility
helps with stomach upset
may protect from coronary artery disease
Caution: If you are taking medication for blood thinning or blood pressure, speak to your health care provider before consuming evening primrose oil. If you're prone to seizures and take a class of medications called phenothiazines, which is used to treat schizophrenia, you shouldn't take evening primrose oil because it may increase your risk of seizures.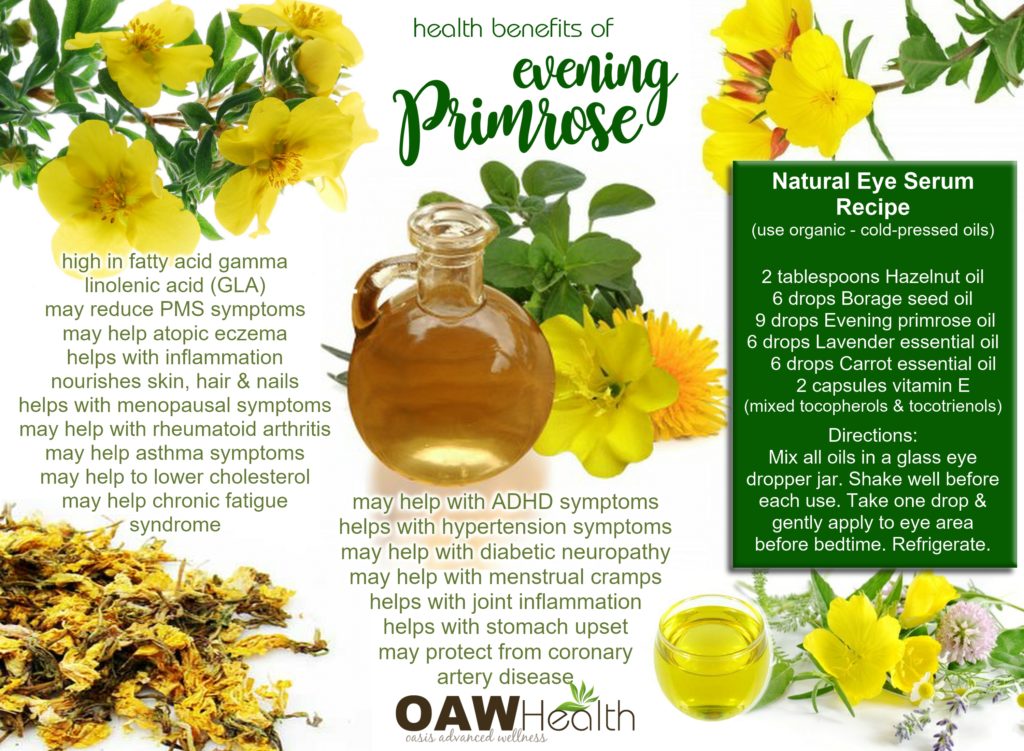 Evening Primrose Natural Eye Serum Recipe
(Always use high quality oils.)
2 tablespoons Hazelnut oil
6 drops Borage seed oil
9 drops Evening primrose oil
6 drops Lavender essential oil
6 drops Carrot essential oil
2 capsules Full Spectrum Vitamin E (mixed tocopherols & tocotrienols)
Directions:
Mix all oils in a glass eye dropper jar. Shake well before each use. Take one drop & gently apply to eye area before bedtime. Refrigerate.
Research
Supplementation with evening primrose oil in atopic dermatitis: effect on fatty acids in neutrophils and epidermis.
Systemic evening primrose oil improves the biophysical skin parameters of healthy adults.
Evening primrose oil is effective in atopic dermatitis: a randomized placebo-controlled trial.
Evening primrose oil and borage oil in rheumatologic conditions.

†Results may vary. Information and statements made are for education purposes and are not intended to replace the advice of your doctor. Oasis Advanced Wellness/OAWHealth does not dispense medical advice, prescribe, or diagnose illness. The views and nutritional advice expressed by Oasis Advanced Wellness/OAWHealth are not intended to be a substitute for conventional medical service. If you have a severe medical condition or health concern, see your physician of choice.
Save
Save
Save
Save
Save
Save
Save
Save
Save
Save
Save
Save
Save
Save
Save
Save
Save
Save
Save