Alzheimer's disease (AHLZ-high-merz) is a brain disorder characterized by progressive brain cell failure. It is the most common form of dementia, which is a family of diseases that leads to the inability to function normally in daily living activities. As Alzheimer's disease advances, it affects memory, as well as learning, reasoning and communication skills. In the latter stages, personality and behavior are usually altered, including bouts of paranoia, suspicion, delusion, and hallucinations. In the final stage of Alzheimer's disease, total care is needed due to loss of motor skills as brain function declines. Alzheimer's is ultimately a fatal disease if it runs full course.
It is important to understand that Alzheimer's disease is not a normal part of aging even though many doctors will say differently. Studies have estimated that perhaps 10% of people over age 65 have Alzheimer's disease, with the percentage increasing to 50% for those over age 85. Currently Alzheimer's disease is at epidemic proportions, with 5.4 million Americans — including one in eight people aged 65 and over — living with Alzheimer's disease, according to the Alzheimer's Association's 2011 Alzheimer's Disease Facts and Figures. While much research is being done, the cause for Alzheimer's disease has yet to be determined, and there is no known cure. However, there are treatments and interventions that have shown promise, especially during the early stages of the disease.


How To Reduce Your Risk for Alzheimer's Disease
Now for the good news! There is much which can be done in the way of diet, exercise, and lifestyle management which will not only reduce risk factors for Alzheimer's disease, but are also healthy choices that many of us are probably already making (or are intending to). The most important steps we can take is in the realm of prevention. Below are my recommendations for everyone over the age of 45.
Brain Diet. Choose foods that are low in unhealthy fats, high-fiber & high in antioxidants. Choose GMO-Free & Organic foods. Fruits: red grapes, cherries, most varieties of berries, pomegranates, oranges, and plums. Recommended vegetables: spinach, kale, broccoli, beets,Brussels sprouts, peppers, alfalfa sprouts, leafy green and eggplant. Fresh cold-water fish which is high in Omega-3 fatty-acids is also great for brain cells. Nuts high in vitamin E: almonds, pecans, and walnuts. Drink herbal Green Tea. Healthy oils: unrefined coconut oil, cold-pressed extra virgin olive oil, flax seed oil, avocado oil, hemp seed oil, macadamia nut oil. Eliminate sugar and wheat. I highly suggest consuming 1-2 tablespoons of unrefined coconut oil daily.
Maintain proper weight & healthy blood pressure.  Research shows uncontrolled high blood pressure may increase Alzheimer's risk by six fold.
Daily Exercise & Sunshine. Increases blood flow to the brain which keeps existing cells healthy and stimulates the growth of new cells. Sunshine helps with natural D-3 production.
Socialization & Mental Activity. Keeping your mind active helps with better connection between brain cells and it may even help to stimulate the growth of new nerve cells.
Maintain healthy blood sugar and insulin levels.
Hydration. Stay hydrated with purified water. Hydration is important for the brain to function properly.

Detoxification. Practice whole body detoxification. Keep all elimination routes open and working especially the digestive tract. There is overwhelming research and evidence of the gut-brain connection. Colon cleansing is a great way to keep your digestive tract working properly.
Healthy Gut Bacteria. The bacteria in your gut may play a major role in the development of Alzheimer's disease says a study that may initiate new ways for treatment and preventing the neurodegenerative disease. Gut bacteria has a major impact on how people feel through the interaction between the immune system, the intestinal mucosa and our diet. Take a high-quality probiotic every day.
Avoid aluminum, mercury & toxic chemicals. Make sure all personal care products are non-toxic. Be aware of what you are putting on your body. If you have been exposed to heavy metals/toxic chemicals, find a practitioner who is knowledgeable in detoxification of metals and chemicals.

Supplements. Organic multi-vitamin/mineral supplement, Ginkgo Biloba, Phosphatidylserine, Sage, Methylcobalamin B12 formula that also contains B6, Folic Acid & Biotin, Vitamin C, Vitamin E (mixed tocopherols and tocotrienols ), Magnesium, Curcumin, Resveratrol, Vitamin D-3, Silicon, Acetyl L-cartinine, DHA, B-Complex. Ashwaganda –

Studies on mice suggest ashwaganda extract may reverse memory loss and improve cognitive abilities in those with Alzheimer's disease


BONUS Recommendations
Develop a hobby, volunteer your time for local charities, schools, churches, etc. Keep your mind and body active.
Reduce stress levels by practicing yoga, daily meditation, reading motivating books, listening to uplifting music, etc.
Visit a good chiropractor monthly, if possible.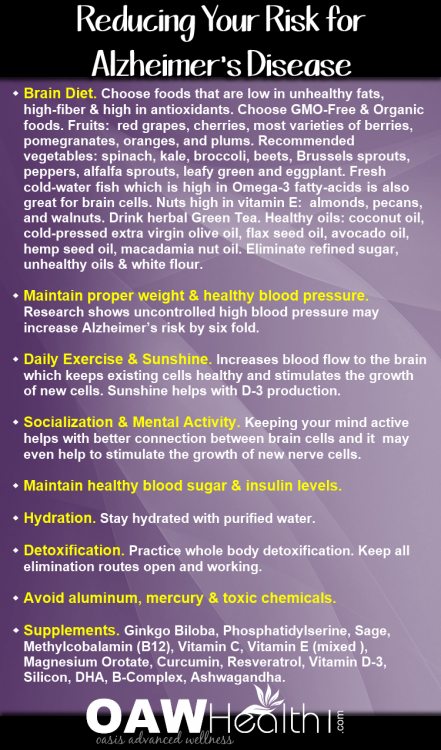 More Information & Research
Health Benefits of Clean Water
Health Benefits of Raw Juicing
Chiropractic – More Than Cracking Bones
B-12 Deficiency – Know the Symptoms
MegaHydrate – Antioxidant, Anti-Aging & Hydration Benefits
Gut Bacteria May Accelerate Alzheimer's Disease – Study
†Results may vary. Information and statements made are for education purposes and are not intended to replace the advice of your doctor. Oasis Advanced Wellness/OAWHealth does not dispense medical advice, prescribe, or diagnose illness. The views and nutritional advice expressed by Oasis Advanced Wellness/OAWHealth are not intended to be a substitute for conventional medical service. If you have a severe medical condition or health concern, see your physician of choice.
Save
Save
Save
Save
Save
Save
Save
Save
Save
Save
Save
Save