Research continues to confirm what natural medicine has long known — chronic inflammation is the beginning of most chronic health issues. Because of the inflammation pre-cursor in nearly every sickness or disease, it's essential to know about the health benefits of Boswellia – mainly its anti-inflammatory benefits.
Boswellia, an Ayurvedic herb made from frankincense (Boswellia serrata, also known as Indian frankincense), was used for thousands of years for its anti-inflammatory properties. It is also used topically in cream form as well as orally as a dried herb and as a standardized extract. It is also crucial to choose a product standardized to contain 100-150 milligrams of Boswellia acids per capsule. Most practitioners recommend 400 mg taken 3x per day for relief of arthritic, asthmatic, or auto-immune symptoms. (However, always check with your practitioner for amounts specific to your health concern.) The dried herb is also effective in smoothies and shakes and used throughout the day. It's important to note that research indicates a better absorption rate when consuming Boswellia with other forms of healthy food.
The Boswellic acids, a group of acids associated with Boswellia serrata resin and different from NSAIDs (Nonsteroidal Anti-Inflammatory Drugs), work to inhibit an enzyme called 5-lipoxygenase (5-LOX), which is instrumental in the synthesis of leukotrienes.  The herbal preparation 5-LOXIN* contains AKBA, the most potent of the Boswellic acids, and is a potent anti-inflammatory agent used successfully in the treatment of arthritis pain. Note: contrary to many marketers of essential oils, boswellic acid is not found naturally in steam-distilled frankincense oil.
* 5–LOXIN® is a patent-pending Boswellia extract providing ten times as much AKBA as typical Boswellia extracts. In studies, 5–LOXIN® has demonstrated the potential to support joint mobility and comfort, in part by promoting a healthy immune response. It may also play a role in maintaining healthy matrix metalloproteinase (MMP) activity, supporting connective tissue structural composition. Additionally, a randomized double-blind study involving 102 individuals revealed that AKBA supports gastrointestinal health. Further studies have indicated that AKBA may provide gastrointestinal support by maintaining healthy immune activity in the endothelial lining of the digestive tract. Moreover, studies suggest AKBA supports healthy cell signaling and cell cycle function for high capacity cellular support. 5–LOXIN® is a registered trademark of PL Thomas – Laila Nutra, LLC.

Health Benefits of Boswellia – Inflammation

Extracts of Boswellia Serrata have natural anti-inflammatory activity at sites where chronic inflammation is present by switching off pro-inflammatory cytokines and mediators, which initiate the process. Analysis of the ingredients of these extracts revealed that the pentacyclic triterpenes Boswellic acids possess biological activities and appear to be responsible for the respective pharmacological actions.
Health Benefits of Boswellia – Asthma
Effects of Boswellia serrata gum resin in patients with bronchial asthma: results of a double-blind, placebo-controlled, 6-week clinical study.
Eur J Med Res. 1998; Gupta I, Gupta V, Gupta S, Lüdtke R, Safayhi H, Ammon HP. Pharmakologie für Naturwissenschaftler, Pharmazeutisches Institut der Universität Tübingen, Tübingen, Germany.
The gum resin of Boswellia serrata, known in the Indian Ayurvedic system of medicine as Salai guggal, contains Boswellic acids, which research shows to inhibit leukotriene biosynthesis. In a double-blind, placebo-controlled study, forty patients, 23 males and 17 females in the age range of 18 – 75 years having a mean duration of illness, bronchial asthma, were treated with a preparation of gum resin of 300 mg thrice daily for 6 weeks. 70% of patients showed improvement of disease as evidenced by the disappearance of physical symptoms and signs such as dyspnea, rhonchi, number of attacks, increase in FEV subset1, FVC and PEFR as well as decrease in the eosinophilic count and ESR. In the control group, only 27% of the patients showed improvement. The data show a definite role of gum resin of Boswellia serrata in the treatment of bronchial asthma.
Health Benefits of Boswellia – Collagenous Colitis
Boswellia serrata extract for the treatment of collagenous colitis. A double-blind, randomized, placebo-controlled, multicenter trial.
Int J Colorectal Dis. 2007; Madisch A, Miehlke S, Eichele O, Bethke B, Kuhlisch E, Bästlein E, Wilhelms G, Morgner A, Wigginghaus B, Stolte M. Medical Department I, Technical University Hospital, Dresden, Germany.
The objective of this study was to investigate the effect of Boswellia serrata extract on symptoms, quality of life, and histology in patients with collagenous colitis. Patients with chronic diarrhea and histologically proven collagenous colitis were randomized to receive either oral Boswellia serrata extract 400 mg three times daily for six weeks or placebo. Complete colonoscopy and histology were performed before and after treatment. Our study suggests that Boswellia serrata extract might be clinically effective in patients with collagenous colitis.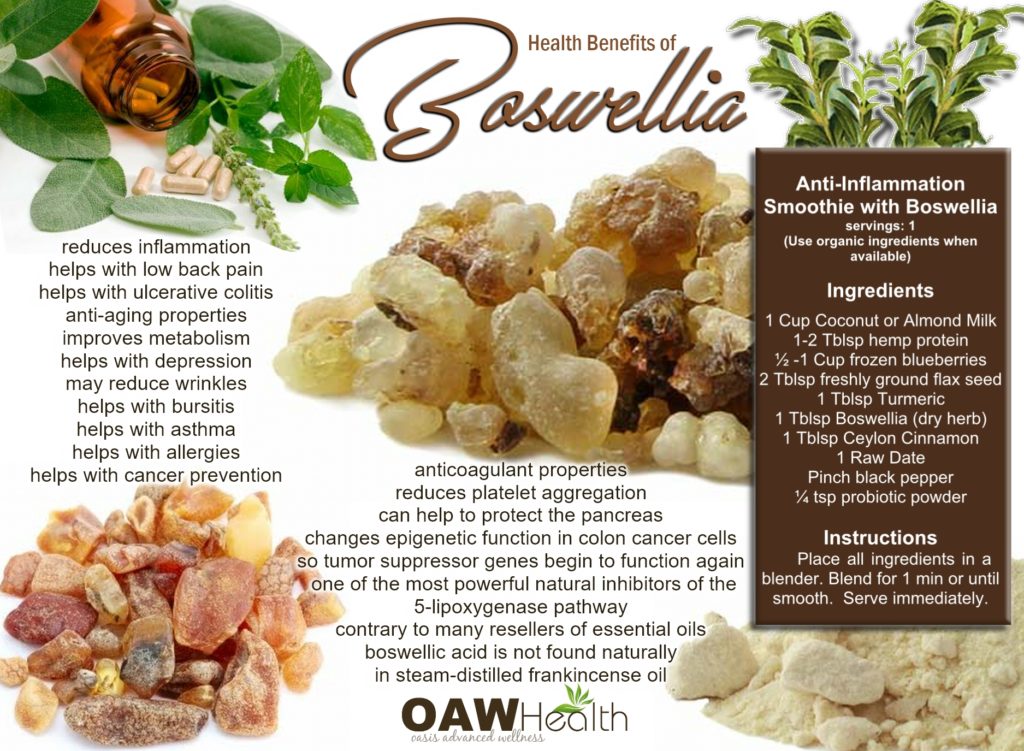 Health Benefits of Boswellia – Osteoarthritis
Efficacy and tolerability of Boswellia serrata extract in the treatment of osteoarthritis of knee–a randomized, double-blind placebo-controlled trial.
Phytomedicine. 2003; Kimmatkar N, Thawani V, Hingorani L. MS Orthopedics, Indira Gandhi Medical College, Nagpur, India.
Boswellia serrata tree is commonly found in India. The therapeutic value of its gum (guggulu) has been known. It possesses excellent anti-inflammatory, anti-arthritic, and analgesic activity. A randomized, double-blind placebo-controlled crossover study was conducted to assess the efficacy, safety, and tolerability of Boswellia serrata Extract in 30 patients of osteoarthritis of the knee, 15 each receiving active drug or placebo for eight weeks. After the first intervention, the washout was given, and then the groups were crossed over to receive the opposite intervention for eight weeks. All patients receiving the herbal treatment reported a decrease in knee pain, increased knee flexion, and increased walking distance. The frequency of swelling in the knee-joint also decreased. Radiologically there was no change. The observed differences between drug-treated and placebo being statistically significant, are clinically relevant. Boswellia serrata Extract was well tolerated by the subjects except for minor gastrointestinal symptoms. Boswellia serrata Extract is useful in the patients of osteoarthritis of the knee with possible therapeutic use in other arthritis.
Boswellia Serrata Review
Frankincense: a systematic review.
BMJ. 2008; Ernst E. Complementary Medicine, Peninsula Medical School, Universities of Exeter and Plymouth, Exeter, UK.
All randomized clinical trials of Boswellia serrata extract as a treatment for any human medical condition were included, and studies of Boswellia serrata preparations combined with other ingredients were excluded. Of 47 potentially relevant studies, seven met all inclusion criteria (five placebo-controlled, two with active controls). The included trials related to asthma, rheumatoid arthritis, Crohn's disease, osteoarthritis, and collagenous colitis. Results of all trials indicated that Boswellia serrata extracts were clinically effective. Three studies were of good methodological quality. No serious safety issues were noted. The evidence for the effectiveness of Boswellia serrata extracts is encouraging but not compelling.
More Health Benefits of Boswellia

reduces inflammation
helps with low back pain
helps with ulcerative colitis
anti-aging properties
improves metabolism
helps with depression
may reduce wrinkles
helps with bursitis
helps with asthma
helps with allergies
helps with cancer prevention
anticoagulant properties
reduces platelet aggregation
helps to restore blood vessels around inflamed connective tissue.
can help to protect the pancreas
changes epigenetic function in colon cancer cells, so tumor suppressor genes begin to function again
one of the most potent natural inhibitors of the 5-lipoxygenase pathway
contrary to many resellers of essential oils boswellic acid is not found naturally in steam-distilled frankincense oil
Boswellia Anti-Inflammation Smoothie Recipe
servings: 1 | (Use organic ingredients when available)
Ingredients
1 Cup Organic Coconut or Almond Milk
1-2 Tablespoons hemp seed protein
1/2 – 1 Cup frozen blueberries
2 Tablespoons freshly ground flax-seed
1 Tablespoon Turmeric
1 Tablespoon Boswellia (dried herb)
1 Tablespoon Ceylon Cinnamon
1 Raw Date
Pinch of black pepper
¼ teaspoon probiotic powder
Instructions
Place all ingredients in a blender. Blend for 1 min or until smooth. If the smoothie is too thick, thin with purified water.  Serve immediately.
Boswellia Side Effects & Caution

Boswellia may interact with and decrease the effects of anti-inflammatories like ibuprofen and other medications. Rare side effects of Boswellia include diarrhea, skin rash, acid reflux, and nausea and may be contraindicated in those with pre-existing gastritis or gastro-esophageal reflux disease (GERD). HINT: Taking Boswellia with food and Ginger Extract can curtail any digestive discomfort. Talk to your healthcare practitioner before using Boswellia products, especially if you're taking other medications to treat inflammation. Studies suggest Boswellia moderates 5-lipoxygenase and therefore may interact with leukotriene inhibitors.
CAUTION: Boswellia may be an emmenagogue and abortifacient. This means it can stimulate menstruation and induce miscarriage by increasing blood flow in the uterus. If you are pregnant, speak to their healthcare practitioner BEFORE using Boswellia.
RESEARCH & REFERENCES

Etzel, R. (1996). Special extract of BOSWELLIA serrata (H 15) in the treatment of rheumatoid arthritis. Phytomedicine, 3(1), 91-4. Retrieved October 14, 2013, from http://www.ncbi.nlm.nih.gov/pubmed/23194870
Frankincense Essential Oil and Boswellic Acid. Essential Oil University
Boswellia Serrata, A Potential Anti-Inflammatory Agent: An Overview. Indian J Pharm Sci. 2011 May-Jun; 73(3): 255–261. http://www.ncbi.nlm.nih.gov/pmc/articles/PMC3309643

Dahmen U, Gu YL, Dirsch O, et al. Boswellic acid, a potent antiinflammatory drug, inhibits rejection to the same extent as high dose steroids. Transplant Proc. Feb-Mar 2001;33(1-2):539-541.
Jing Y, Nakajo S, Xia L, et al. Boswellic acid acetate induces differentiation and apoptosis in leukemia cell lines. Leuk Res. Jan 1999;23(1):43-50.
Frank MB, Yang Q, Osban J, et al. Frankincense oil derived from Boswellia carteri induces tumor cell specific cytotoxicity. BMC Complement Altern Med. 2009 Mar 18;9:6.
Gupta I, Parihar A, Malhotra P, et al. Effects of Boswellia serrata gum resin in patients with ulcerative colitis. Eur J Med Res. Jan 1997;2(1):37-43.
Chrubasik JE, Roufogalis BD, Chrubasik S. Evidence of effectiveness of herbal antiinflammatory drugs in the treatment of painful osteoarthritis and chronic low back pain. Phytother Res. Jul 2007;21(7):675-683.
Singh GB, Atal CK. Pharmacology of an extract of salai guggal ex-Boswellia serrata, a new non-steroidal anti-inflammatory agent. Agents Actions. Jun 1986;18(3-4):407-412.
Kokkiripati PK, Bhakshu LM, Marri S, et al. Gum resin of Boswellia serrata inhibited human monocytic (THP-1) cell activation and platelet aggregation. J Ethnopharmacol. 2011 Sep 1;137(1):893-901. doi: 10.1016/j.jep.2011.07.004.
†Results may vary. Information and statements made are for education purposes and are not intended to replace the advice of your doctor. Oasis Advanced Wellness/OAWHealth does not dispense medical advice, prescribe, or diagnose illness. The views and nutritional advice expressed by Oasis Advanced Wellness/OAWHealth are not intended to be a substitute for conventional medical service. If you have a severe medical condition or health concern, see your physician of choice.
Save
Save
Save
Save
Save
Save
Save
Save
Save
Save
Save
Save
Save
Save
Save
Save
Save
Save
Save