Even though raspberries are small, the many health benefits of raspberries are powerful. It is important to note that the many health benefits of raspberries actually come from consuming the entire fruit, including the seeds. Research indicates that from cancer to obesity, raspberries prove to be a nutrition powerhouse.
"

The beauty of eating raspberries is that you get great




taste and a natural pharmacy all in one."


Dave Grotto, author of 101 Foods That Could Save Your Life
Most people don't know that raspberries actually belong to the rose (Rosaceae) family of plants. This family of plants contains some of the world's most loved fruits including apples, apricots, blackberries, cherries, loquats, peaches, pears, plums, and strawberries. Almonds also belong to the rose family of plants. Among consumers in the United States, raspberries are the number three most popular berry, following strawberries and blueberries.
Raspberries and Fertility
One particular health benefit of raspberries that many may not know about is in the area of fertility. A study by the US Department of Energy's Lawrence Berkeley National Laboratory found that men over 44 with the highest intake of Vitamin C had 20 per cent less damage to their sperm DNA than men who did not eat foods high in Vitamin C. Raspberries contain high levels of Vitamin C, which is a key nutrient in male fertility, and magnesium, which is involved in the production of testosterone. And raspberries are also thought to protect sperm from oxidative stress.
Couples trying to conceive would do well to incorporate raspberries into their daily diet. One portion of raspberries provides the same amount of Vitamin C as 173 grapes. Raspberries are also a good source of folate, which is known to be essential in key stages of female fertility and early embryo development.
Another health benefit of raspberries is their ability to help maintain a healthy body weight, which is one of the important keys to balancing sex hormones and thus increasing the likelihood of conceiving. Raspberries also have the lowest GI (Glycemic Index) of any fruit, meaning their sugar is absorbed into the body slowly.

Health Benefits of Raspberries
organic raspberries are higher in antioxidants than non-organic
rich in Vitamin A
boosts the immune system
anti-aging benefits
anti-inflammatory benefits
rheosmin (rasberry ketone) in raspberries can increase metabolism in fat cells
helps with fertility & conception
over 200 species of raspberries
rubus jamaicensis type of raspberry best to inhibit cancer
helps overall liver health
helps manage blood sugar
decreases risk of obesity
decreases risk of fatty liver
increases red blood cells
1 cup of raspberries = 63 calories
excellent source of Vitamin C
excellent source of ellagic acid
high in manganese and fiber
red raspberries highest ORAC value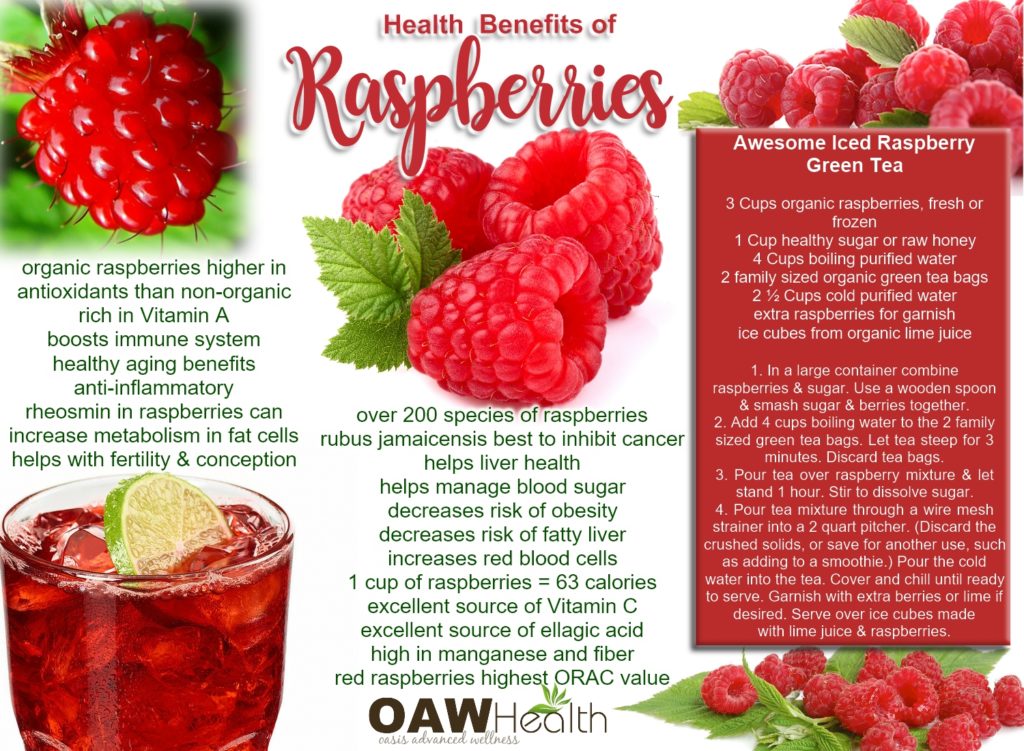 Raspberry Studies and Research
Researchers have found the makeup of raspberry ketone, the fragrance compound in red raspberries, contains properties very similar to those of capsaicin and synephrine. More studies have shown these compounds may be able to alter lipid metabolism, preventing and improving obesity and fatty liver.
Black raspberry extracts (RSE) have been found to retard the growth and kill breast cancer cells. They also help protect against radiation.
Stomach, prostate, intestine, and breast cancer cells were shown to be inhibited when patients were tested with an array of different berry juices, including raspberry, black currant, white currant, gooseberry, velvet leaf blueberry, low-bush blueberry, and other lesser-known berry types. While some berries had little or no effect on cancer cells, researchers concluded that including berry juices in the diet might prove chemopreventive.
Awesome Iced Raspberry Green Tea Recipe
3 Cups organic raspberries, fresh or frozen
1 Cup healthy sugar or raw honey
4 Cups boiling purified water
2 family sized organic green tea bags
2 ½ Cups cold purified water
extra raspberries for garnish
ice cubes from organic lime juice & raspberries
1. In a large container combine raspberries & sugar. Use a wooden spoon & smash sugar & berries together.
2. Add 4 cups boiling water to the 2 family sized green tea bags. Let tea steep for 3 minutes. Discard tea bags.
3. Pour tea over raspberry mixture & let stand 1 hour. Stir to dissolve sugar.
4. Pour tea mixture through a wire mesh strainer into a 2 quart pitcher. (Discard the crushed solids, or save for another use, such as adding to a smoothie.)
5. Pour the cold water into the tea. Cover and chill until ready to serve. Garnish with extra berries or lime if  desired. Serve over ice cubes made with lime juice and raspberries.
References & Research

http://www.ncbi.nlm.nih.gov/pubmed/15862604, Anti-obese action of raspberry ketone, Sept. 2012
http://www.ncbi.nlm.nih.gov/pubmed/20043264, Effect of black raspberry extract in inhibiting NFkappa B dependent radioprotection in human breast cancer cells, Sept. 2012
http://www.ncbi.nlm.nih.gov/pubmed/17465224, Inhibition of cancer cell proliferation and suppression of TNF-induced activation of NFkappaB by edible berry juice, Sept. 2012
Bowen-Forbes CS, Zhang Y and Nair MG. Anthocyanin content, antioxidant, anti-inflammatory and anticancer properties of blackberry and raspberry fruits. Journal of Food Composition and Analysis, Volume 23, Issue 6, September 2010, Pages 554-560.
Cekic C and Ozgen M. Comparison of antioxidant capacity and phytochemical properties of wild and cultivated red raspberries (Rubus idaeus L.). Journal of Food Composition and Analysis, Volume 23, Issue 6, September 2010, Pages 540-544.
Goto T, Teraminami A, Lee JY et al. Tiliroside, a glycosidic flavonoid, ameliorates obesity-induced metabolic disorders via activation of adiponectin signaling followed by enhancement of fatty acid oxidation in liver and skeletal muscle in obese—diabetic mice. The Journal of Nutritional Biochemistry, Volume 23, Issue 7, July 2012, Pages 768-776.
Jeong JB and Jeong HJ. Rheosmin, a naturally occurring phenolic compound inhibits LPS-induced iNOS and COX-2 expression in RAW264.7 cells by blocking NF-kappa B activation pathway. Food and Chemical Toxicology, Volume 48, Issues 8—9, August—September 2010, Pages 2148-2153.
Jeong JH, Jung J, Lee SR et al. Anti-oxidant, anti-proliferative and anti-inflammatory activities of the extracts from black raspberry fruits and wine. Food Chemistry, Volume 123, Issue 2, 15 November 2010, Pages 338-344.
McDougall GJ, Kulkarnni NN and Stewart D. Berry polyphenols inhibit pancreatic lipase activity in vitro. Food Chemistry, Volume 115, Issue 1, 1 July 2009, Pages 193-199.
Ochoa MR, Kesseler AG, Vullioud MB et al. Physical and Chemical Characteristics of Raspberry Pulp: Storage Effect on Composition and Color. LWT – Food Science and Technology, Volume 32, Issue 3, May 1999, Pages 149-153.
Park KS. Raspberry ketone increases both lipolysis and fatty acid oxidation in 3T3-L1 adipocytes. Planta Med. 2010 Oct;76(15):1654-8. Epub 2010 Apr 27.
Piljac-Zegarac J and Samec D. Antioxidant stability of small fruits in postharvest storage at room and refrigerator temperatures. Food Research International, Volume 44, Issue 1, January 2011, Pages 345-350.
Ravoori S, Vadhanam MV, Aqil F et al. Inhibition of estrogen-mediated mammary tumorigenesis by blueberry and black raspberry. J Agric Food Chem. 2012 Jun 6;60(22):5547-55. Epub 2012 May 22.
Rosillo MA, Sanchez-Hildago M, Cardeno A et al. Protective effect of ellagic acid, a natural polyphenolic compound, in a murine model of Crohn's disease. Biochemical Pharmacology, Volume 82, Issue 7, 1 October 2011, Pages 737-745
Ross HA, McDougall GJ and Stewart D. Antiproliferative activity is predominantly associated with ellagitannins in raspberry extracts. Phytochemistry, Volume 68, Issue 2, January 2007, Pages 218-228.
Stober GD, Wang LS, Zikri N et al. Cancer prevention with freeze-dried berries and berry components. Seminars in Cancer Biology, Volume 17, Issue 5, October 2007, Pages 403-410.
Wang SY, Chen CT and Want CY. The influence of light and maturity on fruit quality and flavonoid content of red raspberries. Food Chemistry, Volume 112, Issue 3, 1 February 2009, Pages 676-684.
Wu X, Beecher GR, Holden JM et al. Concentrations of Anthocyanins in Common Foods in the United States and Estimation of Normal Consumption. J Agric Food Chem. 2006 May 31;54(11):4069-4075. 2006.
Zhang L, Li J, Hogan S et al. Inhibitory effect of raspberries on starch digestive enzyme and their antioxidant properties and phenolic composition. Food Chemistry, Volume 119, Issue 2, 15 March 2010, Pages 592-599.
Zhang Z, Knobloch TJ, Seamon LG et al. A black raspberry extract inhibits proliferation and regulates apoptosis in cervical cancer cells. Gynecologic Oncology, Volume 123, Issue 2, November 2011, Pages 401-406.
†Results may vary. Information and statements made are for education purposes and are not intended to replace the advice of your doctor. Oasis Advanced Wellness/OAWHealth does not dispense medical advice, prescribe, or diagnose illness. The views and nutritional advice expressed by Oasis Advanced Wellness/OAWHealth are not intended to be a substitute for conventional medical service. If you have a severe medical condition or health concern, see your physician of choice.
Save
Save
Save
Save
Save
Save
Save
Save
Save
Save
Save
Save
Save
Save
Save