The health benefits of okra are vast including nutrients that are great for your heart, liver, blood sugar and digestive system. And okra also improves energy levels – something most of us need. In fact, one cup of raw okra (100 grams) contains 33 calories and includes a huge 44 percent of the bone-strengthening vitamin K you need for one day, which is important as a co-factor for blood-clotting enzymes. 
Okra, also known as "lady finger", is actually a member of the cotton and hibiscus family and is indigenous to regions around the Nile in North Africa as well as the Middle East. Discovered about 3500 years ago in Ethiopia, okra later made its way to North America through the slave trade and then to Europe, Asia and South and Central America.
Okra appears in the United States during the summer months but is available in the South most of the year. As many say, when you're Southern, okra is always in season… and always fried. These wonderful little pods are best picked early so they don't become tough, which can happen very fast, since it's only four days from the time okra flowers until the ideal harvest time, according to the Farmer's Almanac. In fact, it's best to harvest okra every few days.

One of okra's best aspects is the entire fruit can be used in its entirety, including the seeds (first trim off ends), and because it's used raw, curried (especially the seeds) and pickled. Okra leaves are often cooked in a similar manner as the greens of beets or dandelions. The leaves can also be eaten raw in salads.

Health Benefits of Okra
One of the most important health benefits of okra is its high content of Folic acid. Thus eating okra is highly recommended for pregnant woman. Okra also contains potassium, vitamin B, vitamin C, folic acid, and calcium. It's low in calories and has a high dietary fiber content. A new health benefit of including okra in your diet is being considered. Okra is now suggested to help manage blood sugar in cases of type 1, type 2, and gestational diabetes. Other health benefits of okra include:

anti-oxidant properties
high in vitamin A
maintains healthy skin and mucous membranes
supports vision
protects from free radicals
rich in B-complex
helps with blood clotting
good source of vitamin K
good source of minerals
helps with acid reflux
stabilizes blood sugar
high in fiber
containing no saturated fats or cholesterol
helps in smooth intestinal peristalsis
may help improve mood
reduces risk of heart disease
prevents constipation
alleviates effects of diabetes
protects from certain cancers
good source of Folate
excellent source of vitamin C
feeds good bacteria in intestines
Caution for People with Diabetes
When testing okra on diabetic rats, researchers observed a factor important to people with diabetes. While research suggests that okra might improve glycemic control, do not take okra together with metformin hydrochloride as it reduces the drug's absorption. The pharmaceutical metformin is used by many people with diabetes to help keep sugar levels under control, so it's important not to interfere with its function until more conclusive studies are performed. Please discuss this with your healthcare practitioner.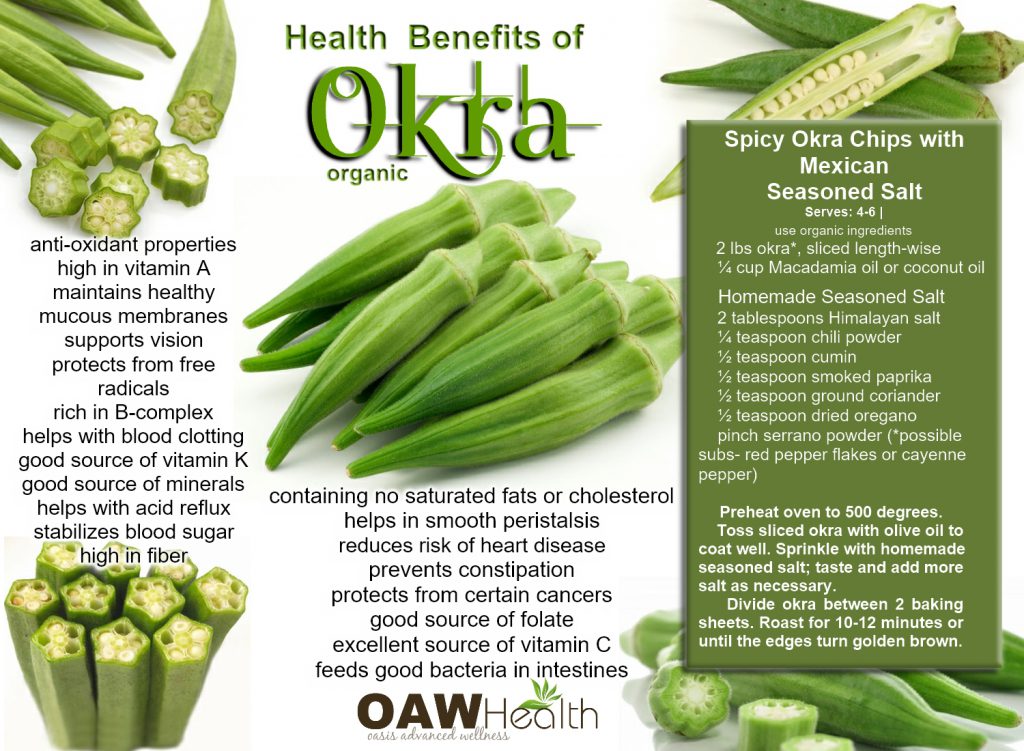 Spicy Okra Chips with Mexican Seasoned Salt
Serves: 4-6 | use organic ingredients
Ingredients
2 lbs organic okra*, sliced length-wise
¼ cup Macadamia oil or coconut oil
Homemade Seasoned Salt
2 tablespoons Himalayan salt
¼ teaspoon chili powder
½ teaspoon cumin
½ teaspoon smoked paprika
½ teaspoon ground coriander
½ teaspoon dried oregano
pinch serrano powder (*possible subs- red pepper flakes or cayenne pepper)
Directions
Preheat oven to 500 degrees.
Toss sliced okra with olive oil to coat well.
Sprinkle with homemade seasoned salt; taste and add more salt as necessary.
Divide okra between 2 baking sheets. Roast for 10-12 minutes or until the edges turn golden brown.


References
Heber, 2004 D. Heber Vegetables, fruits and phytoestogens in the prevention of diseases J Postgrad. Med., 50 (2004), pp. 145–149.
S.I. Alqasoumi 'Okra' Hibiscus esculentus L.: A study of its hepatoprotective activity.
V. Sabitha, S. Ramachandran, K. R. Naveen, and K. Panneerselvam J Pharm Bioallied Antidiabetic and antihyperlipidemic potential of Abelmoschus esculentus (L.) Moench. in streptozotocin-induced diabetic rats Sci. 2011 Jul-Sep; 3(3): 397–402.doi:10.4103/0975-7406.84447.
Duvauchelle, Joshua (26 May 2011). "Okra Nutrition Information". LiveStrong.com. Retrieved 30 July 2014.
Amin, Indah Mohd. "Nutritional Properties of Abelmoschus Esculentus as Remedy to Manage Diabetes Mellitus: A Literature Review". Universiti Teknologi MARA (UiTM) Malaysia. Retrieved 9 January 2014.
Eur Rev Med Pharmacol Sci. 2013 Oct.;17(19):2609-12
†Results may vary. Information and statements made are for education purposes and are not intended to replace the advice of your doctor. Oasis Advanced Wellness/OAWHealth does not dispense medical advice, prescribe, or diagnose illness. The views and nutritional advice expressed by Oasis Advanced Wellness/OAWHealth are not intended to be a substitute for conventional medical service. If you have a severe medical condition or health concern, see your physician of choice.
Save
Save
Save
Save
Save
Save
Save
Save
Save
Save