The importance of natural vitamin E becomes highlighted when we understand that in nature vitamin E exists in a family of eight separate but related isomers. These isomers consist of four tocopherols (alpha, beta, gamma, and delta) and four tocotrienols (alpha, beta, gamma, and delta). In fact, in nature, vitamin E never exists in isolation with just one isomer. In today's dietary supplement market, d-alpha tocopherol is the isomer most associated with vitamin E products. However, the other forms of tocopherol are beginning to receive attention in addition to the tocotrienol members of the vitamin E family.
Is it Beneficial to Supplement with Natural Vitamin E? 
First of all, it's important to note that many of the clinical studies evaluating and questioning vitamin E have only observed results using synthetic vitamin E or the single compound alpha-tocopherol while ignoring the other seven health natural components. Once again, this is not how the body is used to receiving vitamin E.
Dr. Elson M. Haas and world-leading nutraceutical researcher, Jon Barron comment on why vitamin E is important to your body.
"Free radical formation comes from a variety of chemical reactions in the body and is the basis of many diseases, such as heart disease, hypertension, arthritis, senility, and probably even cancer. Without vitamin E, cell membranes, and DNA are less protected from free radical damage. Vitamin E as an antioxidant helps to stabilize cell membranes and protect the tissues of the skin, eyes, liver, breast, and testes. It protects the lungs from oxidative damage from environmental substances. Free radical formation and oxidation are tied to cancer development… More definitive research is needed. It helps heart and muscle cell respiration by improving function with less oxygen. Vitamin E may improve stamina and endurance and reduce cardiovascular disease. Vitamin E reduces platelet aggregation and platelet adhesiveness to collagen, even more than aspirin."
Dr. Elson M. Haas

"As the media and government debate the benefits of Vitamin E, most Americans still are not getting enough Vitamin E per day. Why is this important? Even though it got little press, a November 10, 2006 study published in the American Journal of Clinical Nutrition showed a significant reduction in overall mortality by supplementing with vitamin E. Specifically, results showed that it reduced prostate cancer, ischemic stroke, hemorrhagic stroke, lung cancer, and respiratory illness. Perhaps one day the major media will catch on to these studies; in the meantime, you can take control of your health by supplementing."
Jon Barron, world-leading nutraceutical researcher.
Important Health Benefits of Natural Vitamin E
Supports Healthy Cholesterol Levels
Fights Free Radicals
Improves Moisture and Elasticity in Skin
Helps Thickens Hair
Strengthens Nails
May Help with PMS Symptoms
Supports Healthy Vision
Supports Healthy Brain Function
Improves Physical Endurance
Promotes Healthy Cardiovascular System Function
Antioxidant Properties
Supports Healthy Immune System Function
Promotes Healthy Cellular Function
Supports Healthy Joint Function
Supports Healthy Blood Pressure
Dr. Elson M. Hass states: "The best [food] sources of vitamin E are the vegetable and seed or nut oils. To preserve the vitamin E, extraction from nuts and seeds must be done naturally, as by cold pressing, rather than by heat or chemical extraction, used in food processing. Because of these forms of processing, the average American diet has lost many of its natural sources of tocopherols. Intake is commonly very low. Cold-pressed vegetable oils are the best source of vitamin E. These are most healthy in their raw form in dressings and sauces rather than in cooking. Most are polyunsaturated oils, which are adversely affected by heating."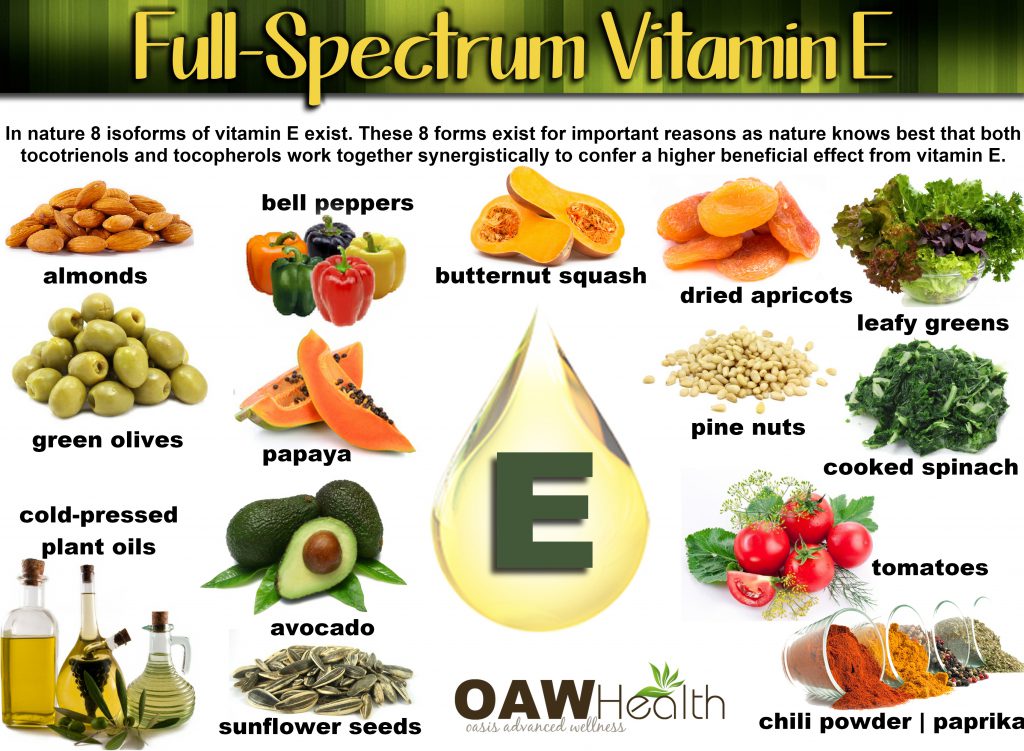 How Much Natural Vitamin E Do I Need?
Even though the RDA for vitamin E is low, many people just do not consume enough in their diet alone. Dr.Hass weighs in about how much vitamin E most people should be consuming:
"The amount of vitamin E required varies with body size and amount of polyunsaturated fats in the diet. Vitamin E is needed to protect these fats from oxidation. More is needed when any refined oils, fried foods, or rancid oils are consumed. Supplemental estrogen or estrogen imbalance in women increases the need for vitamin E, as does air pollution.  Approximately 400-600 IUs is used preventively. For therapeutic effects, an amount between 800-1600 IUs daily is suggested. With therapeutic uses of vitamin E, it is best to start with a low level and gradually increase it. Levels over 1,600 IUs per day are not recommended unless there is close medical supervision.  vitamin E should not be taken with iron, especially inorganic iron, such as ferrous sulfate or the iron added to food products. Selenium, another important antioxidant, however, may increase the potency of vitamin E."
Why Choose a Full-Spectrum Natural Vitamin E?
Full-spectrum natural vitamin E formulas contain all 8 naturally occurring tocopherol and tocotrienol isomers.
This is exactly how vitamin E is found in nature, and in the foods we eat.
Your body will recognize a natural full-spectrum vitamin E.
Studies suggest that both the molecular and therapeutic targets of the tocotrienols are distinct from those of the tocopherols.
The vitamin E most often referred to and sold in most stores is a synthetic form of the vitamin, which really should not be used if you want to reap any of its health benefits. Synthetic E is labeled as "dl" and natural E is labeled as "d".
Your body has the ability to distinguish between natural and synthetic vitamins. Several studies have shown that natural vitamin E is between two and three times as bioactive as the same amount of vitamin E in the synthetic form.
If a Vitamin E formula contains only alpha tocopherol, then this compound taken by itself may deplete the other tocopherols and tocotrienols in your body. Balance is vital.
Supplemental estrogen or estrogen imbalance in women increases the need for a full-spectrum vitamin E, as does air pollution.
Choose a natural vitamin E that is non-gmo and packaged in vegetarian capsules.
References & Resources
National Institute of Health. Vitamin E: Health Sheet for Health Professionals. Last updated May 9, 2016.
Larsen PD, Mock DM, O'Connor PS. Vitamin E deficiency associated with vision loss and bulbar weakness. Ann Neurol. 1985 Dec;18(6):725-7
Hsu, Dur-Zong et al. Therapeutic Effects of Sesame Oil on Monosodium Urate Crystal-Induced Acute Inflammatory Response in Rats. SpringerPlus 2 (2013): 659. PMC. Web. 13 June 2016.
Choi EJ1, Bae SC, Yu R, Youn J, Sung MK. Dietary vitamin E and quercetin modulate inflammatory responses of collagen-induced arthritis in mice. J Med Food. 2009 Aug;12(4):770-5. doi: 10.1089/jmf.2008.1246.
Haas, Elson M., and Buck Levin. "Chapter 5 : Vitamins: Vitamin E." Staying Healthy with Nutrition: The Complete Guide to Diet and Nutritional Medicine. Berkeley: Celestial Arts, 2006. N. pag. Print.
Applegate TJ, Sell JL. Effect of dietary linoleic to linolenic acid ratio and vitamin E supplementation on vitamin E status of poults. Poult Sci. 1996 Jul;75(7):881-90.
McDougall, Craig, and John McDougall. Plant-Based Diets Are Not Nutritionally Deficient. The Permanente Journal 17.4 (2013): 93. PMC. Web. 13 June 2016.
"Vitamin E Fact Sheet for Health Professionals." National Institutes of Health. U.S. Department of Health & Human Services, 09 May 2016. Web. 27 May 2016.
National Institute of Health. Vitamin E: Health Sheet for Consumers. Last updated May 9, 2016.
Lobo, V. et al. Free Radicals, Antioxidants and Functional Foods: Impact on Human Health. Pharmacognosy Reviews 4.8 (2010): 118–126. PMC. Web. 13 June 2016.
Jakus V. The role of free radicals, oxidative stress and antioxidant systems in diabetic vascular disease. Bratisl Lek Listy. 2000;101(10):541-51.
Uttara, Bayani et al. Oxidative Stress and Neurodegenerative Diseases: A Review of Upstream and Downstream Antioxidant Therapeutic Options. Current Neuropharmacology 7.1 (2009): 65–74. PMC. Web. 13 June 2016.
Thiele JJ, Hsieh SN, Ekanayake-Mudiyanselage S. Vitamin E: critical review of its current use in cosmetic and clinical dermatology. Dermatol Surg. 2005 Jul;31(7 Pt 2):805-13; discussion 813.
Nicholas, Jacqueline Ann et al. Design of Oral Agents for the Management of Multiple Sclerosis: Benefit and Risk Assessment for Dimethyl Fumarate. Drug Design, Development and Therapy 8 (2014): 897–908. PMC. Web. 13 June 2016.
Rizvi, Saliha et al. The Role of Vitamin E in Human Health and Some Diseases. Sultan Qaboos University Medical Journal 14.2 (2014): e157–e165. Print.
Ziaei S, Kazemnejad A, Sedighi A. The effect of vitamin E on the treatment of menstrual migraine. Med Sci Monit. 2009 Jan;15(1):CR16-9.
SHIASI ARANI, Kobra et al. Effect of Vitamin E and Metformin on Fatty Liver Disease in Obese Children- Randomized Clinical Trial. Iranian Journal of Public Health 43.10 (2014): 1417–1423. Print.
Berneske, G. M. et al. Clinical Trial of High Dosage Vitamin E in Human Muscular Dystrophy. Canadian Medical Association Journal 82.8 (1960): 418–421.
Ayres, Samuel, and Richard Mihan. Leg Cramps (Systremma) and 'Restless Legs' Syndrome — Response to Vitamin E (Tocopherol). California Medicine 111.2 (1969): 87–91.
Baburao Jain, Anand, and Vaishali Anand Jain. Vitamin E, Its Beneficial Role in Diabetes Mellitus (DM) and Its Complications. Journal of Clinical and Diagnostic Research: JCDR 6.10 (2012): 1624–1628. PMC. Web. 13 June 2016.
Morris MC, Evand DA, Bienias JL, Tangney CC, Wilson RS. Vitamin E and cognitive decline in older persons. Arch Neurol 2002;59:1125-32. [PubMed abstract]
Sen CK, Khanna S, Roy S. Tocotrienols: vitamin E beyond tocopherols. Life Sci 2006;78:2088-98. [PubMed abstract]
†Results may vary. Information and statements made are for education purposes and are not intended to replace the advice of your doctor. Oasis Advanced Wellness/OAWHealth does not dispense medical advice, prescribe, or diagnose illness. The views and nutritional advice expressed by Oasis Advanced Wellness/OAWHealth are not intended to be a substitute for conventional medical service. If you have a severe medical condition or health concern, see your physician of choice.
Save
Save
Save
Save
Save
Save
Save
Save
Save