The pear, which is in season most of the winter, packs itself with many health benefits. Some of the top health benefits of pears include being high in fiber, high in vitamins and minerals. And most people find pears are absolutely delicious!
Believe it or not, but many of the nutrients found in pears are actually concentrated in the skin. Recent studies have shown that the skin of pears contains at least three to four times as many phenolic phytonutrients as the flesh. These phytonutrients include antioxidant, anti-inflammatory flavonoids, and potentially anti-cancer phytonutrients like cinnamic acids. The skin of the pear has also been shown to contain about half of the pear's total dietary fiber. Before consuming, make sure the pears have been washed thoroughly. It is important to note that pears are not included in the Environmental Working Group's 2014 report "2014 Dirty Dozen Plus" as one of the 12 foods most frequently containing pesticide residues.  I highly recommend choosing organic or locally grown pears that are grown using organic standards.

Pears come in a variety of colors and shapes. The list below describes some of the more commonly enjoyed varieties of pears:
Bartlett: best known of the pear varieties in the U.S., and most often the variety found in cans. Bartletts, sometimes called Williams pears, are yellow/green and speckled.
Bosc: cinnamon brown-skinned pears with long tapered necks with a honey-like but complex flavor.
Comice: round, short pears with either green and red coloring, or sometimes almost completely red with especially soft and juicy flesh.
Concorde: tall, skinny, and golden/green pears with flesh that is firmer and more dense than many other varieties.
Forelle: red/green and speckled like a trout, and thus the name, meaning "trout" in German. A small-sized pear that yellows as it ripens.
Green Anjou: a widely available, compact, and short-necked pear. It doesn't change color much while ripening.
Red Anjou: very much like its green counterpart, except a rich reddish maroon in color and higher in anthocyanins (which is the main reason for its rich red color).
Red Bartlett: very much like its yellow/green counterpart, except with an all-round bright red skin, they sometimes feature light vertical striping, and like Red Anjou, they are rich in anthocyanins.
Seckel: smallest of the commonly eaten pears, usually yellow/green or olive green in color, and mixed with broad patches of red.
Starkrimson: bright crimson red color, more narrow-necked that Red Anjou, but equally rich in anthocyanins and especially beautiful in a salad.
Health Benefits of Pears
anti-oxidant
anti-inflammatory
decreases risk of diabetes
decreases risk of heart disease
reduces cancer risk
low in acid
easy to digest
hypoallergenic fruit
ranks #2 in highest flavonols in fruits & veggies
high in phytonutrients
helps to cleanse liver
aids in weight loss
supports healthy digestion
raise hydrochloric acid in the stomach
antispasmodic
skin of pears contains at least 3 to 4 times as many phenolic phytonutrients as the flesh
low on glycemic index
high in fiber
good source of potassium
AHA reports that eating one pear a day can reduce risk of stroke by as much as 52 percent
Other Health Benefits of Pears
Health Issues
If you have any of the following health issues, try adding more pears into your diet: Pancreatitis; pancreatic cancer; liver cancer; diabetes; food poisoning; hiatal hernia; gastroesophageal reflux disease (GERD); small intestinal bacterial overgrowth (SIBO); intestinal infection of H. pylori, E. coli, Salmonella, Streptococcus, and/or mold; cirrhosis of the liver; hepatitis A; hepatitis B; hepatitis C; hepatitis D; fungal infections; stomach cancer; esophageal cancer; diverticulitis; diverticulosis; shingles; herpes; migraines; obsessive-compulsive disorder (OCD); hypoglycemia.
Health Symptoms
If you have any of the following health symptoms, try adding pears into your diet: Acid reflux, high cholesterol, sluggish liver, dysfunctional liver, liver heat, liver stagnation, gas, bloating, constipation, gastritis, gastric distress, food allergies, upset stomach, intestinal inflammation, intestinal scar tissue, adhesions, insulin resistance, intestinal spasms, pancreas inflammation, appendix inflammation, weight gain, inflamed skin, diarrhea.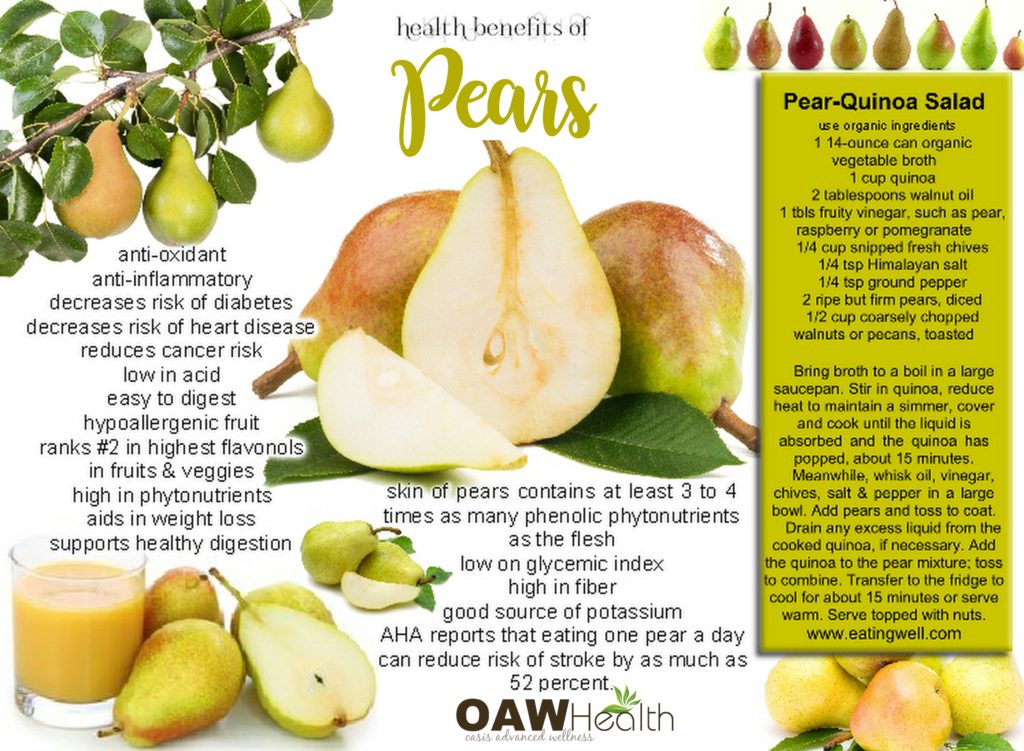 Pear-Quinoa Salad Recipe
Ingredients (use organic ingredients)
1 14-ounce can organic vegetable broth
1 cup quinoa
2 tablespoons walnut oil
1 Tbls fruity vinegar, such as pear, raspberry or pomegranate
1/4 cup snipped fresh chives
1/4 tsp Himalayan salt
1/4 tsp ground pepper
2 ripe but firm pears, diced
1/2 cup coarsely chopped walnuts or pecans, toasted
Directions
Bring broth to a boil in a large saucepan. Stir in quinoa, reduce heat to maintain a simmer, cover and cook until the liquid is absorbed and the quinoa has popped, about 15 minutes.
Meanwhile, whisk oil, vinegar, chives, salt & pepper in a large bowl. Add pears and toss to coat.
Drain any excess liquid from the cooked quinoa, if necessary. Add the quinoa to the pear mixture; toss to combine. Transfer to the fridge to cool for about 15 minutes or serve warm. Serve topped with nuts.
Recipe via: www.eatingwell.com

Maple-Walnut-Cinnamon-Vanilla Baked Pears Recipe

Makes 2 to 4 servings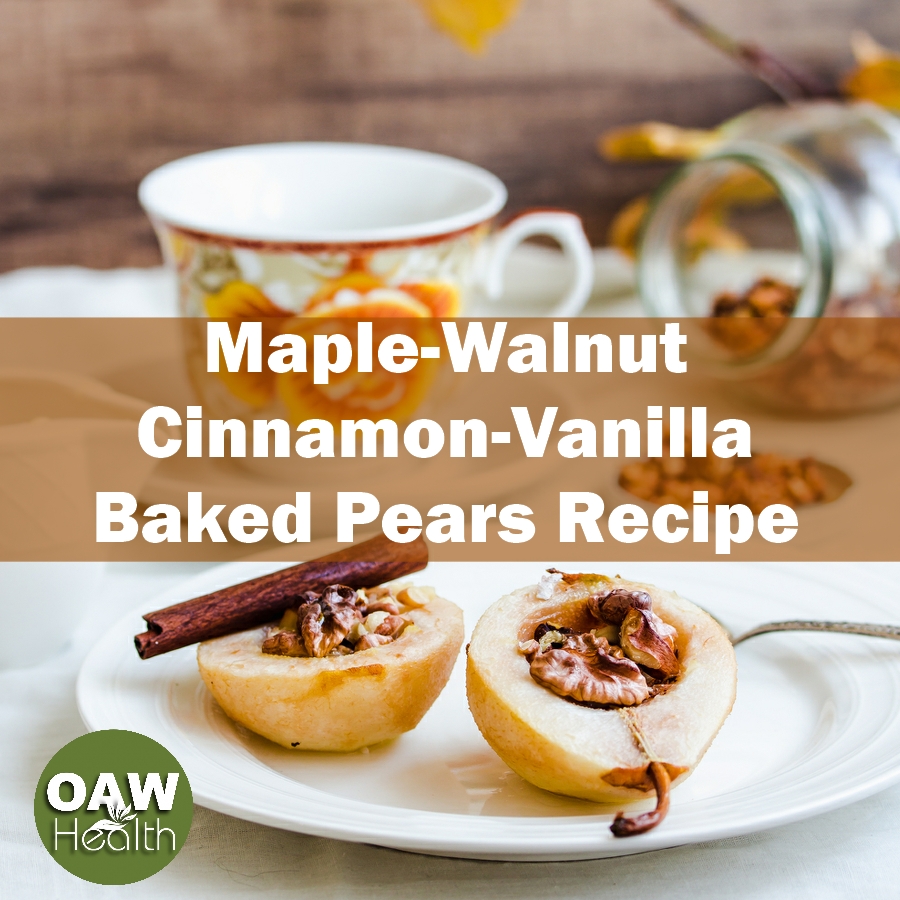 Tender pears filled with warm maple syrup, toasted walnuts and organic vanilla makes a tasty desert or a healthy comfort food for chilly nights. The aroma of the cinnamon and vanilla baking in the oven will fill your entire home with a cozy aroma. This recipe is very simple to make is always a big hit with both kids and adults.
Ingredient List
4 pears, any variety
1/4 Cup of maple syrup (Grade B)
1/4 tsp organic vanilla extract
1/4 cup chopped walnuts
1/2 teaspoon Ceylon cinnamon
Instructions
Preheat the oven to 350°F. Wash pears thoroughly. Slice the pears in half lengthwise and remove the seeds. Cut a small sliver off the underside so the pears sit flat when placed upright on the baking sheet. Arrange the pear halves face up on a baking tray. Sprinkle evenly with cinnamon. Mix together maple syrup and vanilla extract. Drizzle each pear half with mixture, brushing over the face of the pear and leaving some inside the center. Divide walnuts evenly into the centers of the pears and sprinkle cinnamon and some vanilla over the top of each. Bake for 20 to 30 minutes, until the pears are tender and cooked through. Serve warm from the oven and enjoy! Store leftovers in the refrigerator for up to 5 days.
References & Research
Aguedo M, Kohne S, Rabetafika N et al. Composition of by-products from cooked fruit processing and potential use in food products. Journal of Food Composition and Analysis, Volume 27, Issue 1, August 2012, Pages 61-69.
Buchner FL, Bueno-de-Mesquita HB, Ros MM et al. Consumption of vegetables and fruit and the risk of bladder cancer in the European Prospective Investigation into Cancer and Nutrition. Int J Cancer. 2009 Dec 1;125(11):2643-51.
Chen J, Wang Z, Wu J et al. Chemical compositional characterization of eight pear cultivars grown in China. Food Chemistry, Volume 104, Issue 1, 2007, Pages 268-275.
Colaric M, Stampar F and Hudina M. Content levels of various fruit metabolites in the "Conference" pear response to branch bending. Scientia Horticulturae, Volume 113, Issue 3, 20 July 2007, Pages 261-266.
Freedman ND, Park Y, Subar AF et al. Fruit and vegetable intake and esophageal cancer in a large prospective cohort study. Int J Cancer. 2007 Dec 15;121(12):2753-60.
Hernandez-Ramirez RU, Galvan-Portillo MV, Ward MH et al. Dietary intake of polyphenols, nitrate and nitrite and gastric cancer risk in Mexico City. Int J Cancer. 2009 Sep 15;125(6):1424-30.
Kahlon TS and Smith GE. In vitro binding of bile acids by bananas, peaches, pineapple, grapes, pears, apricots and nectarines. Food Chemistry, Volume 101, Issue 3, 2007, Pages 1046-1051.
Li P and Cheng L. The elevated anthocyanin level in the shaded peel of "Anjou" pear enhances its tolerance to high temperature under high light. Plant Science, Volume 177, Issue 5, November 2009, Pages 418-426.
Linseisen J, Rohrmann S, Miller AB et al. Fruit and vegetable consumption and lung cancer risk: updated information from the European Prospective Investigation into Cancer and Nutrition (EPIC). Int J Cancer. 2007 Sep 1;121(5):1103-14.
Maras JE, Talegawkar SA, Qiao N et al. Flavonoid intakes in the Baltimore Longitudinal Study of Aging. Journal of Food Composition and Analysis, Volume 24, Issue 8, December 2011, Pages 1103-1109.
Muchuweti M and Chikwambi Z. Isolation and Identification of Anthocyanins in the Fruit Peels of Starkrimson and Marx Red Bartlett Common Pear Cultivars and Their Bud Mutants. American Journal of Food Technology Year: 2008 Vol: 3 Issue: 1 Pages/record No.: 1-12.
Predieri S and Gatti E. Effects of cold storage and shelf-life on sensory quality and consumer acceptance of "Abate Fetel" pears. Postharvest Biology and Technology, Volume 51, Issue 3, March 2009, Pages 342-348.
Salta J, Martins A, Santos RG et al. Phenolic composition and antioxidant activity of Rocha pear and other pear cultivars – A comparative study. Journal of Functional Foods, Volume 2, Issue 2, April 2010, Pages 153-157.
Tanrioven D and Eksi A. Phenolic compounds in pear juice from different cultivars. Food Chemistry, Volume 93, Issue 1, November 2005, Pages 89-93.
Wedick NM, Pan A, Cassidy A et al. Dietary flavonoid intakes and risk of type 2 diabetes in US men and women. Am J Clin Nutr. 2012 Apr;95(4):925-33. Epub 2012 Feb 22.
Yazdani N, Arzani K, Mostofi Y et al. α-Farnesene and antioxidative enzyme systems in Asian pear (Pyrus serotina Rehd.) fruit. Postharvest Biology and Technology, Volume 59, Issue 3, March 2011, Pages 227-231.
The World's Healthiest Foods. www.whfoods.com
†Results may vary. Information and statements made are for education purposes and are not intended to replace the advice of your doctor. Oasis Advanced Wellness/OAWHealth does not dispense medical advice, prescribe, or diagnose illness. The views and nutritional advice expressed by Oasis Advanced Wellness/OAWHealth are not intended to be a substitute for conventional medical service. If you have a severe medical condition or health concern, see your physician of choi
Save
Save
Save
Save
Save
Save
Save
Save
Save
Save
Save
Save
Save
Save
Save