Most know that the health benefits of raw juicing are many. One of my favorites is my DIY Raw V8 Juice Recipe. This Raw V8 Juice Recipe is not only delicious, but a recipe you will want to keep in your files for a nutritious snack or for the cold and flu season.
Our DIY Healthy Raw V8 Juice is no exception when it comes to being full of health benefits. It's a healthy source of potassium, which helps to regulate blood pressure and muscle growth. Raw V8 Juice Recipe also provides vitamin A to boost your immune system, and vitamin C to boost bone health, wound healing, and provides numerous other benefits.

Did You Know?
Juicing is really just a smoothie with the fiber removed. This means that fresh vegetable juices are an opportunity to load up on nutrients, at much, much higher densities than with smoothies. You can only drink so much, and with a smoothie, the fiber adds volume that fills you up using a fraction of the produce that your stomach could hold if you removed the fiber and drank it as juice. Does that mean smoothies are out? No, smoothies definitely have their place, but if one needs nutrient dense food (who doesn't these days?), raw vegetable juicing is not only digested quickly and more efficiently, but definitely the most beneficial.
If you are a fan of store-bought V8 juice or have always wanted to try V8 juice but without additives and preservatives, now you can make your own, fresh raw V8 juice recipe. The added benefit is that you get the benefits of all the vitamins, minerals as well as live enzymes. As a reminder, be sure that the vegetables are organic or locally grown in an organic manner.

Raw V8 Juice Recipe

All produce should be organic or locally grown.
6 medium-sized carrots
1 small beet
3 large tomatoes
1 bag baby spinach or a couple handfuls of fresh spinach
1/4 head fresh cabbage
1 red bell pepper
1 green bell pepper
3 stalks celery
1/4 sweet onion (Vidalia)
1/2 clove garlic or less if you don't care for garlic
Kale leaves (a little goes a long way so be careful)
Chili pepper to taste
Himalayan salt to taste
Wash all vegetables thoroughly. Run all the vegetables through your juicer. Add Himalayan salt to taste, and then sit back and enjoy the healthiest V-8 Juice around.
Tabasco sauce (organic such as Biona brand) to taste can be substituted for the chili pepper.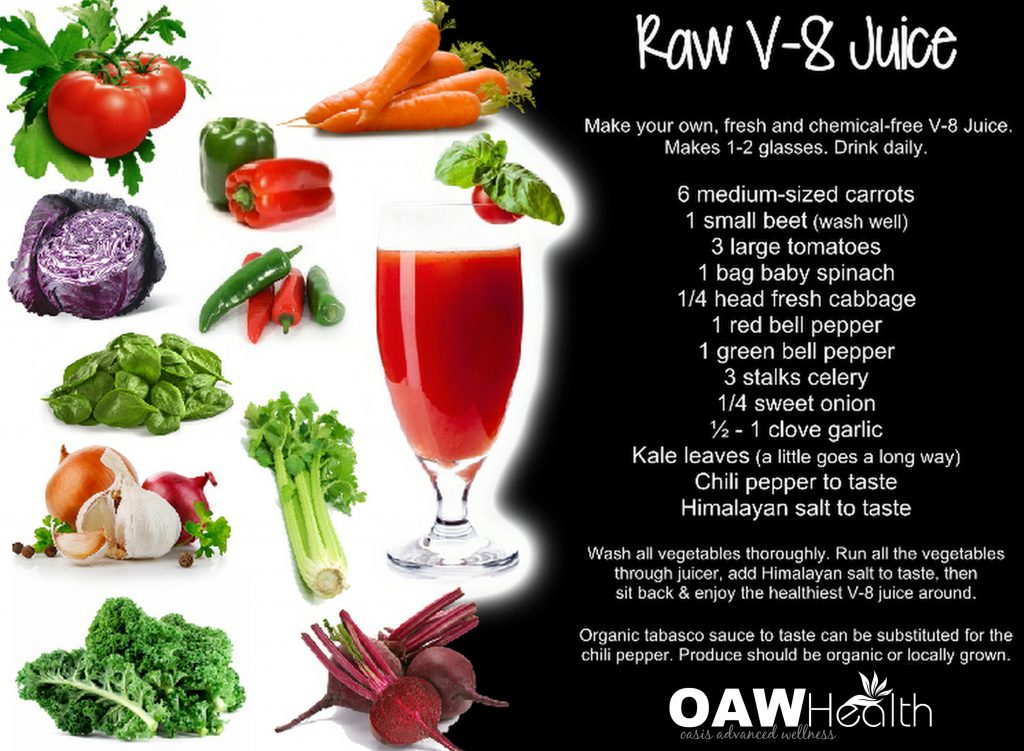 Additional thoughts…
For most of Americans, trying to get enough vegetable in our diet is often difficult. For that reason, I believe that drinking a fresh, raw V8 juice is good for your health. When you consider the healthy benefits, the low calories, and the nutrition in the raw V8 juice recipe, it's a smart choice as a either a healthy snack or as part of a healthy meal. Always try to eat a variety of organic fresh, frozen fruits and vegetables every day as well as drinking a good amount of purified water. You will most likely find that your health will improve and your energy will soar.
†Results may vary. Information and statements made are for education purposes and are not intended to replace the advice of your doctor. Oasis Advanced Wellness/OAWHealth does not dispense medical advice, prescribe, or diagnose illness. The views and nutritional advice expressed by Oasis Advanced Wellness/OAWHealth are not intended to be a substitute for conventional medical service. If you have a severe medical condition or health concern, see your physician of choice.
Save
Save
Save
Save
Save
Save
Save
Save