The super health benefits of squash are considered impressive and result from the beneficial nutrients, vitamins, and minerals they contain. Squash is best known for containing a large amount of vitamin A (457% of the daily value per serving) and excellent amounts of vitamins C, E, B6, niacin, thiamin, pantothenic acid, and folate.
With archaeological data tracing their origins back to 10,000 years ago in Mesoamerica, squash is one of the oldest cultivated crops on earth. In fact, squash was one of the Three Sisters crops cultivated by Native Americans and ultimately shared with the European settlers.
Scientists have found squash seeds (from the genus-species Cucurbita pepo, which includes summer squash) preserved in Mexican caves for many years. The cultivation of squashes (including summer squash) quickly became popular in North, Central, and South America, and Native Americans often referred to squashes as one of the "three sisters" — corn (maize), squash, and beans. Squashes were also one of the North American foods that Columbus brought back to Spain from North America.
Squash in the United States
Three types of summer squash are found in abundance in the USA:
Zucchini, whose skin can be yellow in color but is often found in grocery stores, showcasing its dark green skin. (The dark green skin of zucchini may also be naturally striped or speckled.) Zucchini is one of the summer squash types that grow on flowering plants with edible flowers. Black beauty, cocozelle, golden, courgette, and dark green are some popular zucchini varieties.
Crookneck and straight neck squashes, usually yellow in color. While sometimes available with light green skins, bright yellow crookneck and straight neck squashes are the varieties that we most commonly associate with summer squash. (We've become especially accustomed to seeing small, bulb-shaped, bright yellow crookneck squashes in the United States.) Crookneck and straight neck summer squashes can be very similar in appearance since crookneck varieties may have a very minimally curved neck that is almost swan-like in appearance. Golden summer, yellow crookneck, and early straight neck are popular crookneck and straight neck squashes. Cushaw squashes are special varieties of crookneck squashes that are much larger than other crooknecks, even though they are easily recognized by their similar bulb-like shape. Cushaws take about twice as long to grow as other crooknecks and are often used in baking (for example, pies).
Scallop squashes are also called pattypan squashes. These summer squashes are typically saucer-shaped and come in various colors, from very pale yellow to golden yellow to medium green. Scallop squashes sometimes have a slightly sweeter flesh than other summer squashes. Popular varieties include green tint scallop, scallop early white bush, scallop yellow bush, and sunburst. You'll also hear the words "scallopini" or "button squash" used to describe the scallop squashes in some countries.
GMO Squash Information
While most squashes on the market are not genetically modified (GMO), approximately 25,000 acres of crookneck, straight neck, and zucchinis have been bioengineered to be virus-resistant. Unless specifically labeled, you will not be able to tell the difference between non-GMO and GMO zucchini or squash. This is one vegetable that is best grown organically in your own garden or purchased from a trusted organic farmer.

Super Health Benefits of Squash
low in calories
cholesterol-free
great source of vitamin C
excellent source of magnesium, vitamin A, fiber, folate, copper, riboflavin & phosphorus
abundant in potassium
high in beta-carotene
may reduce the risk of heart attack & stroke
supports healthy blood pressure
anti-microbial
supports prostate health
anti-inflammatory properties
antioxidant
supports eye health
helps maintain healthy bone structure, calcium absorption, enzyme creation, & bone building
blood sugar benefits
rich in B vitamins
blood-thinning effects
anti-cancer benefits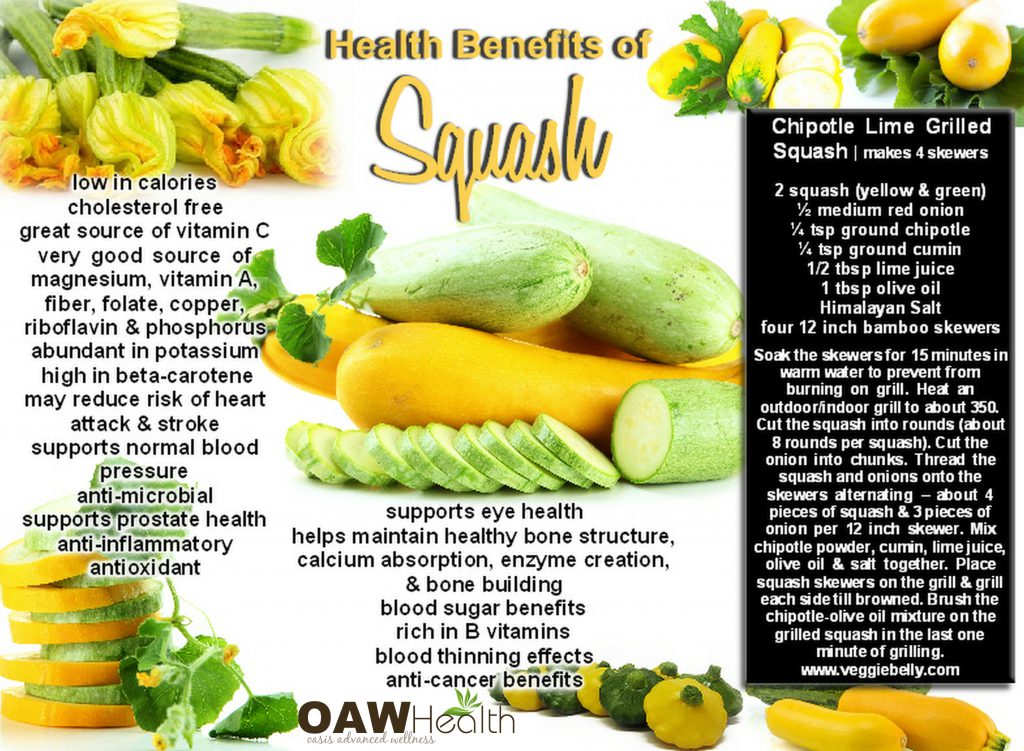 Some consider squash to be a starch, but not all starchy foods are created equal. For instance, less than 15% of the calories in winter squash come from fat, compared with almost 90% of the calories in walnuts. When it comes to the health benefits of squash, winter squash shines bright as a wonderful anti-inflammatory food providing a good amount of anti-inflammatory omega-3s.
Chipotle Lime Grilled Squash Recipe | makes 4 skewers
Ingredient List

2 organic squash (yellow & green)
½ medium red onion
¼ tsp ground chipotle
¼ tsp ground cumin
1/2 tbsp lime juice
1 tbsp olive oil
Himalayan Salt
four 12 inch bamboo skewers
Directions
Soak the skewers for 15 minutes in warm water to prevent burning on the grill. Heat an outdoor/indoor grill to about 350. Cut the squash into rounds (about 8 rounds per squash). Cut the onion into chunks. Thread the squash and onions onto the skewers alternating – about 4 pieces of squash & 3 pieces of onion per 12-inch skewer. Mix chipotle powder, cumin, lime juice, olive oil & salt together. Place squash skewers on the grill & grill each side till browned. Brush the chipotle-olive oil mixture on the grilled squash in the last one minute of grilling.  www.veggiebelly.com
Note: Feel free to add other veggies. For instance, adding green, yellow, and red bell peppers make a great-tasting Vegetable Kebab.
RELATED: Healthy Fried Squash Patties
References & Resources
Antonious GF, Snyder JC, and Dennis SO. Heavy metals in summer squash fruits grown in soil amended with municipal sewage sludge. J Environ Sci Health B. 2010 Feb;45(2):167-73. 2010.
Bannayan M, Rezaei EE, and Alizadeh A. Climatic Suitability of Growing Summer Squash (Cucurbita pepo L.) as a Medicinal Plant in Iran. Not Sci Biol 2011; 3(2):39-46. 2011.
Choi H, Eo H, Park K et al. A water-soluble extract from Cucurbita moschata shows anti-obesity effects by controlling lipid metabolism in a high fat diet-induced obesity mouse model. Biochem Biophys Res Commun. 2007 Aug 3;359(3):419-25. Epub 2007 May 25. Erratum in: Biochem Biophys Res Commun. 2008 Feb 1;366(1):269. 2007.
Danesi F and Bordoni A. Effect of home freezing and Italian style of cooking on antioxidant activity of edible vegetables. J Food Sci. 2008 Aug;73(6):H109-12. 2008.
Dixit Y and Kar A. Protective role of three vegetable peels in alloxan induced diabetes mellitus in male mice. Plant Foods Hum Nutr. 2010 Sep;65(3):284-9. 2010.
Jayaprakasam B, Seeram NP and Nair MG. Anticancer and antiinflammatory activities of cucurbitacins from Cucurbita andreana. Cancer Lett. 2003 Jan 10;189(1):11-16. 2003.
Li FS, Xu J, Dou DQ et al. Structures of new phenolic glycosides from the seeds of Cucurbita moschata. Nat Prod Commun. 2009 Apr;4(4):511-2. 2009.
Nara K, Yamaguchi A, Maeda N et al. Antioxidative activity of water soluble polysaccharide in pumpkin fruits (Cucurbita maxima Duchesne). Biosci Biotechnol Biochem. 2009 Jun;73(6):1416-8. Epub 2009 Jun 7. 2009.
Nosálová G, Prisenznáková L, Kostálová Z et al. Suppressive effect of pectic polysaccharides from Cucurbita pepo L. var. Styriaca on citric acid-induced cough reflex in guinea pigs. Fitoterapia. 2010 Nov 7. [Epub ahead of print]. 2010.
Priyadarshani AM and Chandrika UG. Content and in-vitro accessibility of pro-vitamin A carotenoids from Sri Lankan cooked non-leafy vegetables and their estimated contribution to vitamin A requirement. Int J Food Sci Nutr. 2007 Dec;58(8):659-667. 2007.
Sarkar S and Buha D. Effect of ripe fruit pulp extract of Cucurbita pepo Linn. in aspirin induced gastric and duodenal ulcer in rats. Indian J Exp Biol. 2008 Sep;46(9):639-45. 2008.
Smith BD. The initial domestication of cucurbita pepo in the Americas 10,000 years ago. Science. Washington: May 9, 1997. Vol. 276, Iss. 5314; p. 932-934. 1997.
Wang DC, Pan HY, Deng XM et al. Cucurbitane and hexanorcucurbitane glycosides from the fruits of Cucurbita pepo cv dayangua. J Asian Nat Prod Res. 2007 Sep-Dec;9(6-8):525-9. 2007.
Xia T and Wang Q. D-chiro-inositol found in Cucurbita ficifolia (Cucurbitaceae) fruit extracts plays the hypoglycaemic role in streptozocin-diabetic rats. J Pharm Pharmacol. 2006 Nov;58(11):1527-32. 2006.
Younis YM, Ghirmay S, and al-Shihry SS. African Cucurbita pepo L.: properties of seed and variability in fatty acid composition of seed oil. Phytochemistry. 2000 May;54(1):71-5. 2000.
The World's Healthiest Foods website. http://www.whfoods.com/genpage.php?tname=foodspice&dbid=62
†Results may vary. Information and statements made are for education purposes and are not intended to replace your doctor's advice. Oasis Advanced Wellness/OAWHealth does not dispense medical advice, prescribe, or diagnose illness. The views and nutritional advice expressed by Oasis Advanced Wellness/OAWHealth are not intended to be a substitute for conventional medical service. If you have a severe medical condition or health concern, see your physician of choice.
Save
Save
Save
Save
Save
Save
Save
Save
Save
Save
Save
Save
Save
Save
Save
Save
Save
Save
Save
Save